5.11 Gear for Vehicle Organization
Doc Rader 06.30.22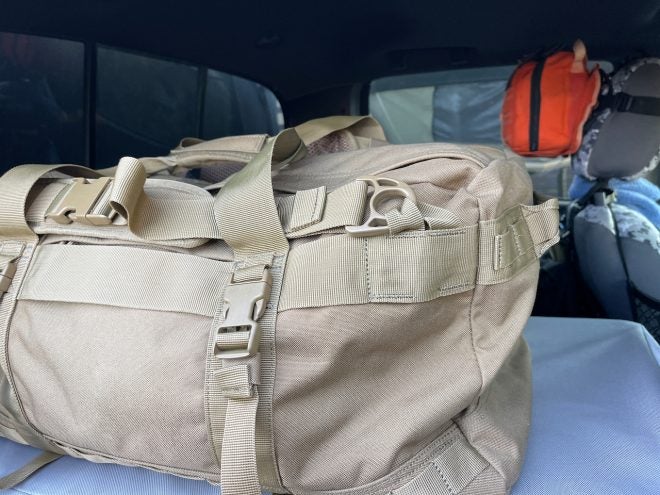 I have been traveling a lot lately, with very little turnaround time between classes and events. I finally settled on a vehicle organization system to make packing easier and more efficient, and it centers around some bags and accessories from 5.11. I have a Toyota Tacoma (Double Cab), and it just does not have a ton of space for extended travel, so I have to be very efficient at packing.
Good day everyone and welcome to a new installment of AllOutdoor's Off-Road and Overlanding series brought to you by onX Offroad--mapping software for all your adventures.
The goal is to be able to launch for a trip with minimal fuss, and having a number of items pre-staged in the truck is key. Really all I should have to do is grab clothes, food, and any "mission-specific" items and hit the road.
This article is going to discuss what I have in the vehicle at all times, regardless of what I am doing. Then how I pack clothes and other gear.
Always Packed: 5.11 Vehicle Ready Hexgrid
The Vehicle Ready system has been around for a couple of years and is one of the products that 5.11 has thankfully not killed off. It has two components (headrest and seat organizer), and both are pretty universal. They will fit in most vehicles.
Both components feature 5.11's patented "HEXGRID" and are covered with loop fastener. This allows the system to work with anything that has a hook backing–like the 5.11 Gear Sets (which honestly have most of the organization that you would likely ever need.
They are also somewhat MOLLE compatible. The dimensions are a smidge off since the openings are hex shaped and offset. You can make it work, but you must think it through a bit. One advantage is that you are not limited to vertical pouches. You can angle things for easier access.
Headrest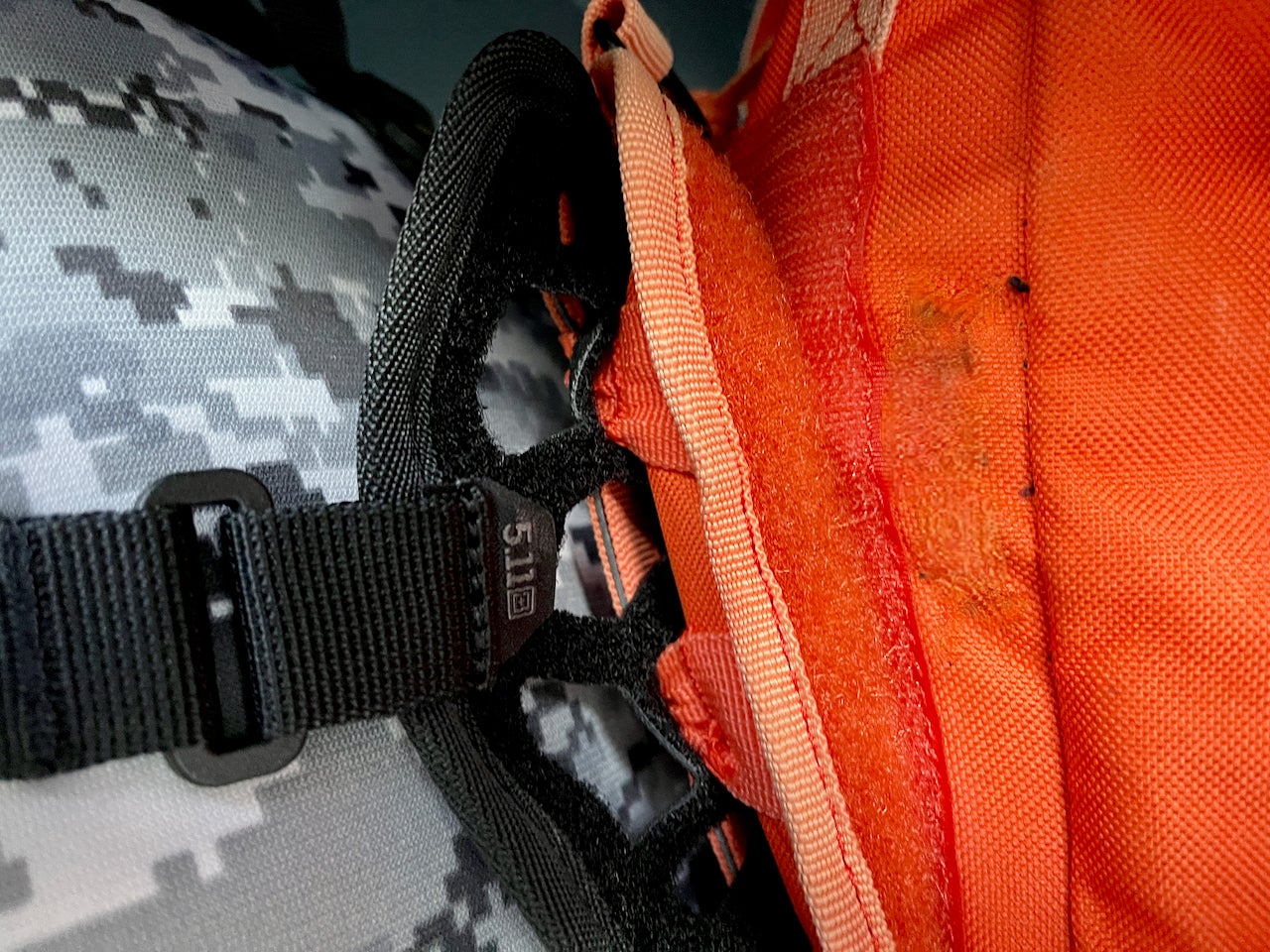 The Headrest does not have a lot of real estate for attaching components. It is best suited for small tools or a first aid kit (which is what I have attached to it). I will say that it holds very securely, especially after a long day of off-road travel.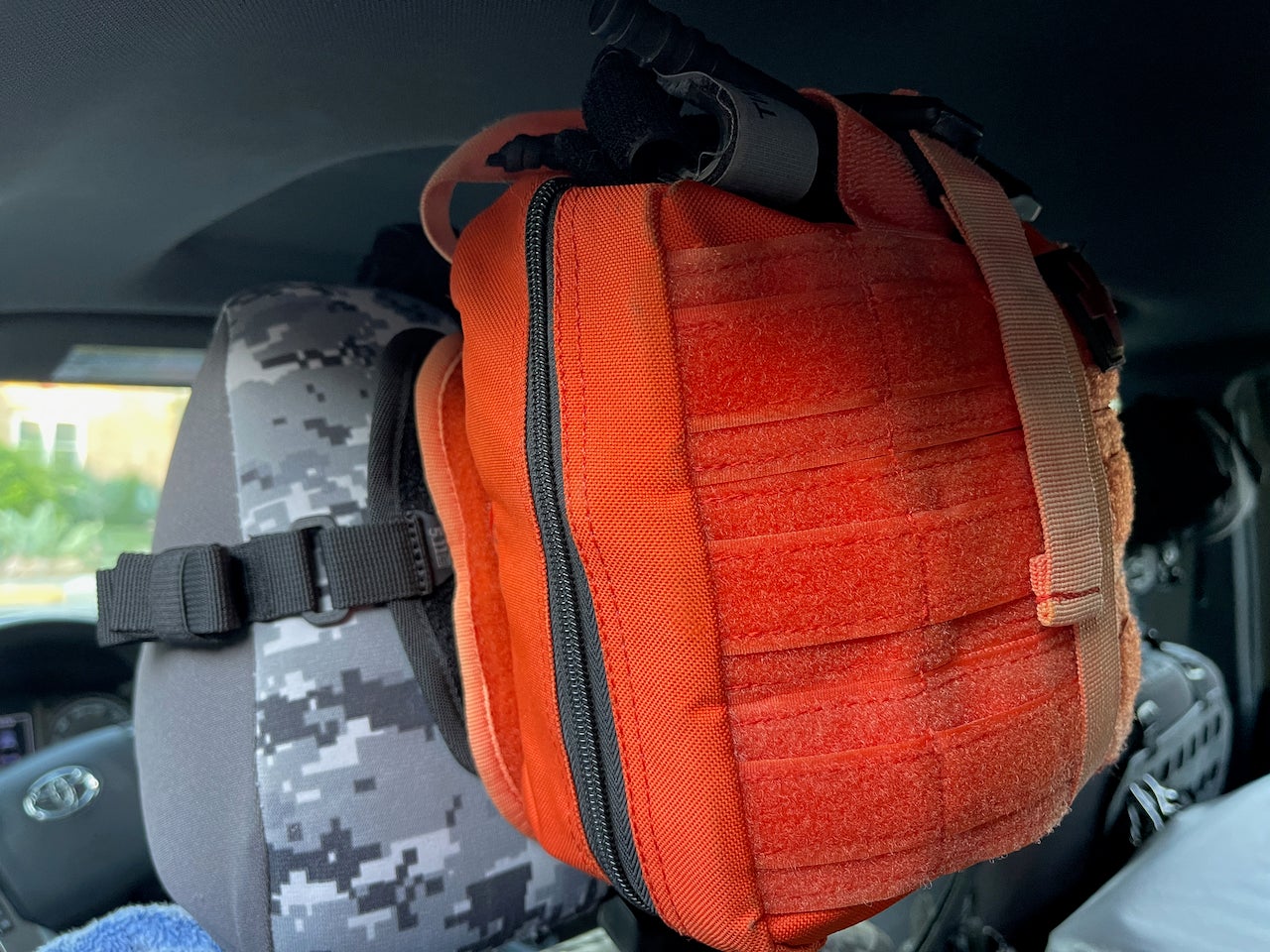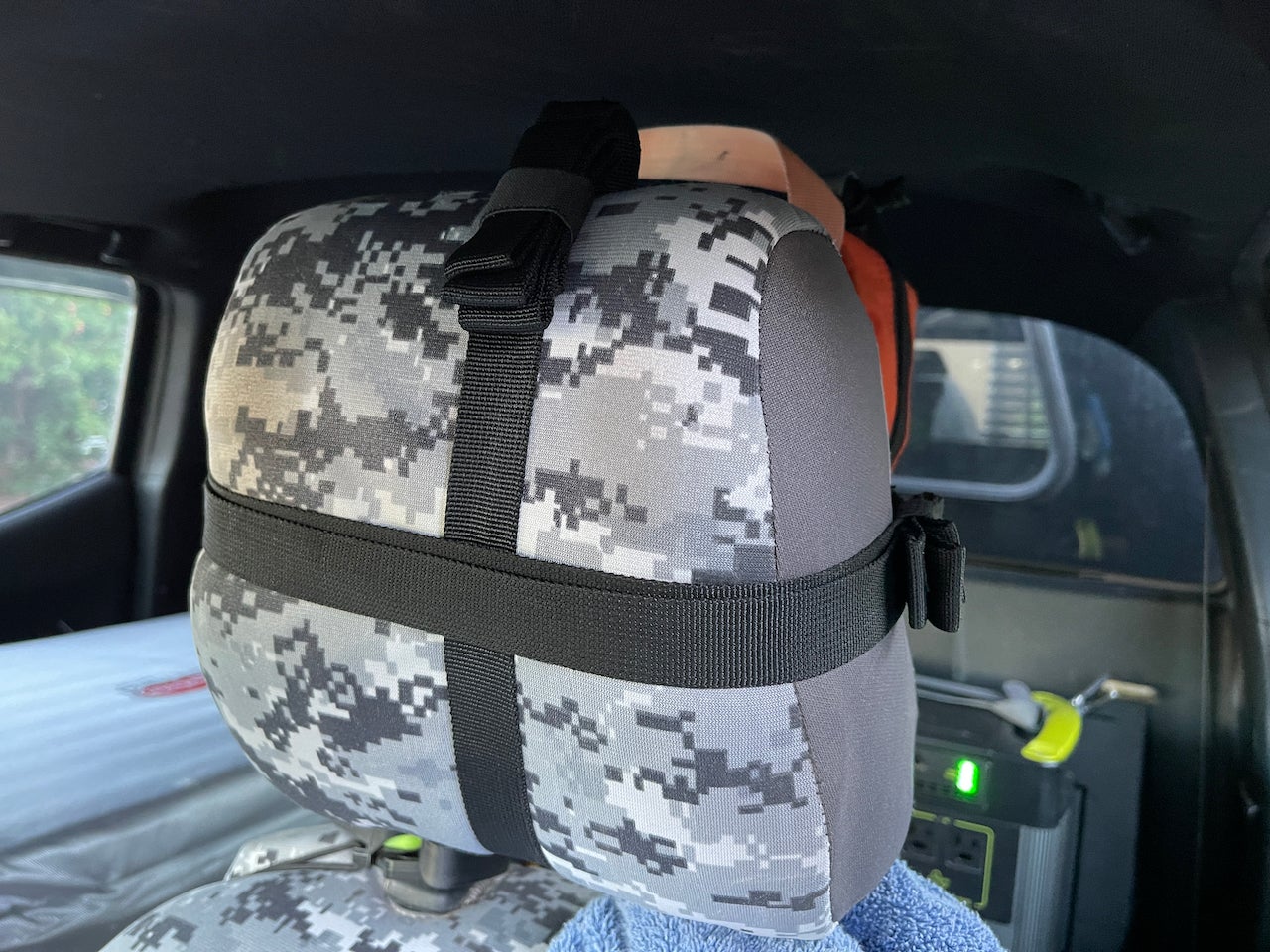 Seat Organizer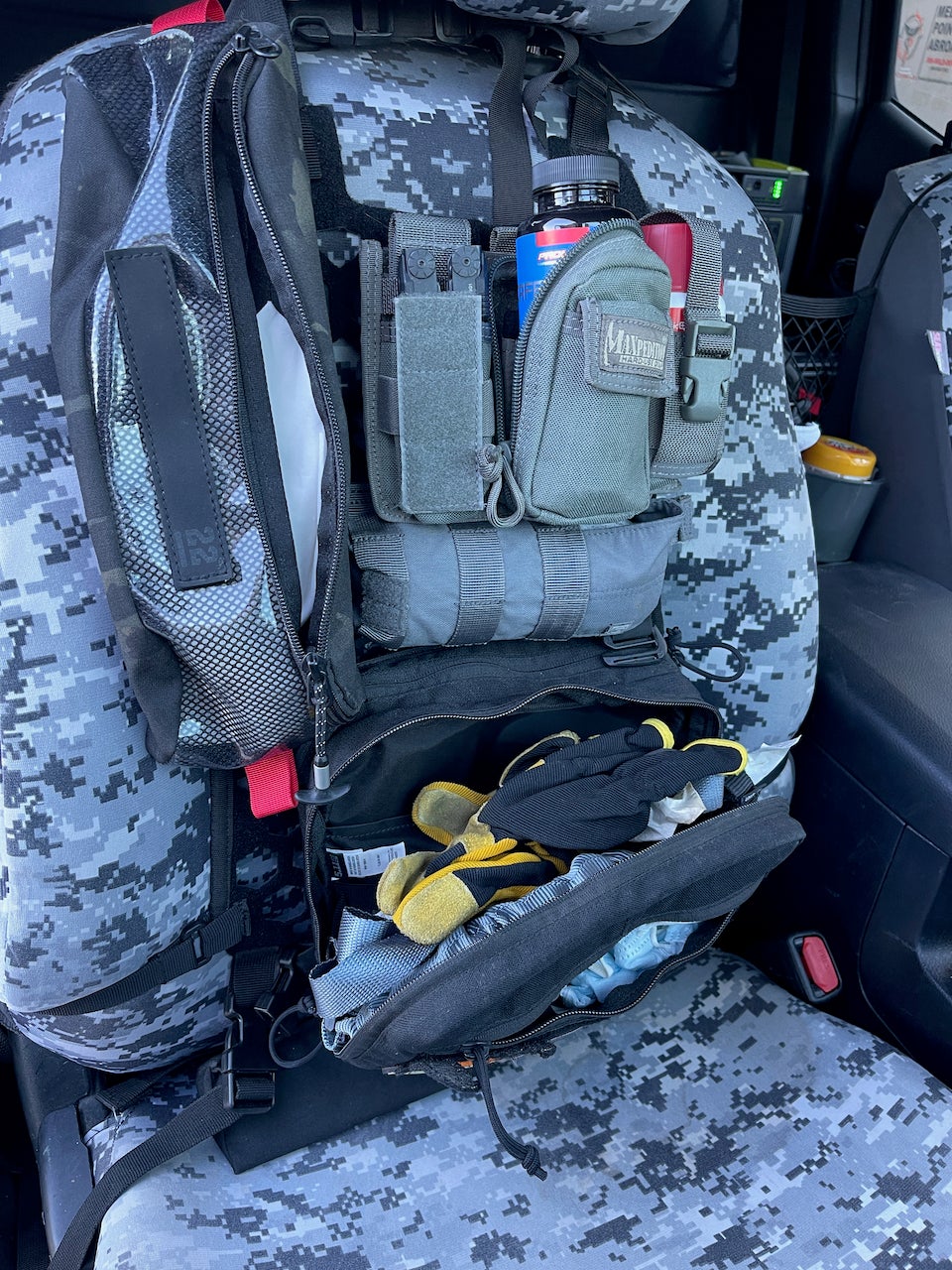 The Seat Organizer has a lot more versatility. I actually use a couple of them when I am traveling. I keep one on my passenger seat that has things I want quick access to while on the road. I keep some medications, a "road" Monster, tissues/napkins, baby wipes, etc.
The one on the rear of my driver's seat serves a couple of purposes. My main "hygiene" area is next to my rear seat water tank. So it holds things for cleanup (soap, towel, more baby wipes, TP, portable laundry bag).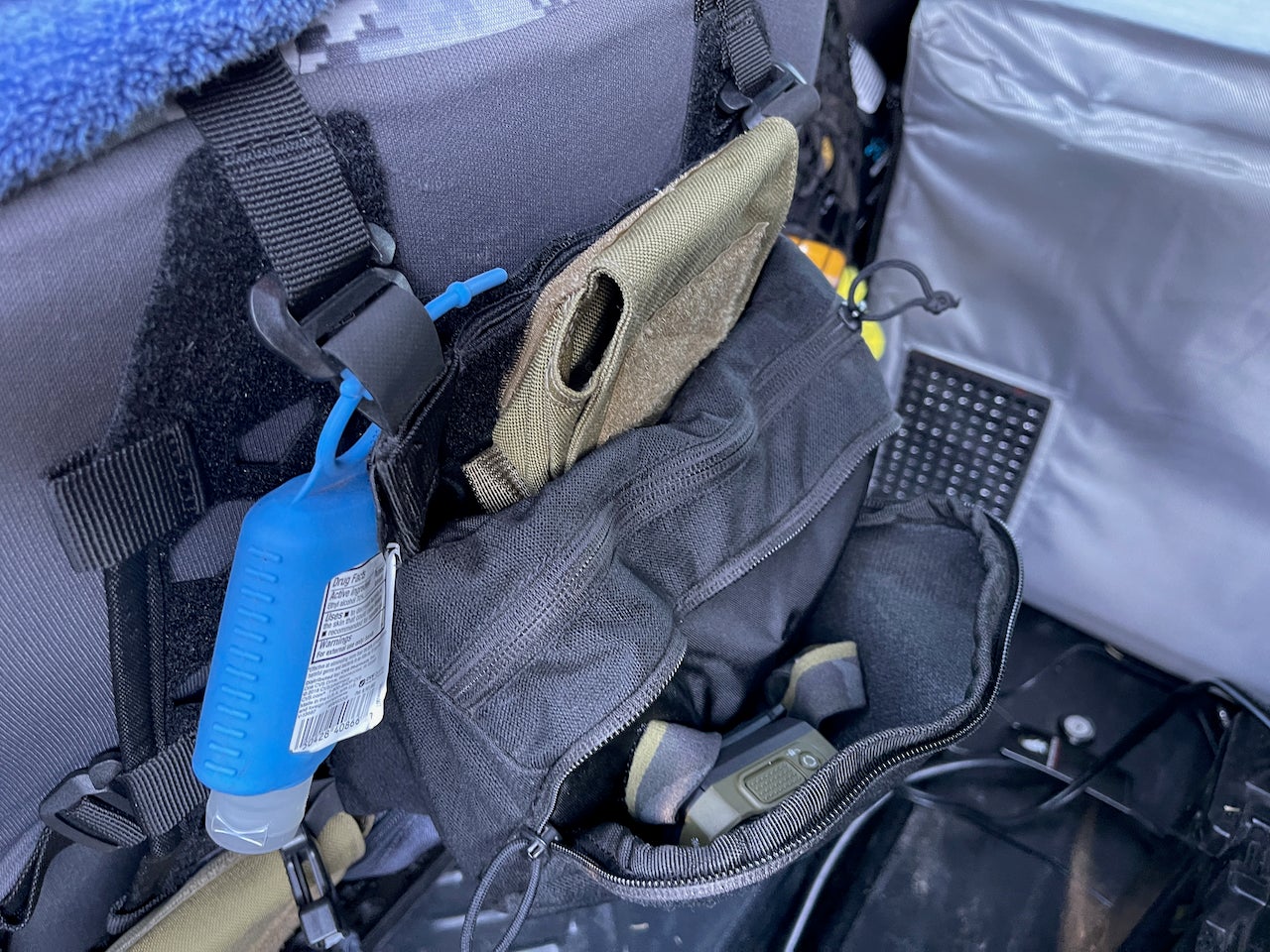 It also has a pouch to hold the things I need when deploying camp. This has things like headlamps (and extra batteries), multitool, power cables for my rooftop tent, and charging cables for my devices. The last thing I want to do when getting to camp is to dig through a bunch of bags or boxes, looking for the basic stuff I need. When I'm in travel mode, sometimes I just drive until I'm tired, find a convenient campsite (BLM land out west is great!), and pop up my rooftop tent. I don't need to unpack all that much stuff–basically just need a headlamp, a way to charge my devices, and a bottle of water.
Clothes: 5.11 Load Bearing Duffles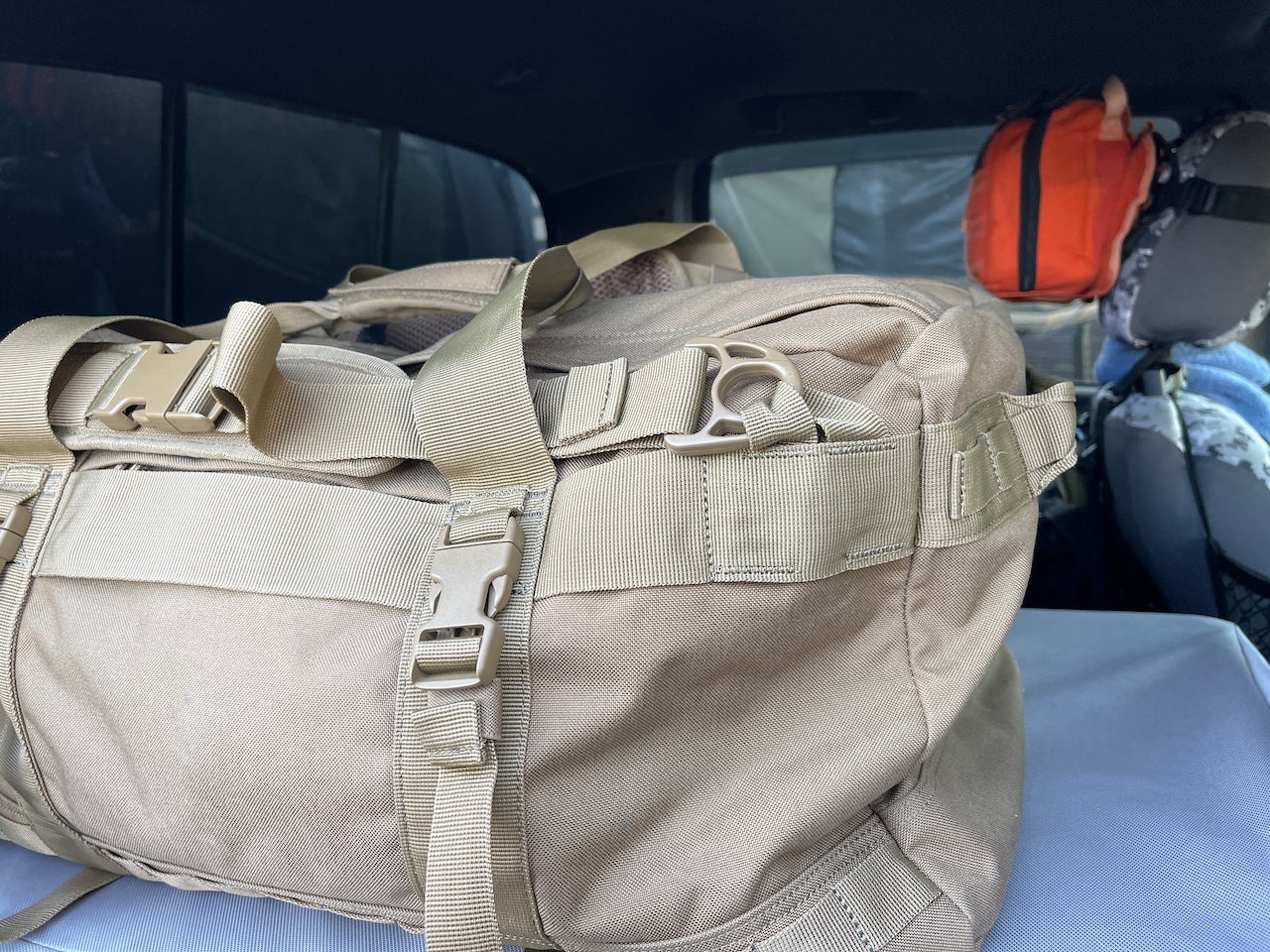 The 5.11 Load Bearing Duffles (LBD) have been around for a while. I've used the medium-sized one (Mike) for several years. In the past few months, I have had some extended time on the road and needed some additional space for clothes, so I upgraded to the large (Lima).
I organize everything inside using the 5.11 Convoy Packing Cubes which really help keep things organized. They are also great because they can be expanded by unzipping one of the sides.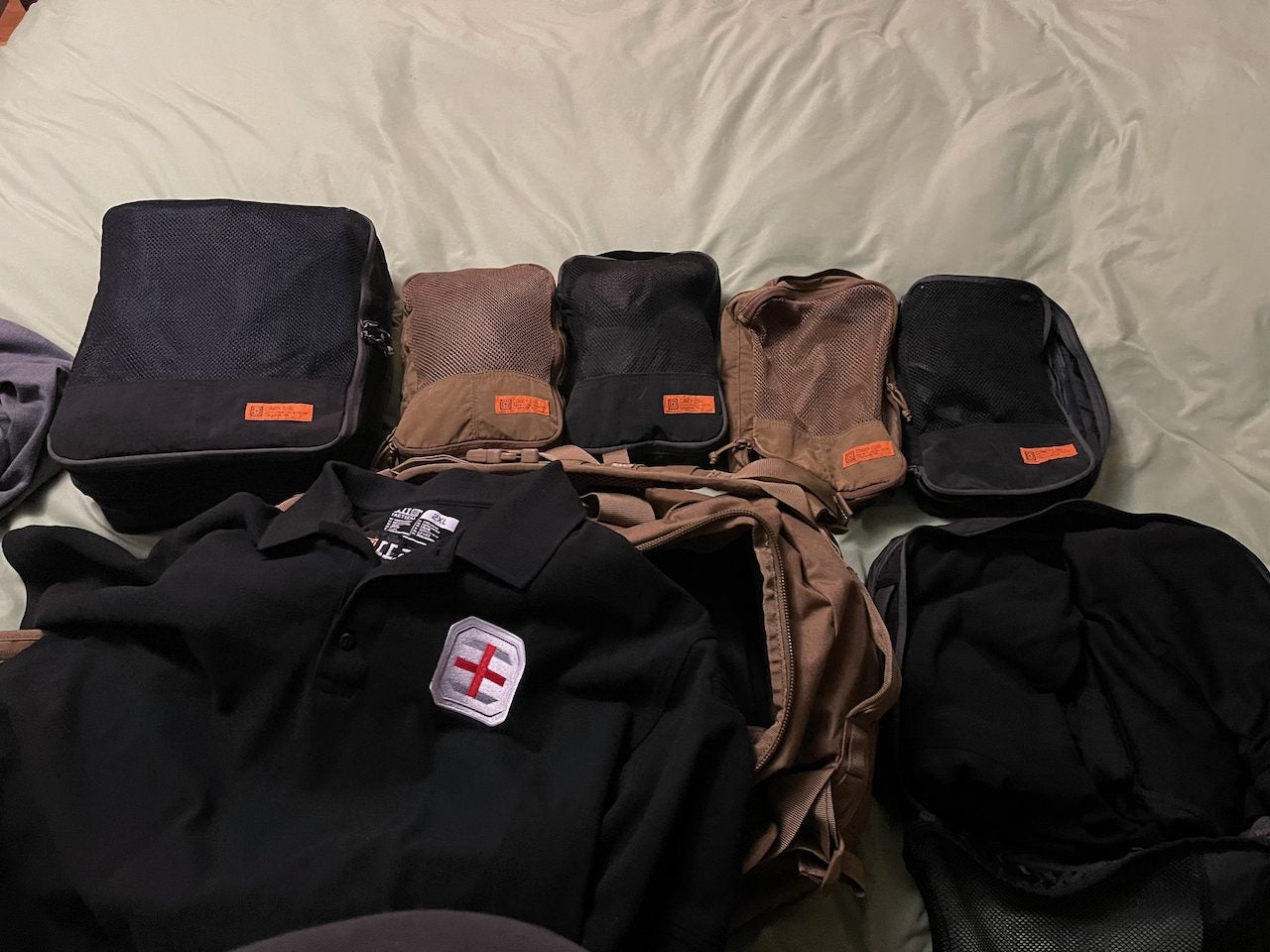 I use the medium packing cubes for t-shirts, socks, skivvies, and running shorts. The large cubes are for work shirts and pants.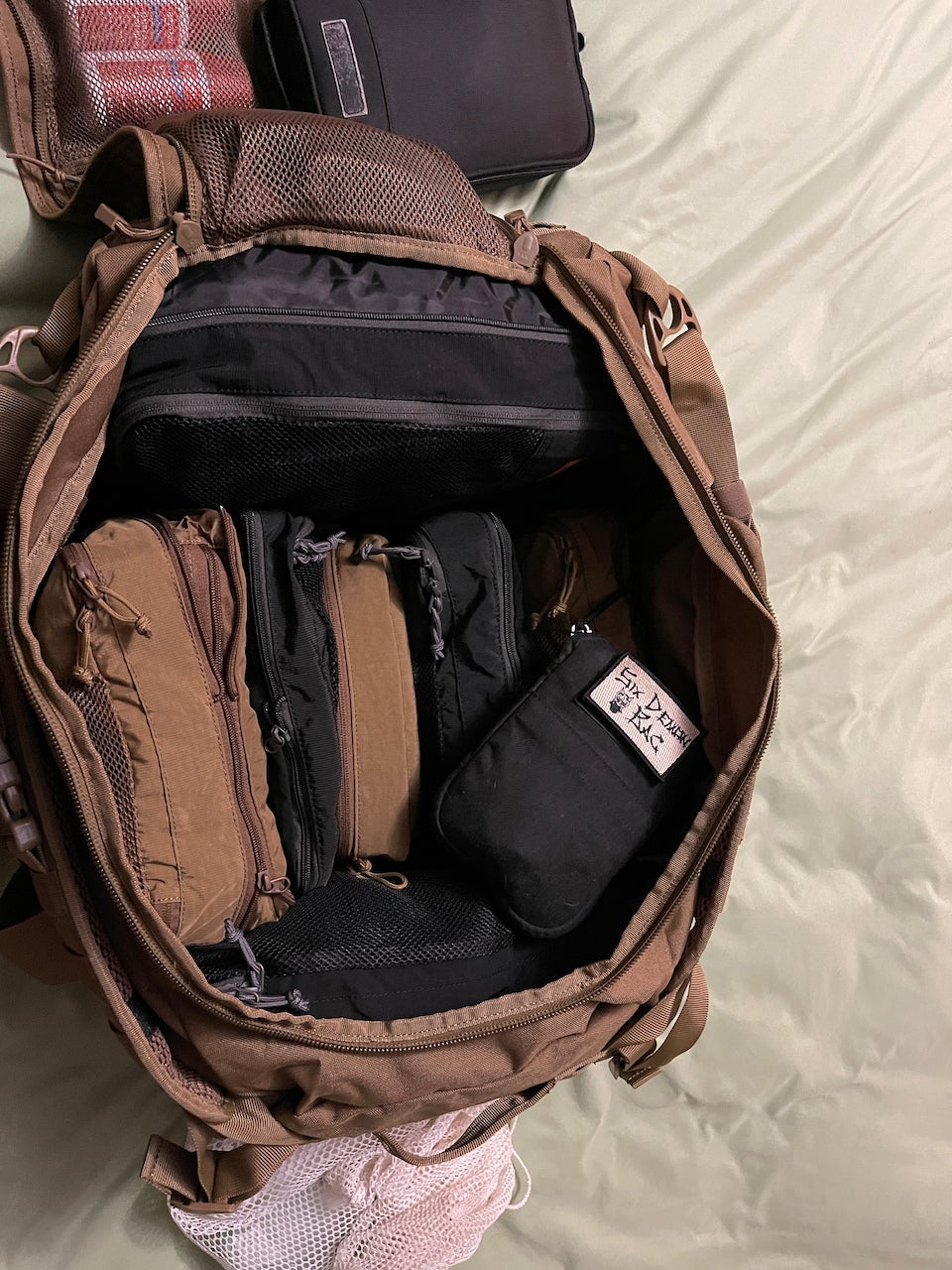 Features
Enhanced, customizable storage capacity
Ideal carryall for traveling, your trunk, and recreation
Reinforced grab handles
Internal compression straps
Bar-tacking at major seams and stress points
MOLLE platform
ID/flag patch loop panel
Tear-resistant
Water-resistant finish
Self-healing YKK® zippers
Duraflex® hardware
Technical Specs (Medium/Mike)
1050D Nylon
11″H x 20″L x 10″D
2,440 Cubic In / 40 Liters total capacity
Weight 2.4 lbs
Technical Specs (Large/Lima)
1050D Nylon
12″H x 24″L x 12″D
3,456 Cubic In / 56 Liters total capacity
Weight 3.0 lbs
Everything Else: 5.11 Load Ready Utility
The Load Ready Utility line has been redone for this year. I bought the earlier versions of them as soon as they came out (around three years ago), and they have been a core part of my travel organization.
Earlier this year, I found out that they had updated the Load Ready line, and I could grab two large and two mediums right before a long trip.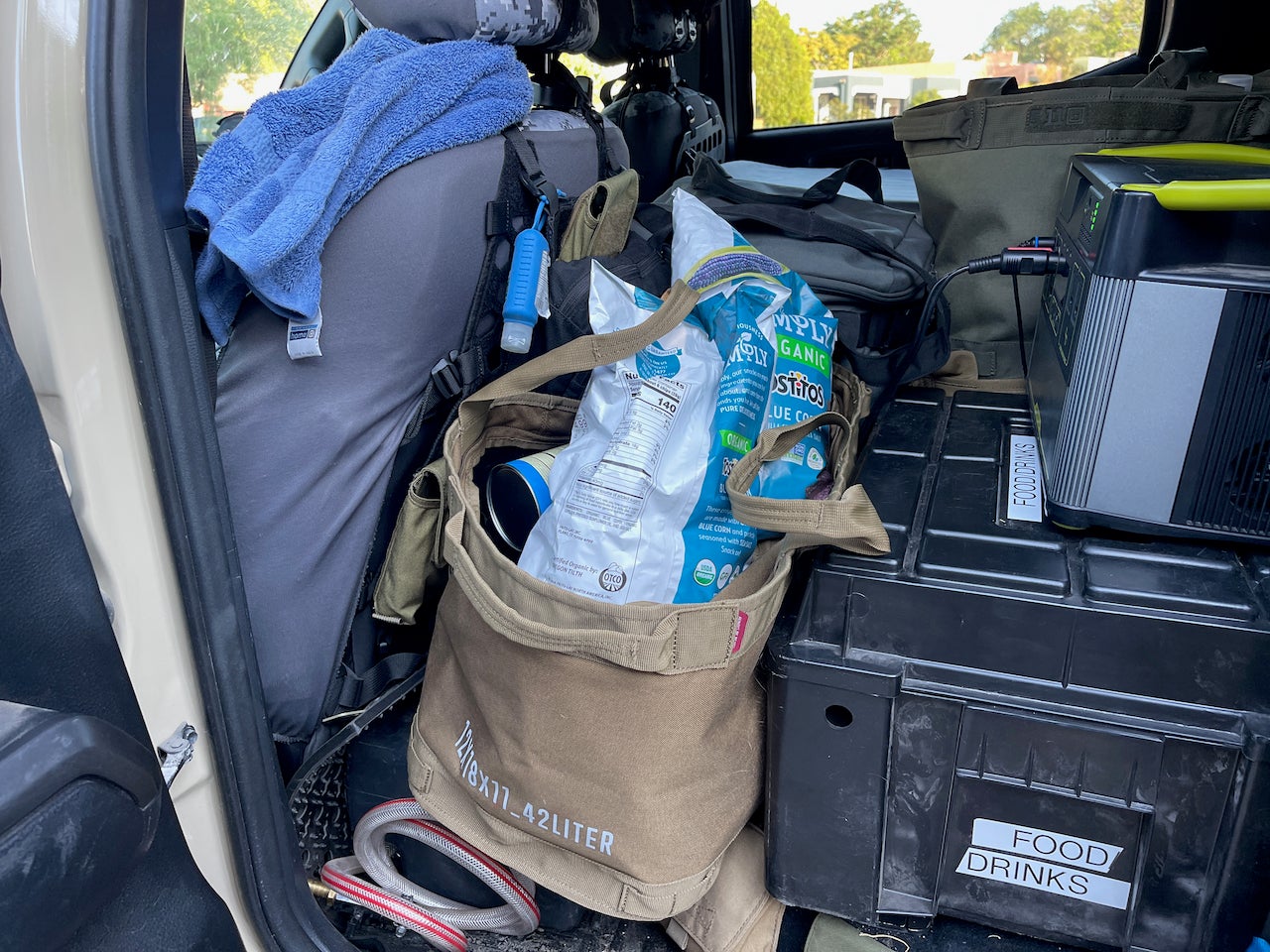 There are two sizes–medium and large. The large version has slightly over double the volume of the medium. They are somewhat stackable depending on what you have loaded in them and crazy sturdy. One of the new features is a fully removable lid–you can zip it all the way shut or totally remove it. The lid also has a zippered mesh pocket.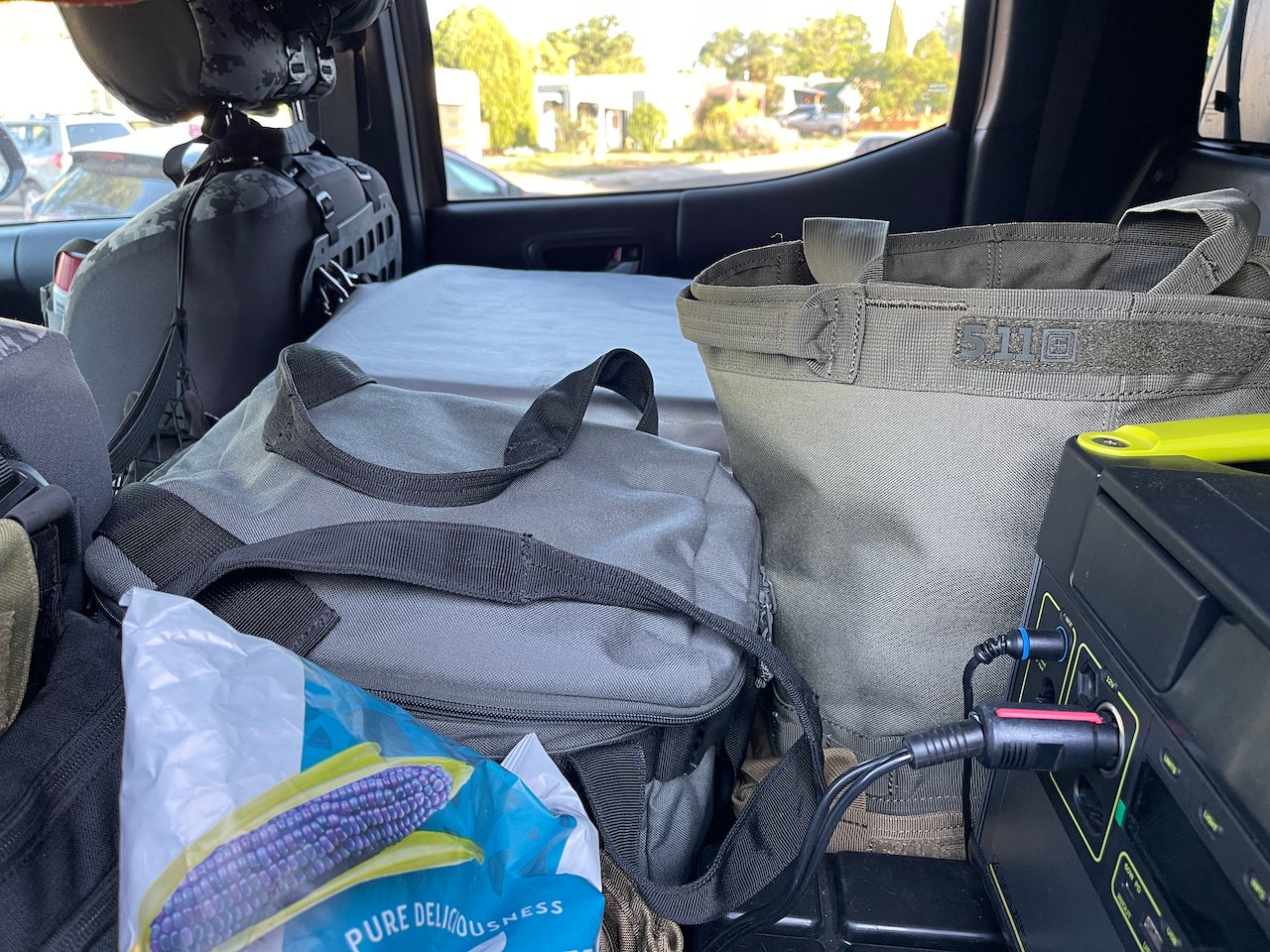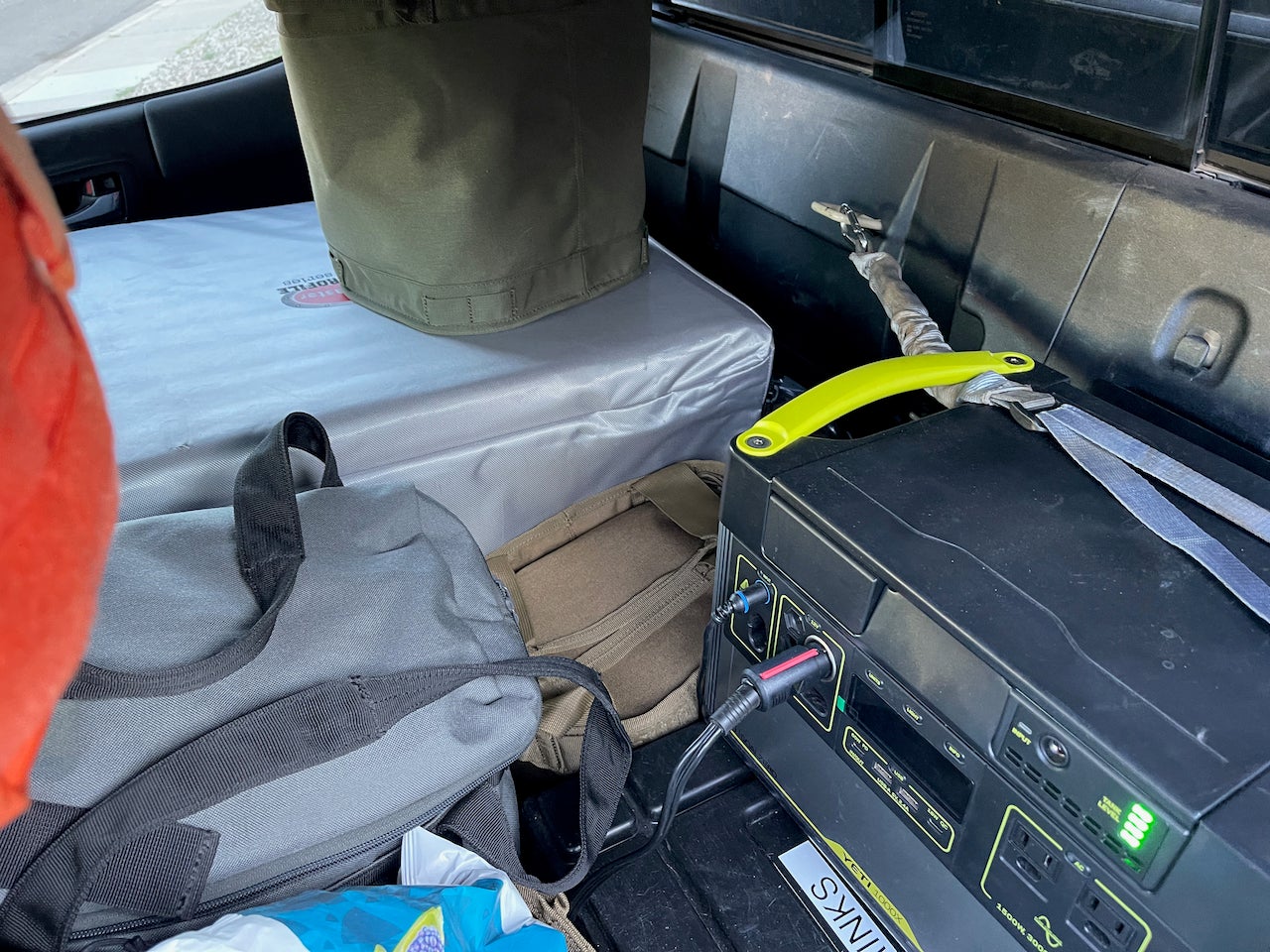 The Load Ready Utilities are basically big soft buckets, and I tend to use them as heavy-duty dump pouches. They can swallow a ton of stuff and are pretty easy to carry around. On the last trip we just had up to Overland Expo PNW, I was a bit rushed getting out of the house–last-minute craziness. I ended up just chucking a ton of stuff into the bags–everything from a portable printer to point-of-sale readers, to food, etc. I intended to organize on the trail when I had more time. The bags let me get out of the house a lot faster.
When traveling, I keep one of the Load Ready bags as a shopping bag for hitting the grocery store. These days, you can never be sure the store will have bags for your groceries, and if you are more on the "green" side, bringing your own bag is a bonus.
Features
Heavy-duty, haul-all stackable utility bag
Removable nylon lid for open access or secure carry of contents
Underside zippered mesh lid pocket
Waterproof durable internal lining and double layer base panel
Side grab handles, gear loops
6×1 name tape loop
Top carry handles
Technical Specs (Medium/Mike)
1050D Nylon (main body) | 1000D Polyester w/ TPU Coating (base/internal)
12″H x 11″L x 9″D
1,159 cubic inch / 21-liter total capacity
Weight 1.1lbs
Technical Specs (Large/Lima)
1050D Nylon (main body) | 1000D Polyester w/ TPU Coating (base/internal)
12″H x 18″L x 11″D
2,380 cubic inch / 42-liter total capacity
Weight 1.6lbs
5.11 appears to have discontinued one of the sets–the Load Ready 35L Haul Pack. This one was convertible to a pack and worked amazingly well as a soft cooler for hauling ice and beverages. I still have one and use it for a variety of applications–mainly a cooler… 🙂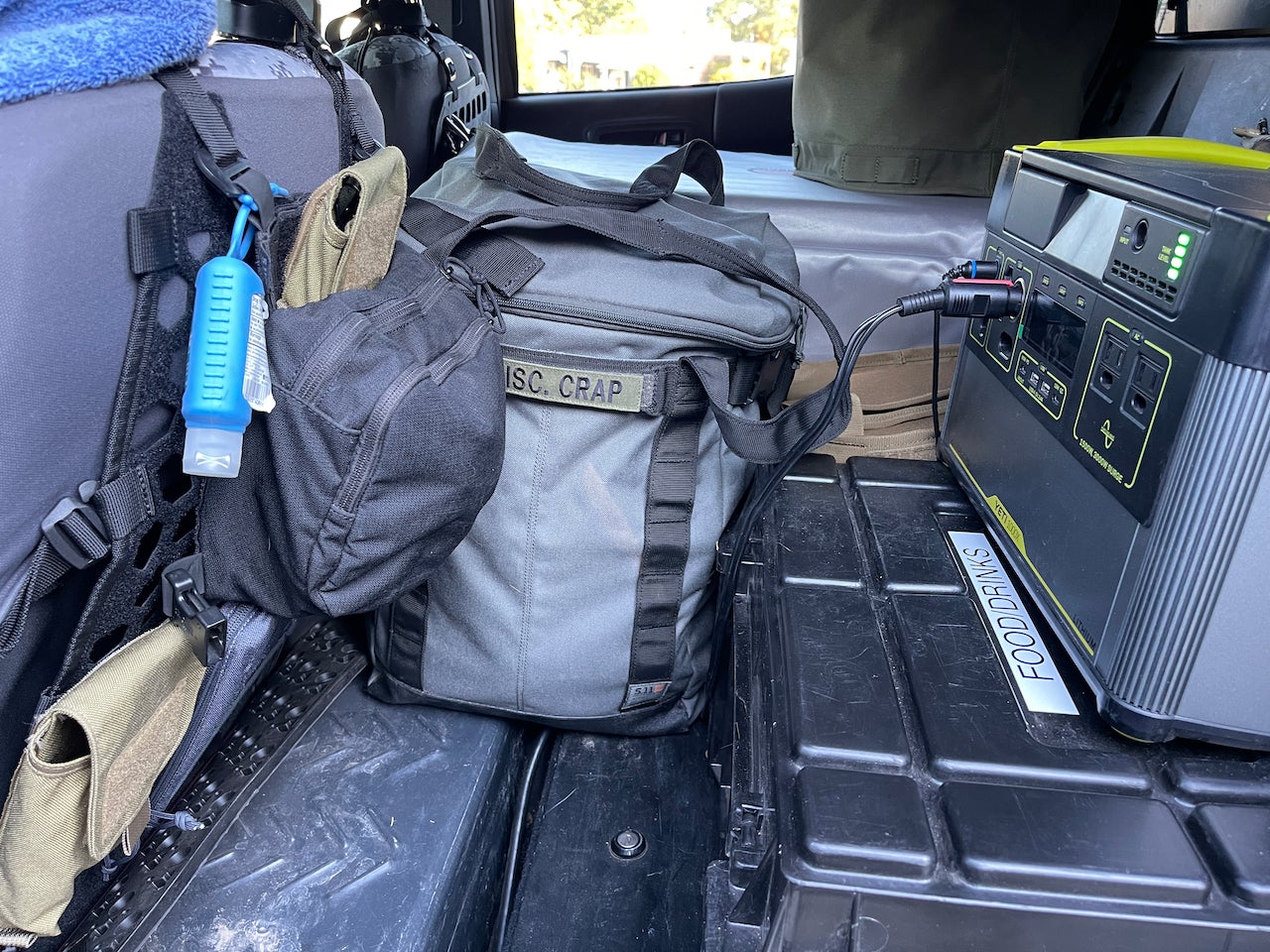 How do you organize?
There are a ton of options out there for organizing your gear, and it is a very personal thing, especially if you are a road warrior. I have settled on 5.11 as my main go-to simply because I have a bunch of their gear, it is pretty affordable, and it all works pretty well together.
There are other seat back panels, haul bags, and ways to pack clothing, and in future posts, we will cover some of those. In the comments below, tell us how you pack for your trips, and have you come up with any clever solutions?
Off-Road and Overlanding is sponsored by
To subscribe, visit: https://subscribe.onxmaps.com/offroad/purchase/membership