NEW from Tuf-Line – Blue Water Slow Pitch Jigging Braided line
Eugene L. 07.07.22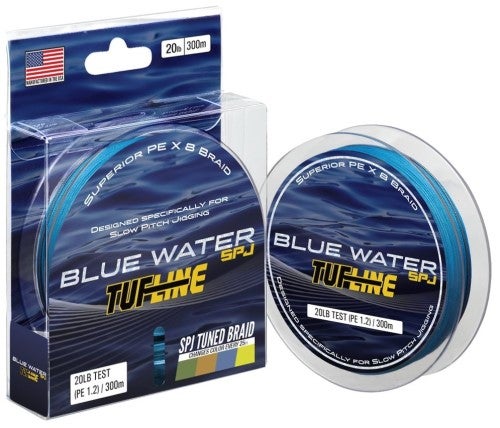 One of the newest techniques, that is rapidly getting popular, for offshore fishing is Slow Pitch Jigging (SPJ). Originally from Japan for fishing in heavily pressured waters, this technique is a highly technical way of fishing with specialized gear and lures, but is also incredibly effective. SPJ does not rely on if a target fish is hungry or not, but instead uses its instincts. Fish being opportunists will come to inspect a fluttering jig that is imitating dying or wounded baitfish. Then, that lure zips away from them and starts acting like it's dying again. Their instinct will say to give it a try at the least; it could be a meal.
For slow pitch jigging, you end up needing specialized rods with very slow actions and parabolic flex; jigs that are often hand designed to have the best fluttering action, high-speed reels capable of holding 100s of meters of line, and very thin braided line to deal with line scope. Each part is very important to SPJ and Tuf-Line is now introducing their newest line designed just for slow pitch jigging.
Tuf-Line has designed the new Blue Water SPJ braid to meet all the unique requirements for slow pitch jigging. Tuf-Line has created an extremely thin, strong, and sensitive line that links the angler to jig to the fish. Woven with their Close Angle Braid Technology, the braid is made from 8 carriers of micro polyethylene fibers. This maximizes lure control by reducing the scoping of the line by the wind and currents as much as possible.
Keep the angler in as much contact with the lure as possible, and keeps the jig in the strike zone. The Blue Water SPJ Braid is incredibly strong being the highest strength-to-weight ratio in its line class. Giving the user superior knot and tensile strength with no stretch in the line. The line will also be metered with a different color every 25 feet to give the angler the ability of precise depth control. The New Tuf-Line Blue Water SPJ Braid is to be unveiled at ICAST2022
TUF-LINE BLUE WATER SPJ BRAID FEATURES

Eight-carrier micro PE construction for a smooth finish and round profile
100% No-stretch for unparalleled sensitivity
Micro line diameters for unrelenting lure control
Highest strength to diameter ratio in its class
Superior tensile strength with outstanding abrasion resistance and zero memory
Excellent knot strength for robust line-to-leader connections
Perfectly-tuned suppleness for exceptional line management
Smooth and quiet through the line guides
Even line lay on the retrieve
Color metered in 25-foot increments for precise depth control
Offered in 15-, 20-, and 30-pound-test sizes
Available in 200, 300, and 600-meter spools
Manufactured in the United States of America