POTD: Shooting Flying Saucers – The Ljutic Space Gun Shotgun
Sam.S 07.08.22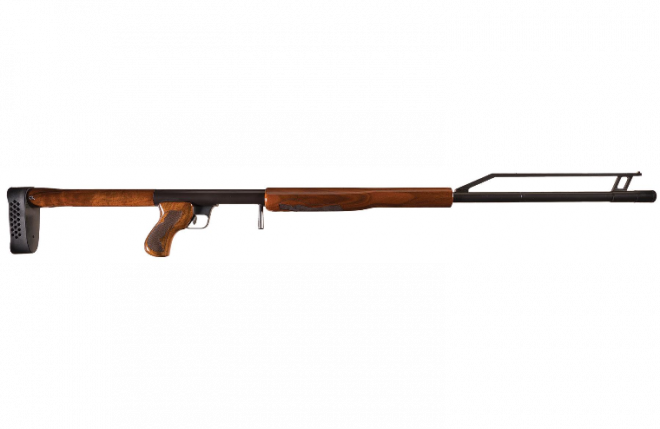 Welcome to today's Photo of the Day! Here we have one of the goofiest looking pipes you have ever seen. This is the Ljutic Space Gun single-shot shotgun. These were brought into the world by the clever mind of Al Ljutic (the J is silent). Mr. Ljutic was a former boxer turned machinist that patented stuff like the rotating bolt used in Winchester Model 100 semi-automatic rifles or later designed a break-action trap gun called "Mono Shotgun" that had a single barrel.
At one point in his early inventing career, he was invited out on a trap shooting trip by a representative at Remington. Al Ljutic did not own a shotgun for trap shooting so he made one and its design led to the "Space Gun." These very rare Ljutic Space Gun single-shot shotguns are bolt-action, single-shot, slam-fire style shotguns. The slam-fire bit is arguable, but notable since the mass of the "striker/firing pin" is so heavy and hits so hard that the recoil from firing is said to be softer than a semi-automatic shotgun.
Despite the Ljutic brand still living on today and making fancy trap guns, the space gun was a short-lived oddity that unfortunately did not gain much traction beyond the rough manufacturing estimate of 200 made.
"Designed by shotgun pioneer Al Ljutic as a simplified, inline, recoil-less trap shotgun. The Ljutic Space Gun keeps the barrel and buttstock all in one line, channeling any felt recoil directly to the shoulder, and utilizes a high vent rib to allow the shooter to maintain a heads up position. The bottom bolt design allows for easy collection of spent hulls as well as easy loading. 2 3/4 inch chamber and a choke tube system (modified installed). Fitted with a half length checkered forearm, checkered pistol grip , and cylinder buttstock with a thick vented recoil pad."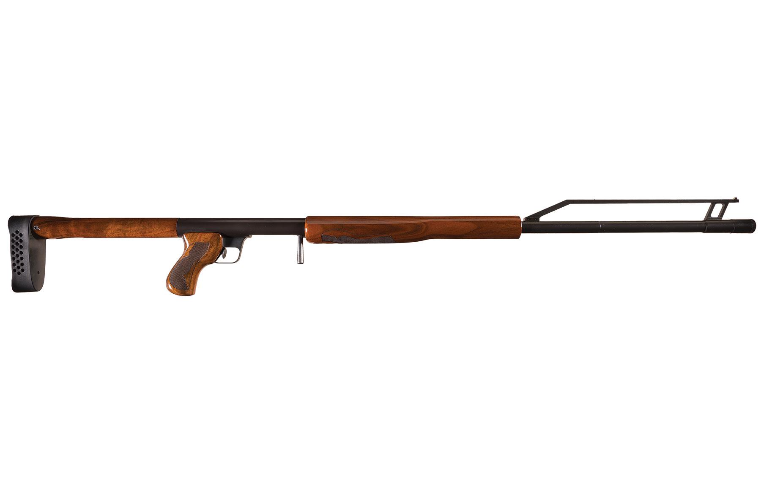 Lot 904: Ljutic Industries – Space – Scarce Ljutic Industries Space Gun Bolt Action Single Shot Trap Shotgun. (n.d.). Rock Island Auction Company. photograph. Retrieved July 7, 2022, from https://www.rockislandauction.com/detail/70/904/ljutic-industries–space.