POTD: The Big Little Gun – Magnum Research Mountain Eagle
Sam.S 07.13.22

Welcome to today's Photo of the Day! Here we have a strange-looking "blink and you will miss it" 22-rimfire pistol of the 1990s. This is the Magnum Research Mountain Eagle which is an obvious riff off of their famously massive 50 AE Desert Eagle handgun. Made from 1990 through the year 2000, these rather large target 22 handguns were targeted towards plinkers, sports shooters, and varmit hunters. It utilizes a blowback action and a 15-round magazine to help it run. The Magnum Research Mountain Eagle has a "triangular" 6 1/2″ barrel and rear cocking piece like that of a Ruger MK series of 22lr. Luke C had previously done a more in-depth write-up on the Magnum Research Mountain Eagle over at our sister site TFB. I highly recommend checking out his article: The Rimfire Report: The Magnum Research Mountain Eagle – Ahead Of Its Time?
"This affordable, lightweight triangular barreled pistol with minimum recoil is ideal for plinkers, target shooters, and varmint hunters. The barrel is made of hybrid injection-molded polymer and steel, and the standard 15-round magazine is made of high-grade, semi-transparent polycarbonate resin. It uses a constant force spring to load all 15 rounds easily. The receiver is made of machined T-6 alloy." – 1995 Advertisement for the Magnum Research Mountain Eagle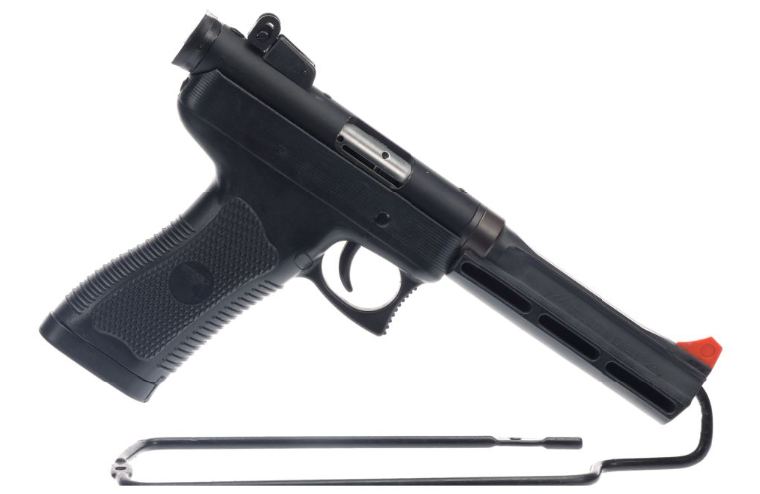 Lot 390: Two Semi-Automatic Pistols – A) Magnum Research Mountain Eagle Pistol. (n.d.). Rock Island Auction Company. photograph. Retrieved July 12, 2022, from https://www.rockislandauction.com/detail/2054/390.