POTD: Magazine-Fed Pump – Savage Model 1903 Slide Action Rifle
Sam.S 07.18.22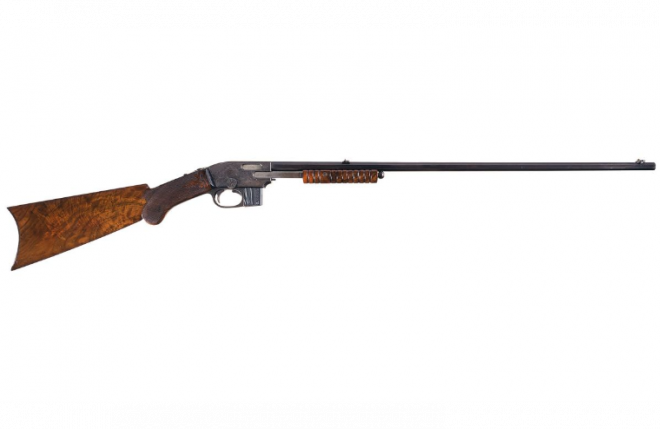 Welcome to today's Photo of the Day! Here we have the Savage Model 1903 Slide Action Rifle. These octagonal barreled pump action/slide action 22 rifles were one of many gallery-style rifles made in the early 1900s. The Savage Model 1903 Slide Action Rifle specifically is a box magazine fed slide action 22 and its later brother the model 1904 which went the route of the more common tube fed. They were known for their slender pump and large knob-ended semi-pistol grip. The Savage Model 1903 Slide Action was made from 1903 until late 1922. Some models feature a mechanical round counter below the pump. These were amongst the most popular models of galley guns at the 1904 World's Fair in  St.Louis.
"Manufactured from 1903 to 1922. Factory engraved receiver with scrollwork surrounding small game circular panels on the sides and geometric patterns on top. The barrel legend lacks a patent date, meaning the rifle was manufactured prior to 1906. Equipped with a combination Beach front sight and two-leaf Lyman rear sight. Upper tang tapped for sight mounting (one filler screw absent, one oversized filler screw). Highly figured walnut 11-groove forearm and round knob pistol grip stock with fancy fine checkering."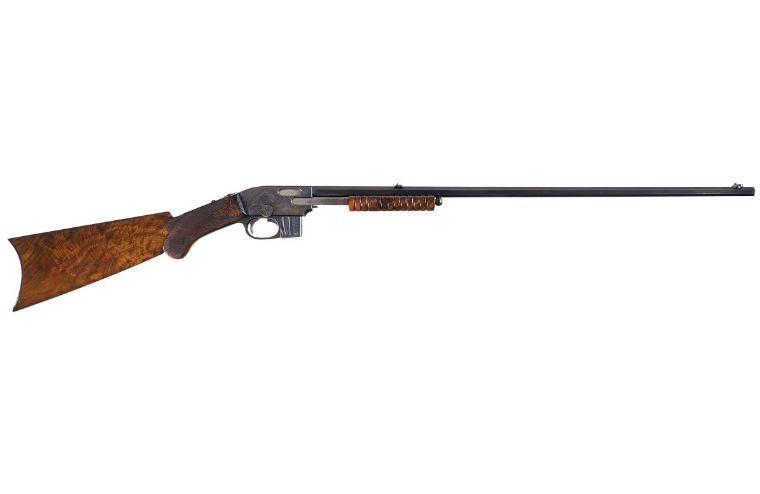 Lot 1111: Factory Engraved Savage Model 1903 Slide Action Rifle. (n.d.). Rock Island Auction Company. photograph. Retrieved July 17, 2022, from https://www.rockislandauction.com/detail/76/1111/factory-engraved-savage-model-1903-slide-action-rifle.