TFBTV – A Polish AK-M: The WBP Jack 7.62x39mm Review
Adam Scepaniak 07.20.22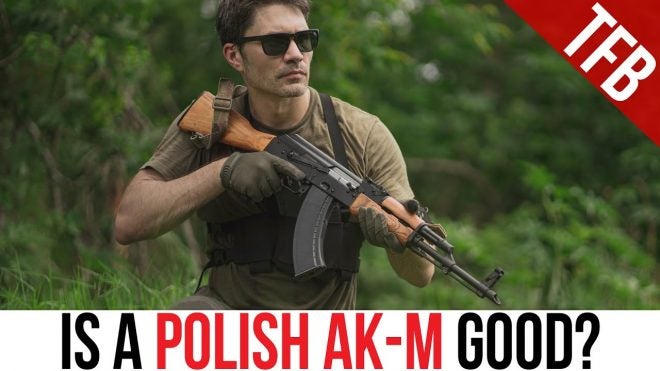 Polish Kalashnikov variants, AK-47s (or, more properly, AK-Ms), and AK-74-type rifles have been coming into the country for decades, but Polish AKs have been imported and distributed in greater volume recently, with the Beryl AKs from FB Radom and the WBP Fox and WBP Jack seeing positive reviews and greater sales volumes in recent years. These AKs cost over $1,000, though – are they worth it? Watch today's video to make that decision for yourself.
««« GEAR IN THIS VIDEO »»»
The WBP Jack is Available at 

AtlanticFirearms.com

Mags for the Jack can be picked up at 

TopGunSupply.com
Info from Atlantic Firearms, the retailer of these AKs, follows:
Imported from Rogow Poland and manufactured by WBP the Jack Classic rifle offers rock solid features. WBP is a Polish based firearms firm supplying parts and firearms to Police, Military and Civilian shooters all over the globe. The Jack rifle is chambered in 762×39 semi auto and accepts a wide variety of mags and drums. These are beautiful rifles with Old School styling and look like an AK should look with gorgeous laminate stock set and deep rich black metal finish. The barrels are supplied by FB Radom the Polish Military supplier and are hammer forged and chrome lined yielding years of service and fantastic accuracy. The rifle sports factory serial numbers on most major parts and the Polish Eagle on the left side of the sight block for added collectability & resale value. If you are looking for an AK rifle with Old School style and quality this may be the perfect rifle! Comes with 1-30 round AK 47 Magazine.

The WBP Jack is a result of input and requests from customers that loved the WBP Fox series but wanted a model with a standard AKM rear stock trunnion. The FOX rifle series offered the Beryl trunnion system allowing the shooter to install the Beryl Optic Rail. The FOX rifle has become a favorite for Kalashnikov enthusiasts and is one of the benchmarks that other AKs are gauged against. The roll out of new WBP models has been slow as they have wanted to focus on quality over quantity of their product but they are now up to 10 different models being produced, all with the same classic features and quality you've come to expect! The WBP Team will continue to listen to input from their customers and you can expect new and exciting WBP firearms and accessories in the future.
««« APPAREL IN THIS VIDEO »»»
Apparel: All TFBTV apparel is sponsored by 5.11 Tactical and you can get it at www.511tactical.com
««« GUN AND GEAR GIVEAWAYS »»»
We give away guns and gear EVERY month to our supporters. Consider supporting us. Full details can be found at 

http://tfbtv.gun.team

/
Gun and gear giveaways are not affiliated with, associated with, or in any way endorsed by YouTube and TFBTV is solely responsible for the giveaways mentioned in this video and this description. No purchase required for gear worth over $250.
««« FOLLOW US ON SOCIAL MEDIA »»»
https://www.facebook.com/TheFirearmBlogTV/
https://www.instagram.com/TFBTV/
https://www.reddit.com/r/tfbtv/
««« SPONSORS »»»
Please Support Them! They help make our videos possible.
– Ventura Munitions – www.venturamunitions.com
– Blue Alpha Gear – www.bluealphagear.com
– Top Gun Supply – www.topgunsupply.com
««« TFB CHAT ROOM »»»
Want to join the TFBTV chat room? Use our Discord Invite: discord.gg/tfbtv
#TFBTV
Contents:
0:00 Intro and Background
4:55 Review Begins
7:10 Accuracy Testing
10:54 500y Accuracy Test
12:17 Range Review
15:07 Zastava M70 vs. WBP Jack
18:38 Conclusion