AllOutdoor Review: Riton 3 Tactix Scope and Mount Live Up to their Name
Eve Flanigan 07.26.22

The Riton company, of Tucson, has had a presence in the shooting industry for some years. About two years ago, Riton revamped their product line to form distinct long-range, hunting, and tactical scope lines in addition to making reflex/red dot sights. Recently I had the opportunity to try out their 3 Tactix scope, a low-power variable optic (LPVO) meant for close-to mid-range use. I paired the scope with Riton mounting hardware, in this case the quick-detach (QD) version of one of their several 30mm mounts.
3 Tactix Scope
First, the basic specs. This 1-8x magnification scope has a 24mm objective lens and a 30mm tube. It weighs 19.3 ounces, is 10.9 inches long, and needs 6.75 inches of mounting space. It has from 13 to 106 feet of viewing space at 100 yards, depending on magnification. Parallax is not adjustable and is set for 100 yards, apropos for an LPVO. Its turrets turn ½ MOA per click and are zero-resettable. A second focal plane reticle features a tiny center dot inside a larger circle, and some "ladder" adjustments for ranging both windage and elevation in MOA. The reticle is illuminated on a 0-11 dial with 11 choices of brightness, in red. There are no "off" notches between brightness settings.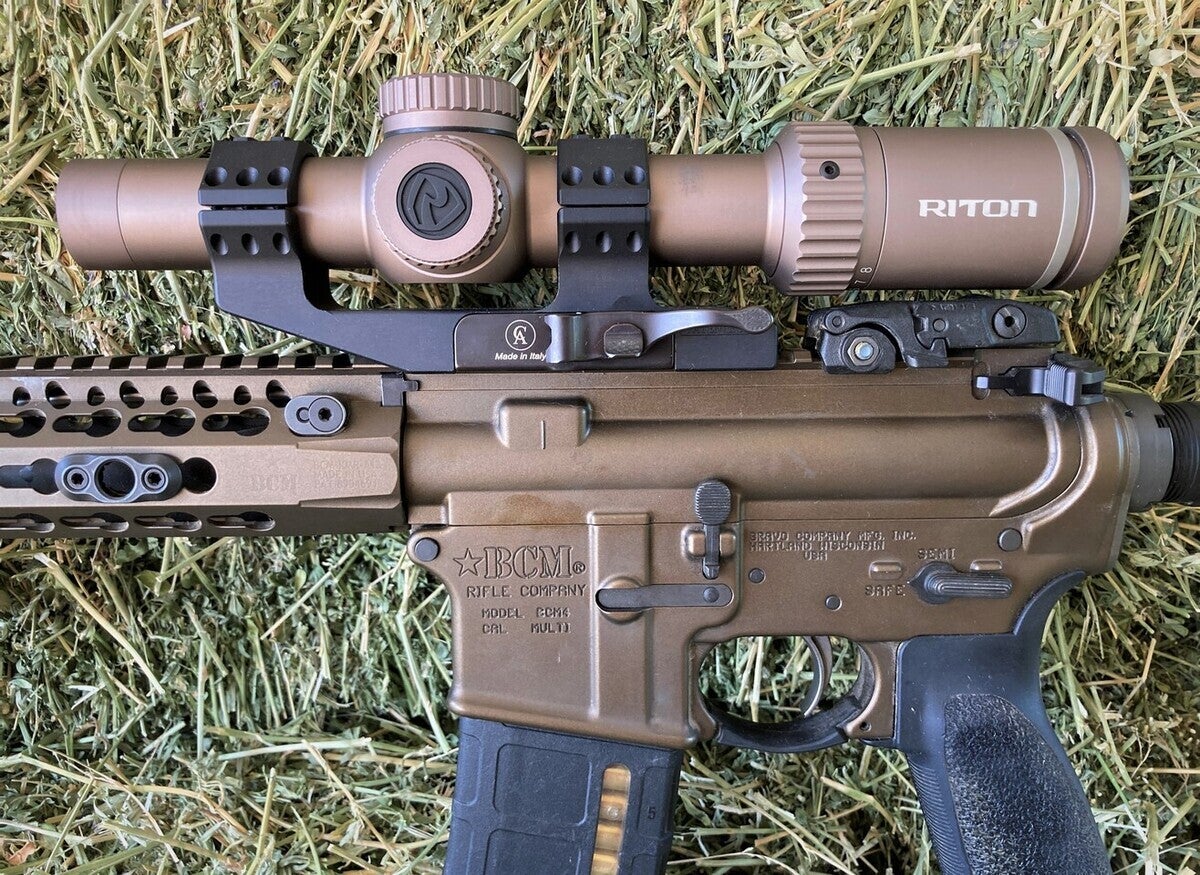 The 6061 aluminum housing guards the waterproof lens arrangement. Lens coating includes what Riton calls low-light enhancement. A throw lever is included.
Among tactical riflescope reticles, this one is my favorite for the LPVO set. That's saying a lot since I've forced myself to become a "mil thinker" in terms of ranging, but the design is so simple and yet adjustable that it's easy for my brain to jump into the MOA mode. Lots of people who shoot long-range more than I, switching often between MOA, MIL, and first or second focal plane reticles and dials don't have a struggle with the mental math, but I have found it easier to stick with one or the other.
This scope makes MOA dialing and reticle-ranging easy, without being busy or obstructing targets. I am extremely fond of it. With the rifle zeroed using full magnification at 50 yards, there was no issue hitting a 10-inch gong at 200 with no hold and with any lower magnification level that allowed myself and a fellow range tester to see the target—for me that went as low as 1.5x.
Adjustment of magnification is clearly marked. Dialing is a bit harder physically than on most scopes; a child shooter might struggle with it, especially sans the throw lever. The lever is removed perhaps too easily with two-plus-a-smidge revolutions of its two threads. Riton saved space and weight on mounting depth here by not adding material to make room for a deeper seat. That exchange is made for a fair chance of losing the lever if the gun is used afield. My suggestion would be to request a spare throw lever upon purchase of the scope. It's cheap insurance and, if you're a believer in the reverse Murphy's Law, well, that should cover that too.
This scope proved itself outstanding at dialing in on small targets in the distance, thanks to its small central dot that doesn't get lost on target and doesn't overpower them either. Illumination proved itself useful on black targets, and is dimmable enough not to distract. I never noticed any clarity issues shooting in both bright sun and overcast conditions.
Close quarters work is a little more challenging, as it is with pretty much any magnifying optic. With a limited field of view, practice is necessary to be fast and accurate looking through the tube. The outer circle of the reticle is a great tool to compensate for this, making for rapid visual pickup at distances as close as 10 yards. As with any LPVO, close work with this one just takes knowing one's equipment and knowing the mechanical hold-over for close-range precision shots.
This scope really showed its quality on the tracking test, a six-round course of fire with six adjustments to numbered points in a two-MOA (at 50 yards) graph scattered on 8.5×11-inch paper. Point of aim is always at the start, or "S" mark, while the numbers indicate adjustments to make hits on the numerals. My sixth shot was the only one to stray to the edge of the one-inch corral, and that was my fault for taking a hurried shot. Long story short, this scope tracks true and reliably.
If a person is willing to accept the start-at-zero illumination function and shallow-seat throw lever, which in my estimation are all that separate it from scopes costing more than twice as much, this is a fantastic buy that should deliver a lot of satisfaction (I'd say "enjoyment" but that might ignite any politically correct thinkers' emotions) for range practice, varmint control, medium game, or property security.
Setting zero stop dials was a breeze in indoor conditions. My aging eyes needed reading glasses to see the numeric gradations, meaning there is no space wasted on oversized dials. An little Allen wrench (included) is all that's needed to loosen the turret dials and set them to "0" to match your chosen zero. Riton also includes a handy lens cloth in the very handsome box.
Least important, but nice to have, are looks. This is a middle-of-the road profile scope with turrets beefy enough to denote it as a tactical LPVO from across the room. However, it's not so bulky as to be out of place in the hunt field. And it's available in black or the bronze finish Riton calls FDE, which coincidentally matches the test rifle we put it on.
Riton by Contessa 30mm QD Picatinny Rail Mount
Riton also offers mounting hardware and this mount was the choice to be paired with the 3 Tactix scope. The three-screws-per-side rings offer great security and presented no problems on installation. Riton kindly includes two extra screws in case of loss. There is but a single crossbar, however the mount fits super-snug, unlike a few we've tried that attempt to fit using both Weaver and Picatinny "teeth" that end up being less than 100% stable on both. A subtle but really useful bubble level is tucked under the rear ring, facing the operator, to help confirm a correct mount. This mount is blued steel (also available in FDE) and a bit on the heavy side at, by my calculations, 10 ounces. It sports a quite non-tactical Contessa logo in cursive, as well as a subtle Riton "R" stamp just above the bubble level.
A lever with a finely-molded button release secures the mount to the rail. Compared to many others that have dual levers, I was at first concerned that it would stay put. But the release is not disengaged without effort. After some use and handling the rifle/mount for a few days, I am confident that it would never come undone by catching on kit or other objects.
This is one solid setup, with a scope that delivers serious performance at a moderate price. The mount is finely featured and a great match for the 3 Tactix.  It's also offered with an integrated 20 MOA riser suited for longer-range work. The 3 Tactix and mount are both available in black or a bronze-y version of flat dark earth. Order direct or from dealers. The 3 Tactix is priced at $509.99 ; the 30mm Picatinny QD mount at $419.99.