Strike Industries Strike Clicker: Something Different – A Finger Trainer
Eve Flanigan 08.01.22

Strike Industries, based in California, just released the Strike Clicker, a device that fits easily in hand to strengthen or rehabilitate a trigger finger – or relieve stress, do the ADHD stimming thing, train your dog, or just annoy someone with a bit of noise.
The Strike Clicker arrives unassembled, so the self-entertainment begins with a short, IKEA-style assembly process. Then the real fun starts. This hand-held device has a trigger-like lever with an approximately two-pound "break." So, even though there are no sights on the top (hey, Strike Industries, ever thought about that?), you can get plenty of reps in while waiting in traffic. Or maybe you're not so good at the "chill" part of Netflix & Chill. This might be the fix.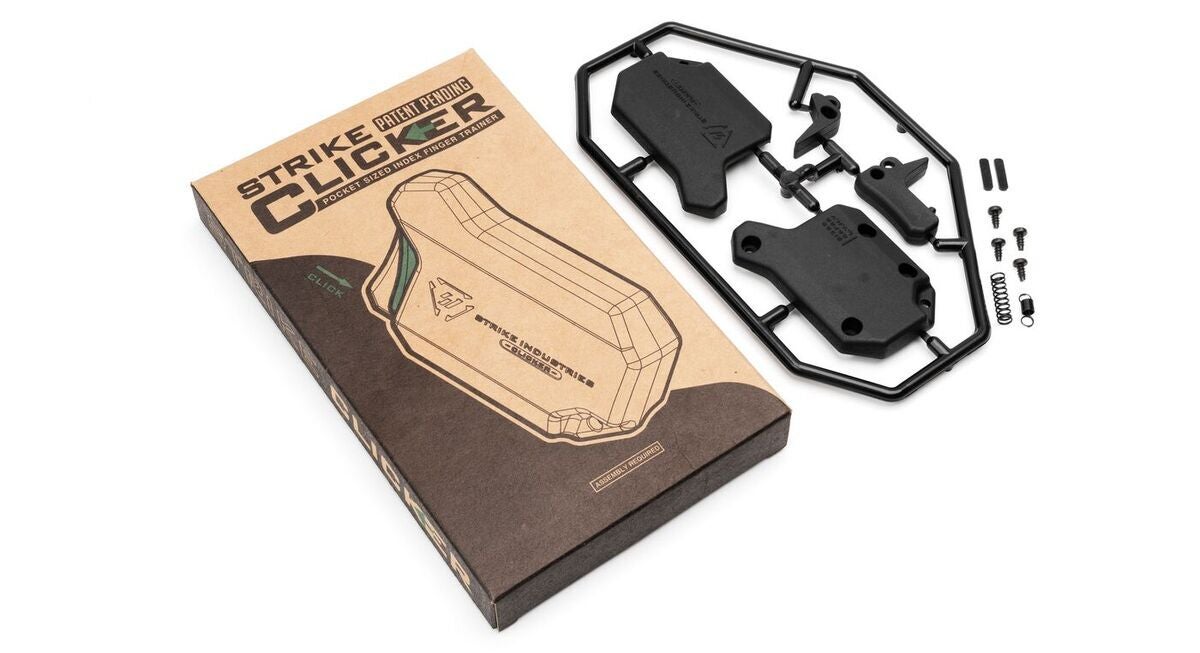 Most people who have a firearm with a two-pound trigger break don't need finger training. But this little device could be a panacea for someone who's bringing a hand back from an injury or some other weakness. And there's no law saying its use is limited to the index finger. Indeed, I've known a handful of people whose physical histories force them to use something other than the index finger as a trigger-presser, usually with good results, so long as determination is in the mix. Then there's this guy, who can shoot with his toes, who might have even more ideas on how to use the Strike Clicker. But I digress.
Fitted with a keychain hole, the little clicker appears easy to take anywhere. The audible click makes it suitable for training your favorite pet, too. That's a more likely sub-use of the Strike Clicker than prepping to grease up and flex on stage at a trigger finger fitness show.
In a year that's had its share of discouraging news and inflation, maybe an $8.95 fidget device on our keychains is just the distraction every gun owner needs.