AllOutdoor Review: Maven B6 12x50mm Binoculars – Bring a Fresh View
Eve Flanigan 08.11.22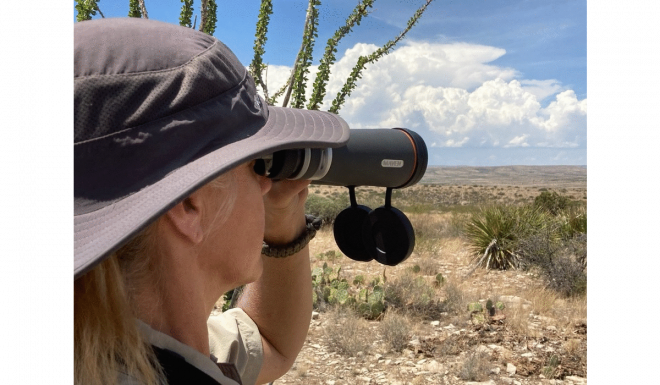 Enjoyment of the great outdoors is almost always enhanced by a great pair of binoculars. Whether it's scouting your next trophy or nailing down an ID on that new songbird that showed up in the backyard, quality binoculars make for quick ID and the opportunity to really study the habits of one's chosen quarry.
Maven Outdoor Equipment is a Wyoming company born in 2013, preceding pre-Covid predictions that optics would be the hot new burgeoning segment of the gun industry. Reading about Maven's roots on the company website, It's apparent the inspiration behind their optical products includes some frustration with industry norms, including forced compromises based on Wall Street rather than outdoorsy principles. The company promises quality without big-box markups.
Maven offered a review of their B6 binoculars. The company's "B" title optics reflect premium-quality wares "delivered at a fraction of comparable binoculars' cost," while those wearing "C" in the title represent mid-range price goods. The B6s are one of nine binocular models from Maven, each with at least two magnification/objective lens choices. The copy I tested is the B6, 12×50.
User-friendly features of these binos are many. A housing that feels rubberized makes them easy to grip and provides a matte finish that won't scare game. The main adjustment, the focus wheel, makes for smooth and rapid adjustments for viewing targets at dramatically changing distances. The diopter adjustment allows the user to customize focus for his or her unique eyes. Also, like many good binos, the B6 has eye relief adjustment. Unlike some others though, it operates a bit differently, with four depth settings reached by turning each eye cup counterclockwise to extend relief. At first I thought "these will never stay where I set them," because turning was so easy. But to my pleasant surprise after walking around with the padded, detachable neck strap holding the B6s on during a hike, that wasn't the case.
These binoculars offer an elegant viewing experience with a crisp image, excellent light-gathering in evening or morning light, and smooth-operating controls. In the past I have struggled with budget binos to see a single image rather than a blurred combination of the view from the right versus left barrels. The hinge adjustment to change the interpupillary distance works perfectly, in combination with correct eyecup adjustment, to create an accurate and satisfying look onto landscapes and critters.
Since this test occurred in summer, I didn't get a chance to see whether the lenses fog or frost over in wintry weather. On a roadtrip, they did move from an air-conditioned vehicle to hot and humid weather and back again numerous times. When using them within a minute of either transition, no fogging occurred.
Good protection for the lenses is included in the package. The objective lenses each have their own rubber lens cover, each of which flips down to expose the lens. On the optical side, a dual-lens cover can be attached to the neck strap lanyard, though I opted not to do this as it seemed like it would strain the rubber loop if I kept it attached with the eye cups on the third longest position that I prefer.
If the so-called unboxing experience is important to you, or if the optics are to be presented as a gift, Maven hits that ball out of the park. The unique design gives outstanding impact protection as well as an attractive package. In addition, a silky drawstring logo bag, with synthetic flannel lining, is included for less bulky storage.
Like other Maven stock binos, the B6s are available in gray/black or with subtle orange trim on gray. Color choice is where Maven stands alone if someone would like an optic that matches personal style. The optics builder function of the website allows a customer to select the optic, base and trim colors, and even to select custom engraving.
Specifications
Size: 6.6″ outside of objective to outside of ocular lens with eyecups at minimum length [Add 3/8″ for maximum eyecup]
Weight: 30.7 ounces
Extra-low Dispersion ED Glass
Waterproof and Fog Proof
Fully Multi-Coated Lenses
Exceptionally Clear, Bright, High Contrast Image
Excellent Color Fidelity
Tripod Adaptable
Lifetime Warranty
Price: $1,050 (10x) | $1,100 (12x)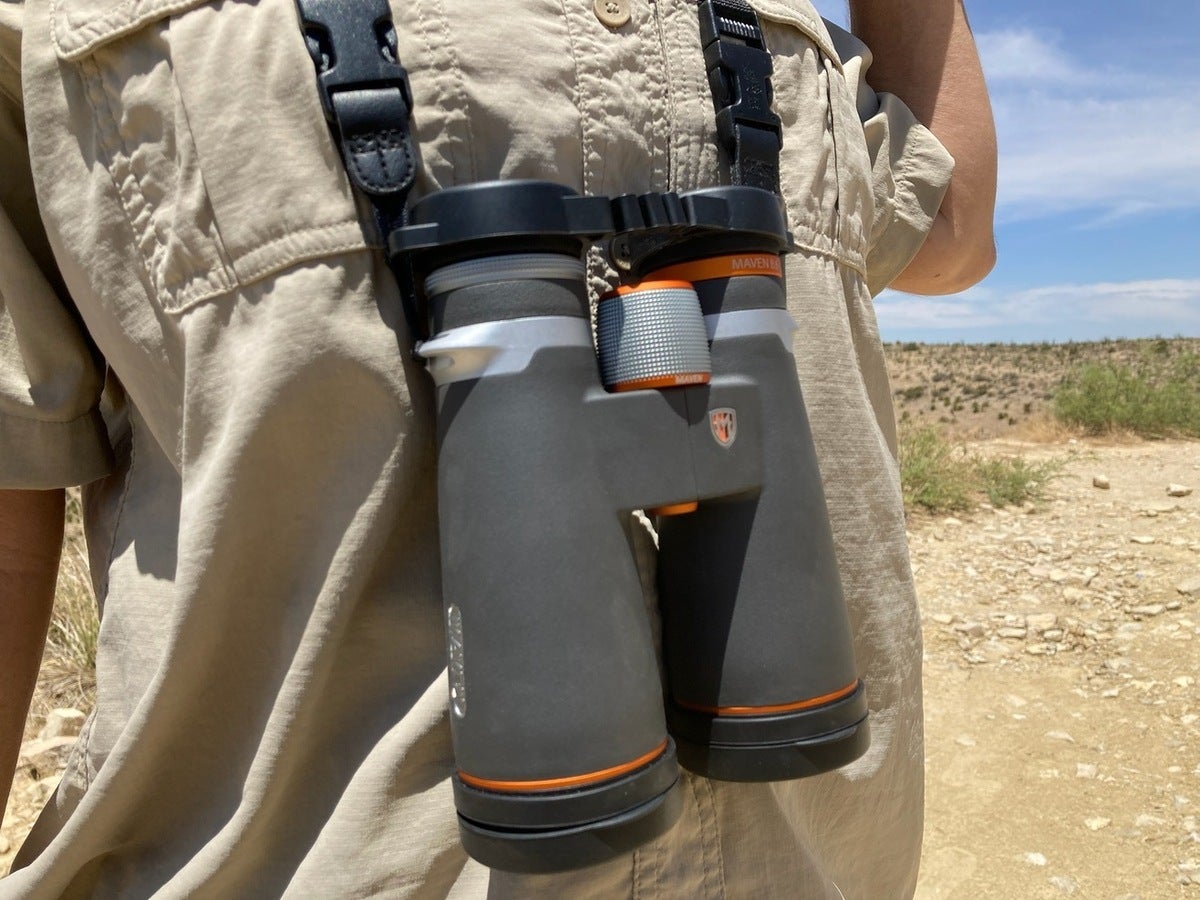 While the Maven business model specifically rejects big-city influence on product development, some will recognize the inspiration behind their name from New York City-dwelling author Malcolm Gladwell's book, Tipping Point:  How Little Things Can Make a Big Difference. At face value, an ironic choice. For this "gun person" whose previous career benefited from Tipping Point, the reference to Gladwell's maven—that person with encyclopedic knowledge about a given subject—is understood and appreciated. Mavens are generally not the best marketers or profiteers, unless marketing or profit also happens to be their segment of expertise. What they can be counted on for is commitment to every detail of their field. So long as Maven remains a home-grown company, their chosen title is quite complimentary.