POTD: Tube with Boom – Swedish Carl Gustav M42 Recoilless Rifle
Sam.S 08.26.22

Welcome to today's Photo of the Day! Here we have a big old tube with some boom. This is the Swedish Carl Gustav M42 Recoilless Rifle. It is not exactly recoilless but it definitely kicks less than it would if it functioned like most anit-tank guns of its time. The "recoilless nature is achieved by the 20mm cartridge having gas vents in the back of the casing. This works similarly to a Bazooka or RPG in that it literally shoots gas out the back while firing a projectile out the front. The Swedish Carl Gustav M42 Recoilless Rifle is a much more modern anti-tank gun solely for the fact that it utilized shape charge technology rather than just slugging a large and heavy projectile as fast as possible.
"Developed between 1940 and 1942, the Gustav M42 represented a significant step forward in man-portable anti-tank weaponry. In operation, and in sharp contrast to other firearm designs, a significant amount of the gasses are vented directly out the back of the breech, providing an opposite (if not exactly equal) reaction to the action of the projectile being launched down the bore. While this results in a monstrous (and potentially fatal) 25 meter backblast, it also allows infantry to fire the weapon, and yields roughly 40mm of armor penetration at 100 meters. Built from rugged tubular steel, the weapon is equipped with a set of folding sights, a lace-on cheekpiece/carry handle assembly, leather shoulder pad and an auto-closing breech assembly. The breech end of the barrel is marked "1987", with matching numbers on multiple components, including a rail-mounted scope base that accepts the included Meoptra brand 4.5x scope, which is fitted with a quick-detach adjustable ring set and clamp-on back up iron sights. Also included with the rifle is a hardwood transport case with "1944" date stencil, leather slings, a canvas breech cover, a cleaning/maintenance kit in a roll-up case, snap-in monopod for prone firing, an English-language manual, firing logbook numbered to the rifle, one canvas field pouch, two ammunition cases, 3 spent casings, and two "46" dated live"]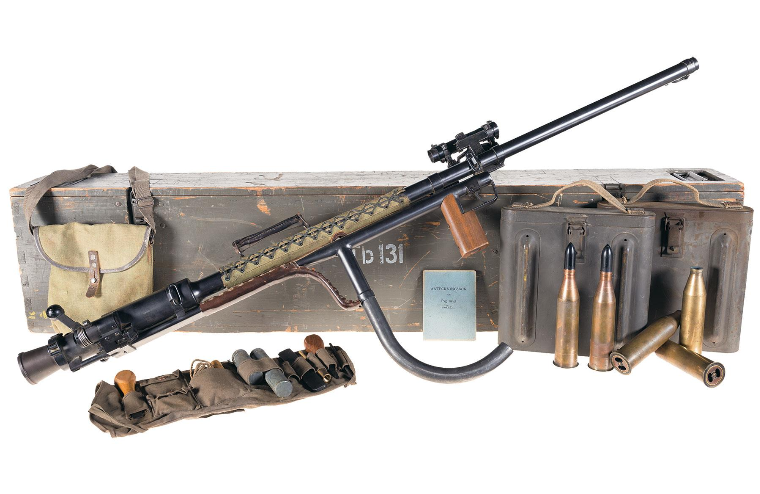 Lot 3430: Gustav M42 Anti-Tank Rifle w/Accessories, Destructive Device – Fine Swedish Carl Gustav M42 Recoilless Rifle with Scope, Case, Ammunition and Accessories, Class Iii/Nfa Destructive Device. (n.d.). Rock Island Auction Company. photograph. Retrieved August 25, 2022, from https://www.rockislandauction.com/detail/70/3430/gustav-m42-antitank-rifle-waccessories-destructive-device.