POTD: Two Brothers and Barrels – Nagant Model 1877 Rolling Block Pistol
Sam.S 09.12.22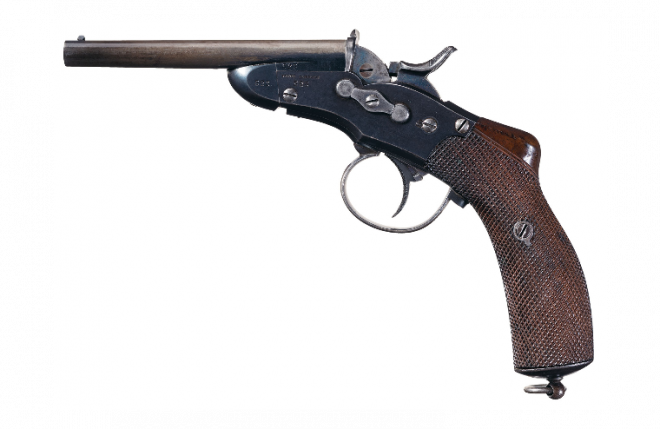 Welcome to today's Photo of the Day! Here we have a double barrel rolling block pistol adopted by the Belgian Gendarmerie. Its origins trace all the way back to 1959 when brothers Emile and Leon Nagant started their manufacturing company in Belgium, which was one of the largest arms making sots in the world. They tinkered with their own designs and produced licensed copies of others and eventually when the 1870s rolled around they began using the Remington Rolling Block action in pistols. One such example is this Nagant Model 1877 made for the Belgian Gendarmerie. Funny enough, despite the odd nature of this gun by today's standards the Nagant Model 1877 ( used metallic cartridges) was popular and beloved by the Belgians. It remained in service until the very early 1900s. The mechanism for firing two barrels is quite interesting. With both hammers cocked the trigger will only drop one at a time no matter what.
"The Model 1877 Gendarmerie pistol was the first Belgian police service arm to use a metallic cartridge. They were used until 1901. This pistol features a rolling block action with double hammers and single trigger. When the hammers are cocked the trigger is pulled once to fire the right barrel and a second time to fire the left barrel. The upper left side of the frame is marked "BREVET REMINGTON," and the right side is marked "BREVET/NAGANT" and E.M. &L NAGANT/LIEGE" in a circle. There are Liege proofs, small "crown/LH" and "rampant lion/C" stamps, and matching serial numbers. "34" is marked in red marker ahead of the lanyard ring."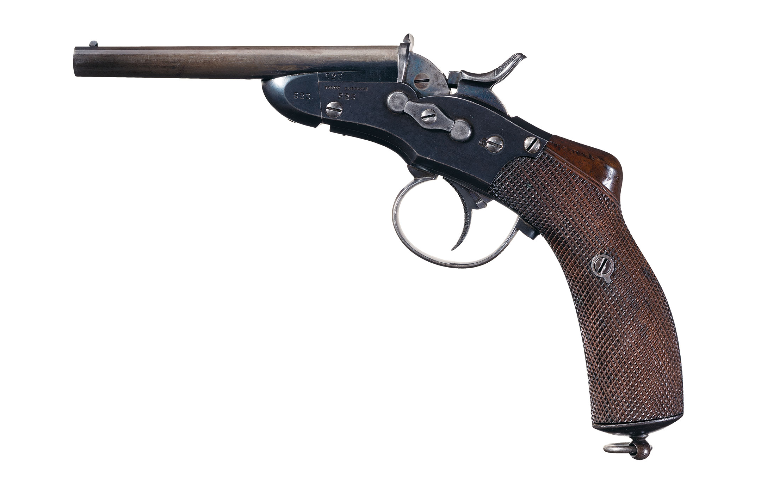 Lot 190: Nagant Model 1877 Gendarmerie Double Barrel Rolling Block Pistol – Emile & Leon Nagant Model 1877 Gendarmerie Double Barrel Rolling Block Pistol. (n.d.). Rock Island Auction Company. photograph. Retrieved September 10, 2022, from https://www.rockislandauction.com/detail/71/190/nagant-model-1877-gendarmerie-double-barrel-rolling-block-pistol.