Summit Treestands + Code Blue Scents = Hanging Tight & More Deer
Adam Scepaniak 09.15.22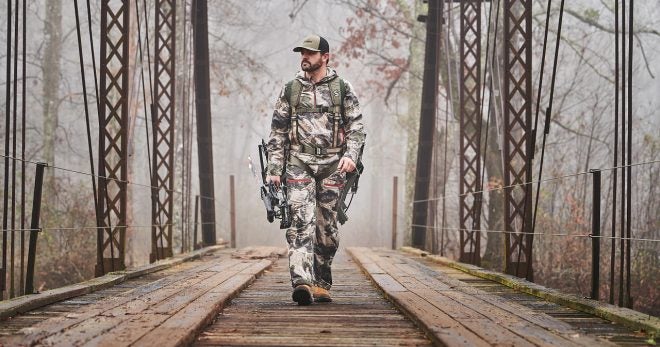 If you have been chasing whitetail deer anywhere in the United States for a reasonable amount of time you understand why they are one of they most hunted and coveted game animals in North America: they are incredibly smart, cunning, and elusive. With that being said, we need every advantage we can get to have the upper-hand. Whether it is drawing in more deer to our location with scents or being perched up high where the deer won't think to see us, we need it all. With Summit Treestands and Code Blue Scents, you can have all the advantages this fall.
Summit Treestands & Code Blue Scents Coverage on AllOutdoor
If you have not heard, both reputable brands have multiple new products for 2022 meant to make your endeavors in the outdoors more successful, easy, and enjoyable. From drawing in more deer to making sitting all day on site comfortable, they have something that you likely will need this fall once your favorite hunting season opens up.
This mobile, hang-on treestand takes comfort, mobility, and adjustability to new heights. It is available in 2 unique camouflage patterns to blend into the natural foliage of where you hunt and it is also incredibly quiet on one's back when walking out into the woods to install it on the perfect tree.
Viper Level PRO SD – Mossy Oak Elements Terra Gila & Realtree Timber
New, patent-pending Easy Level® dials on both the top seat frame and bottom foot platform allow for adjustments to keep both perfectly level – all while attached to the tree
Includes the Quick Draw® PRO cable system for faster and easier attachment to the tree
Integrated into the top frame is the FasTrack® rail for use with its compatible accessories
Aesthetic features on the foot platform channels more effectively break up lines to provide additional camouflage in the field
Design of the upper armrests creates a more roomy feel
Comes with a one-piece wraparound armpad that fully covers the front rail and armrests
Covered by Summit's 5-year limited warranty
Code Blue Scents: Rope-A-Dope & Screamin' Heat Stick
Sometimes we can have all the trail cameras, private property, and free time in the world, but the stinkin' deer just won't come in… and that can be a real bummer! To help with that, attractants and scents can draw in deer that would be otherwise weary. With Code Blue's Rope-A-Dope and Screamin' Heat Stick you can hopefully tip the odds in your favor so deer are running around your property (and not your neighbor's).
Rope-A-Dope – MSRP $19.99
Put that trophy buck down for the count
Combo withstands harsh conditions to provide long-lasting scent to improve scrapes
Screamin' Heat Stick – MSRP $14.99
Pure, premium, and fresh estrous urine enhanced with all-natural female secretions, now in an easy-to-use, mess-free stick!
From one deer to one bottle®
All of these products are currently available on their respective websites at the time of this writing. So, if you need that extra gear this fall to secure filling your tag, now is the time to get after it before you start pondering shoulda, woulda, coulda. As always, let us know all of your thoughts in the Comments below and if you have already used any of these products. We always appreciate your feedback.