AllOutdoor Review – Vanquest Katara 16 (Multi-Cam Black)
Patrik Orcutt 09.23.22

Since 2011 the people over at Vanquest have been putting together what they say are "The TOUGHEST bags & packs for EVERYDAY CARRY, and help you stay ORGANIZED & PREPARED." The brand is quick to mention that their products are used by everyone from outdoor enthusiasts to the FBI and USSOCOM. Vanquest is made up of former outdoor gear designers, photographers, and former founding members of Maxpedition.
They have also partnered with Cordura® fabric, and premium hardware suppliers YKK®, ITW®, and Duraflex® to help them bring to market "Tough-Built Gear". They are a company that develops all their  products in the US, and partner with major US name-brand suppliers (such as Crye Precision for MultiCam-Black Cordura®). With that being said all of their gear is assembled in Taiwan and Vietnam to give their customers a good cost to quality ratio.
Vanquest Katara 16 – Technical Specs 
Total Pack Capacity: 16 Liters
Net Weight: 2.65 Lb
Overall Exterior Size (Fully Extended with Handles): 18″ (H) x 10.5″ (W) x 7″ (D)
Main Compartment (Interior): 17″ (H) x 9″ (W) x 4″ (D)
Top Front Pocket (Interior): 7″ (H) x 8.5″ (W) x 1.75″ (D)
Bottom Front Pocket (Interior): 9.75″ (H) x 8.5″ (W) x 1″ (D)
Hidden CCW Compartment (Interior): 9″ (H) x 8″ (W)
Padded Laptop/Tablet sleeve (Interior): 16″ (H) x 8.5″ (W) x 0.6″ (D)
Color Options: Coyote Tan, Wolf Grey, Black, Multi-Cam Black
Vanquest Katara 16 – How The Bag Was Tested 
Over the course of 18 months, this KATARA-16 was used to:
Tote around my EDC items to and from work
Carry on for multiple flights
Makeshift camera bag
Several short day hikes
Lunchbox
Light to medium use overall

Vanquest Katara 16 – Quality and Comfort 
I think the overall perception of most of Vanquests products is that they are good but not great. I know on the site here we love to review the small back custom bags and there is nothing wrong with that. While everything in Vanquest's catalog is definitely mass-produced, that doesn't mean their products are not quality. Personally, I was pretty impressed upon first impressions with the Katara 16 when I first picked it up.
The use of 500D really makes the pack softer and lighter. Note that high-wearing areas are still made with 1000D. Its built to stand up to hard use where it need to sit but also has had some of the fat trimmed by using lighter materials where appropriate.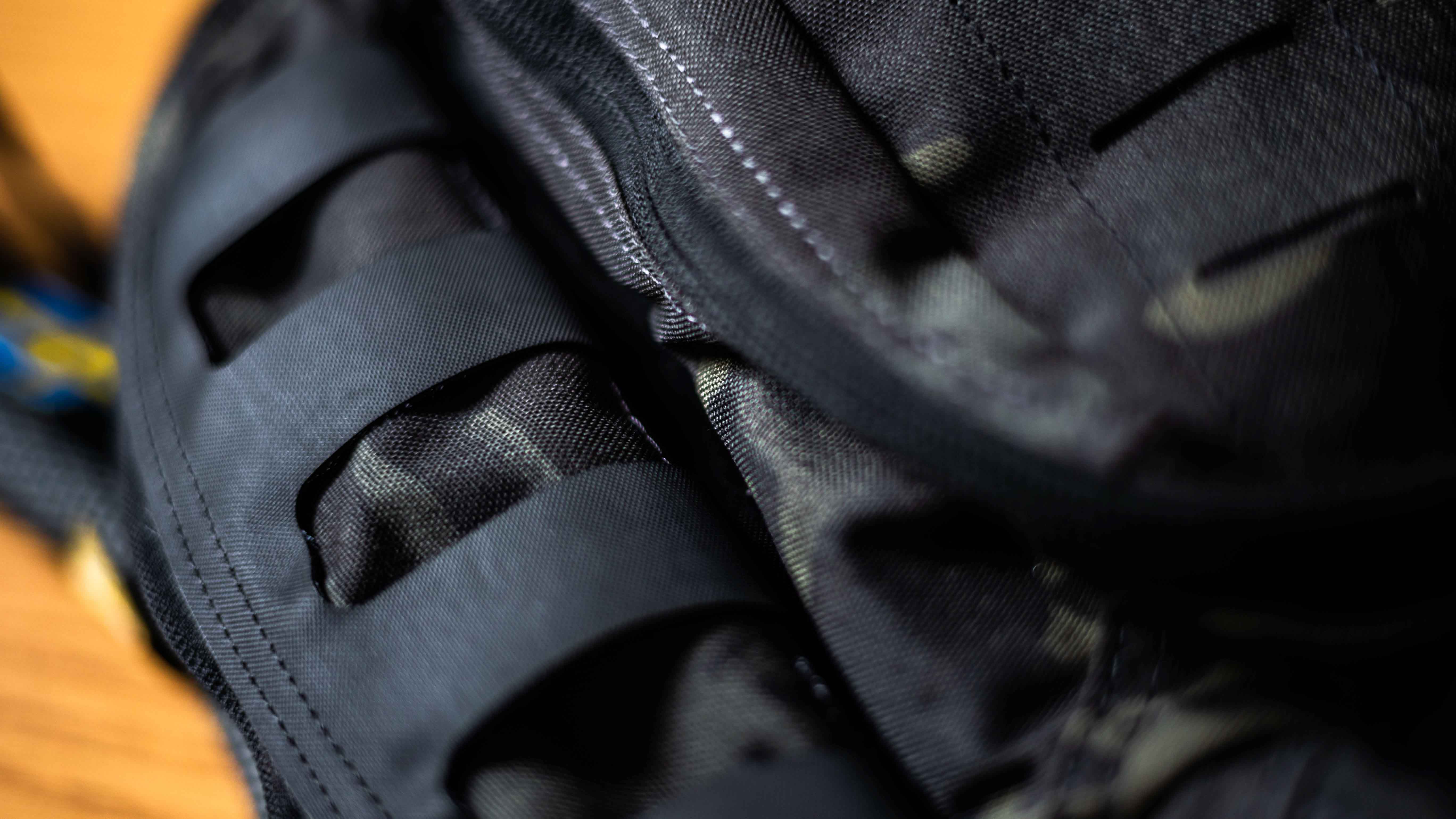 For the best balance of weight and strength, Vanquest used ultra-durable 1000-D Cordura® nylon at high-wear areas (bottom, sides), and 500-D Cordura® for the rest of the bag. Our Cordura® is treated with DWR (Durable Water Repellent) for all-weather performance.
While most of the pack is constructed of 500D there are also Low profile Hypalon MOLLE-Air side panels plus Cordura MOLLE-Air front panel for modular expansion helping give it a much more urban look while keeping the whole thing light.
One big thing that bag has going for it is that it can be converted into a sling bag by removing one of the shoulder straps. The back panel lets you remove and switch shoulder straps to setup your KATARA as a right- or left-shoulder VSlinger sling pack for quick access. Shoulder straps are secured with hook-and-loop fasteners, durable Duraflex buckles and G-hooks.
I think this is a really clever feature for people who may want to run this as a sling on the weekdays and then turn it into a backpack for adventures on the weekends. Im glad to see this feature on a 16 L bag and not on a 32L. Anyone who has used a sigh knows that you need to keep it light to keep it comfortable. I hate it when I see larger bags with sling features on them because I can just think back to how much my old Hazard 4 Photo Recon used to dig into my shoulder when I led it all the way up with camera gear. With all that being said I personally did not use the Katara in its sling configuration aside from converting it to see how the process worked.
The shoulder straps are very comfortable and well designed with an integrated and removable strum strap. There are also adjustable and removable shoulder straps with sternum straps that doubles as your stabilizer strap.
All of the hardware on this bag is very functional and built to last. The pack has Mil-grade ITW® and UTX-Duraflex® hardware made from high tensile strength Acetal polymer. The zippers are Durable RC-Class YKK® with lockable zippers, reversed for protection. To top it all off we have conquests' signature Spartan Zipper pulls. Personally, I think that the spartan supper pulls are some of the best out there if quick access is your goal but they can snag on twigs and brush sometimes so keep that in mind.
Vanquest Katara 16 – Organization 
This is the section of the review where I am probably going to sound like a Vanquest fanboy because I think they knocked it out of the park with the organizational options on this pack. The outer top pocket has a zippered compartment, elastic webbing organization, a slip pocket, and a hook-and-loop field for ID patches. The elastic webbings in this compartment are perfect for holding an extra lighter, multitool, ID cards and chapstick. This is easily my most accessed pocket on the entire bag. Then there are two Hypalon MOLLE-Air side panels that lets you attach our HYDRA Water Bottle Holder or single channel MOLLE accessories.
Inside of the KATARA, there's a padded sleeve for a tablet / small laptop that can be accessed from the left or right side of the pack.I put my 13" Macbook in this sleeve with no issues.  This sleeve also doubles as a hydration bladder pocket. The front of the sleeve is lined with orange loop fabric for your hook-and-loop accessories. This brings me to one of the most polarizing parts of this pack, the interior color. The majority of the interior of the KATARA is bright blaze orange. While I understand the color choice brings high visibility to inter of the pack making it easy to find your items, I think it's just a bit too bright. You could argue that the color could also become useful as a way to signal in a survival situation and while I think that this color has its merits, I'm personally not a fan. If I want to be low vis, all I have to do is open this bag up and everyone's eyes in the room are on the contents of my bag.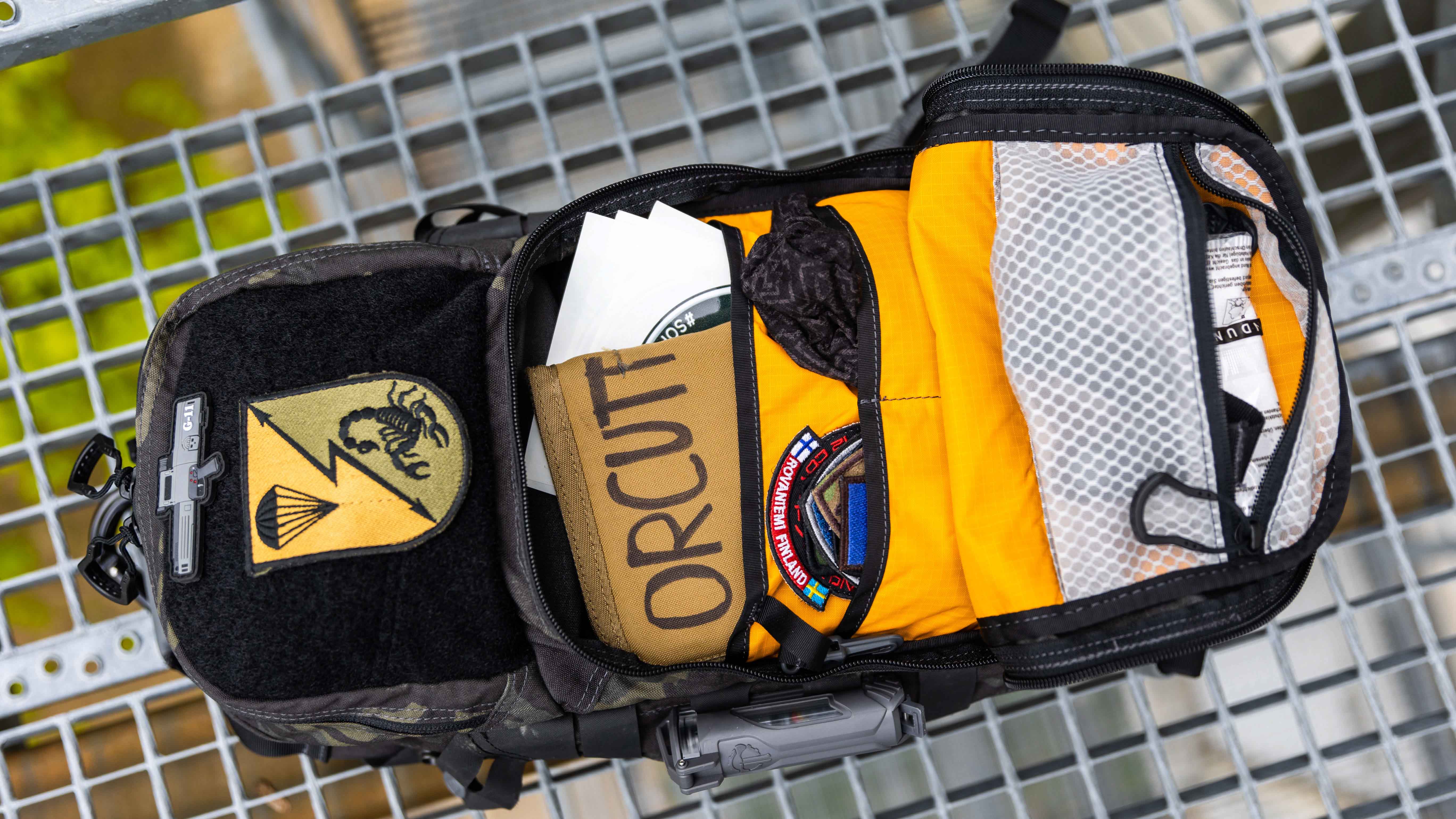 I would like to see Vanquest offer the interior in a few different color options like a very light grey or a blue color. This way you can still see the interior of the pack but also not alert everyone in the room when you go to grab a bag of trail mix.
Opposite to the padded sleeve, you'll find a zippered pocket on top, and a "3-Mode" convertible pocket on the bottom. The "3-Mode" convertible pocket can be opened from its left or right zipper and has a flap top closure. The "3-Mode" pocket can also be rolled-down and stored, revealing a large loop field for more hook-and-loop accessory attachments. I found this pocket to be very versatile and come in handy for keeping unconventional items like camera lenses and hard drives secure no matter how awkwardly shaped they were. There are two side internal pockets with elastic retention for medical gear, knives, or flashlights. I found this pocket fit a tourniquet perfectly and with enough retention to keep it in place but not be difficult to access when I needed it.
Usually, when I get a new bag I throw a small organizer pouch in the main compartment to hold all of the small items I carry on a daily basis. With the KATARA 16 there was a divider or a pocket for everything I wanted to bring with my as an EDC bag. I think that this is the best part of the bag as organization is something a lot of the smaller packs have a hard time with. I would also like to bring up how much stuff you can put in this deceptively small pack. As the years go by and I refine my EDC gear to be smaller and lighter, I can really appreciate a bag of this size. The KATARA lets me take all the things I need and nothing more.
Last but not least there is a CCW (Concealed Carry Weapon) compartment housed in between the main compartment and the front organization pocket. The hidden access path to this pocket is kept shut with velcro. You're not going to be able to put a large handgun in the pocket so stick to the sub-compact pistols.
Likes 
Material Selection, the perfect combination of strength and weight was hit in my opinion.
Organization, by far the best part of this pack is its great organizational options.
Attention to detail, The team at Vanquest put a lot of time into the execution of the KATARA 16 and it shows.
Dislikes 
Color Options, This bag is only offered in very tactical colors and with very bright orange interiors, Id like to see some other color options come with a possible update in the future.
Price, the KATARA 16 comes in at $175.00 at the time of this review, this is a very well made bag but Id live to see it in that sub $150.00 category.
Vanquest Katara 16 – Wrap up 
Overall, I would say the Vanquest KATARA is a great bag because when I first got this bag I didn't think I was going to really enjoy it but I'm happy to say that's not the case. I think this is a great EDC bag with incredible organizational options and its held together with quality materials. In the future I would like to see a "slick" version of this bag in a similar idea as the GORUCK slick packs. If you removed the MOLLE panels and offered the bag in a few different colors, I think this could be a really great "LOW VIS" Urban option.