POTD: Two Barrels for The Bad Guys – Ithaca Auto & Burglar
Sam.S 09.26.22

Welcome to today's Photo of the Day! Here we have one of the many things that the NFA ended in the 1930s. This is the Ithaca Auto & Burglar shotgun. This specific one is a Model B. The Ithaca Auto & Burglar shotguns were marketed as an all-purpose self-defense tool whether it is used by police, carriers, prison guards, or in the home against intruders. They typically had short barrels, around 10 to 12 inches, and were made in an assortment of cartridges. When the laws regarding short-barreled rifles and short-barreled shotguns rolled around the Ithaca Auto & Burglar succumbed to the AOW (Any Other Weapon )designation.
"Produced between 1925 and 1934. Single brass bead sight, solid rib between the "SMOKELESS POWDER STEEL" and "MADE IN U.S.A." marked barrels, and both sides of the frame decorated with a pointer in a field over the "AUTO & BURGLAR GUN/ITHACA GUN CO. ITHACA, N.Y." markings. Checkered forearm and pistol grip stock, with the latter showing a very sharp angle and pronounced web knuckle for recoil management. Included with the lot is a box of Western Xpert shotshells (2 1/2 inch, 0 chilled shot) and an original brown leather holster."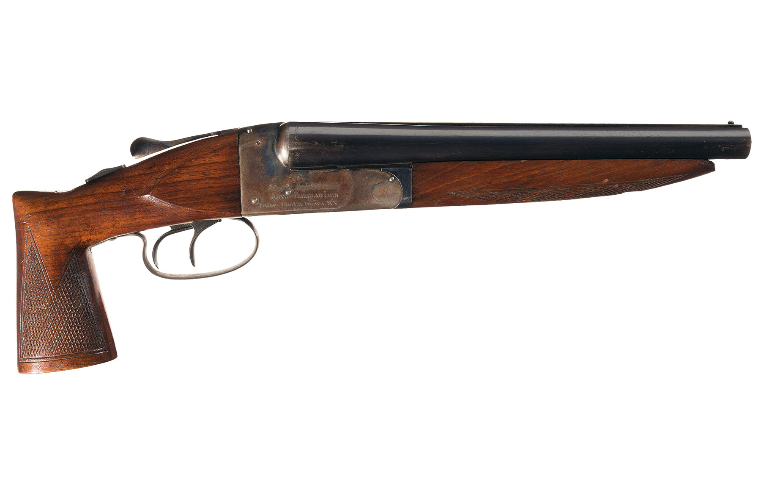 Lot 3540: Ithaca Auto & Burglar Class Iii/Nfa Aow w/Holster – Ithaca Auto & Burglar Model B Double Barrel Smoothbore Pistol, Class Iii/Nfa Transferrable "Any Other Weapon", with Original Holster. (n.d.). Rock Island Auction Company. photograph. Retrieved September 25, 2022, from https://www.rockislandauction.com/detail/71/3540/ithaca-auto-burglar-class-iiinfa-aow-wholster.