Daiwa's NEW CH-1 Shallow-Running Crankbait Patterns
Eugene L. 09.28.22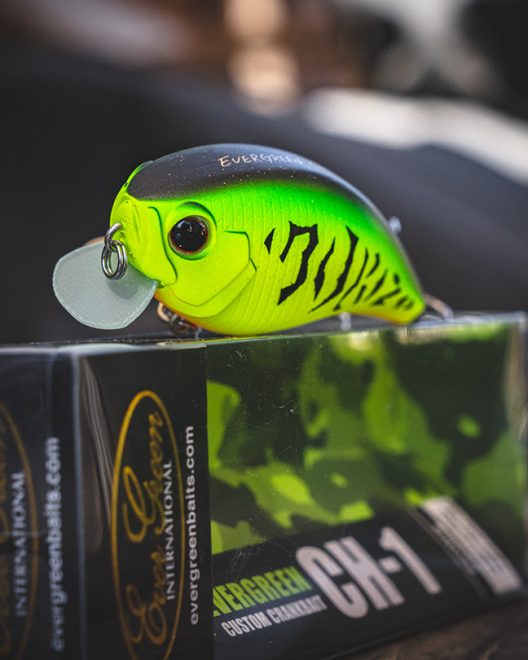 Morizo Shimizu is the mind behind one of Evergreen's most bass-appealing super-shallow running crankbait designs. The Evergreen CH-1 has a target running range of less than a one-foot under the surface. The perfect bait to mimic forage running just below or at the surface of the water. It's a floating crankbait, with a diminutive size at just 2.25″ long. The Evergreen Ch-1 weighs in at 7/16-ounce and dives just below the surface to bring in those aggressive strikes from bass feeding near or at the surface. Perfect for these fall days where the bass have schools of shad balled up shallow.
While these small crankbaits are great and effective they have a problem when fished on baitcasting gear, they struggle in the casting distance department. The Evergreen Ch-1 doesn't have that issue though, featuring a rattle chamber at the end of the body, there are tungsten and stainless-steel ball bearings inside. These balls will move when the lure is cast allowing for remarkable casting distance, that way you can cover more water as you fish.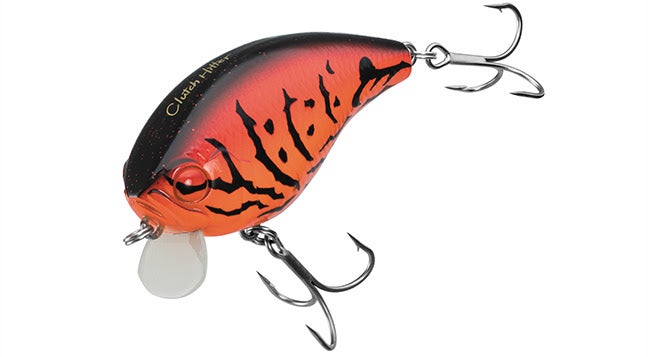 The dive curve is less than one-foot at a normal retrieve, but the angler can adjust the running depth with the angle of the rod and retrieve speed to attract fish that stay just below—and feed—on the water's surface.

For those already hip to the benefits of the Ever Green CH-1 crankbait, they already know it's a. real fish-catcher. The secret behind the bait is its quick response upon retrieving and a powerful action whether fished fast or slow. Due to the circuit board design and fixed weight at a low center of gravity, the CH-1 responds quickly upon contact with the water. The action and the rattle attract fish from an extensive area. Even at low speed, the CH-1 takes firm hold of the water with action and during high-speed retrieval it does not break the water so the angler can use it stress free without problems with how the bait is running or fouling.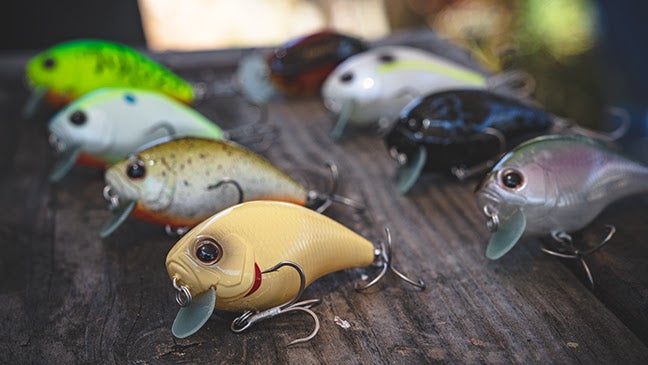 The mixture of tungsten and stainless steel in the internal rattle and weight transfer system makes a complex low-pitched sound that draws in big bass all across the globe. The weight changing the center of gravity also gives the lure a unique and powerful high-pitched wobble that is irresistible to fish.
The CH-1's wide lip and wide action help it avoid snags. Even after running into wood or vegetation, it recovers quickly and keys back into the strike zone.
The CH-1 is currently available in BLUE BACK CHART and FIRECRAW, new patterns to include MATTE TIGER, BLACK BLUE CRAW, MYSTIQUE BONE, CHAMPION SHAD, CHART SHAD, PRE-SPAWN DYNAMITE, ROOTBEER, and GHOST WAKASAGI.
FEATURES
Floating crankbait
Weight: 7/16 ounce (12.5 grams)
Length: 2 ¼ inches (58mm)
Diving curve: 0-1 feet
Hook size: Front #5; Rear: #6
Available November 2022. MSRP $15.95