NEW Shimano Curado DC 200 Blending Performance and Flexibility
Eugene L. 10.06.22

When it comes to low-profile casting reels there are a few that set the standard for all other reels to meet. The Shimano Curado family is one of these reels, carried by pro tournament anglers and recreational anglers alike, the Curado family provides dependable, tournament-tested performance in a compact package. Shimano has now introduced the new Curado Dc 200, with Digital Control technology and increased line capacity for enhanced performance and flexibility. Which is great for hooking up on those fish that often bite at the very end of your cast. The Curado DC 200 has 40% more line capacity compared to the smaller Curado DC 150, putting those easily spooked, trophy fish well within range. The additional line capacity also increases the reels versatility and performance by letting you have more choices in baits and techniques depending on heavier line or larger lures.
The Curado DC 200 has Shimano's unique DC technology, I-DC4. This is an Intelligent Digital Control braking system that utilizes a microcomputer to monitor the spool speed 1,000 times per second. The microcomputer then applies the perfect amount of braking force as the spool spins to prevent your line from backlashing. This makes the reel better for anglers of all skill levels, less thumbing the spool, and more trouble-free casting in all conditions.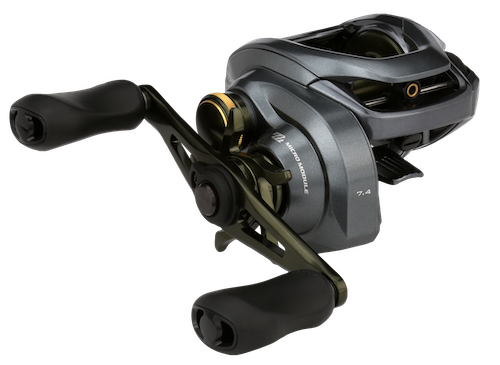 The Curado DC 200 is able to handle large fish easily thanks to a rigid metal Hagane Body and durable Cross Carbon Drag system. The Hagane body technology keeps the reel rigid and eliminated any flexing so the gears mesh better, giving the anglers a more direct experience when cranking the reel. This makes for a more efficient power transfer for an effortless cranking experience. The Cross Carbon Drag provides an expanded range of drag settings for an exceptionally smooth drag performance even under pressure fighting a large fish. Built rugged the Curado DC 200 can withstand continual use and abuse due to its seamless blend of toughness and durability with precision engineering and expert craftsmanship.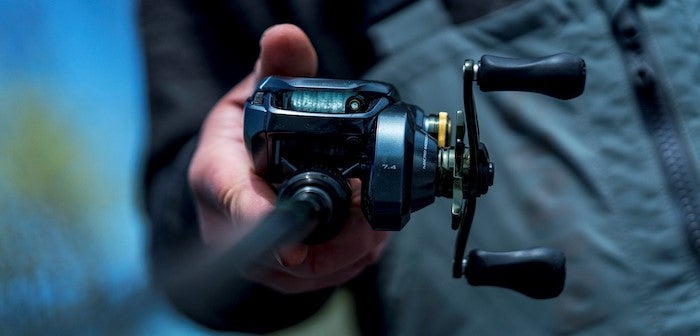 The Curado DC 200 is available in two gear ratios to cover a wide range of situations that anglers encounter on the water. The medium 7.4:1 gear ratio Curado DC 200 (CUDC200HG) is a versatile workhorse reel that is an excellent choice for any relatively slow presentation, like fishing a crankbait in cold water, slow-rolling a spinnerbait, or grinding a squarebill against rocks and stumps. The extra-high 8.5:1 gear ratio Curado DC 200 (CUDC200XG) lets anglers retrieve line fast – perfect for flipping or winching trophy fish out of heavy cover.

Fish smarter and leverage Shimano's premium DC technology with the all-new Curado 200 DC, available now at authorized Shimano dealers with an MSRP of $269.99.
Curado DC 200 – Features
MicroModule Gear
X-Ship
HAGANE Body
CI4+
S3D Spool
I-DC4 Intelligent Digital Control
S A-RB Shielded Anti-Rust Bearings
Super Free Spool
Cross Carbon Drag
7.4:1 and 8.5:1 Gear Ratios
Right or Left Hand Retrieve