POTD: If First You Don't Succeed – The Winchester Model 40
Sam.S 10.10.22

Welcome to today's Photo of the Day! Here we have Winchester's second attempt at creating a semi-automatic to compete with John Moses Browning's popular design. This is the Winchester Model 40 and it was a follow-up to the Winchester Model 1911 "self-loading" shotgun. If you are not familiar with the Model 1911 it was the one the public (rightfully or not) dubbed "The Widowmaker". The Widow Maker was not a commercial success and most of that has to do with its name. I have discussed its origins in a previous Photo of the Day. The Winchester Model 40 was only made for two years but had a larger production run of 12,000 guns. My very few resources mention that Winchester ended up recalling the Model 40 almost immediately due to reported design flaws. I would have guess that it had more to do with supporting the war effort at the time.
"Manufactured from 1940 to 1941 with approximately 12,000 guns sold. The Winchester Model 40 was the company's second attempt to break into the auto loading shotgun market. The shotgun includes a 1992 dated letter from the Buffalo Bill Historical Center, stating that no information was available for this shotgun, or any records for the Model 40 semi-automatic. Features a ramped blade style front sight, 2 3/4 inch chamber, modified choke, and a 1/2 length tubular magazine. The left side of the receiver features a highly detailed setter and snipe field scene. Deluxe checkered semi-beavertail forearm and pistol grip stock with a hard rubber Winchester grip cap, and checkered Winchester buttplate. Stock measurements are: drop at comb 1 3/8 inches; drop at heel 2 1/2 inches; length of pull 13 3/4 inches."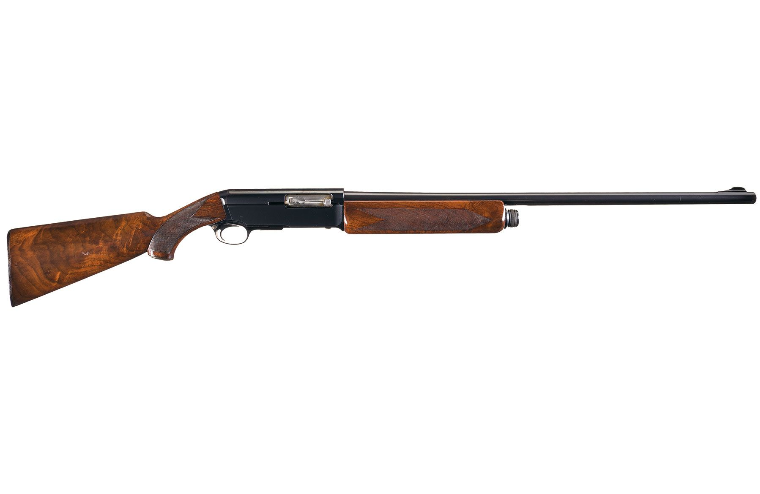 Lot 506: Scarce First Year Production Serial Number '7' Factory Engraved – Scarce First Year Production Serial Number "7" Factory Engraved Winchester Deluxe Model 40 Semi-Automatic Shotgun. (n.d.). Rock Island Auction Company. photograph. Retrieved October 9, 2022, from https://www.rockislandauction.com/detail/72/506/scarce-first-year-production-serial-number-7-factory-engraved.