TFBTV – Cheapest AR-15 vs. Most Expensive (PSA vs. Daniel Defense)
Adam Scepaniak 10.17.22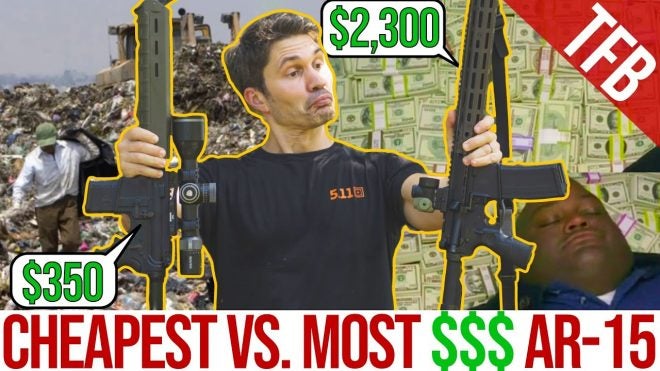 In this episode of TFBTV, James Reeves gets his hands on the brand new Daniel Defense M4A1 RIII, which is the famed Daniel Defense DDM4, but equipped with the new RIS III handguard used by Special Operations. But at $2,300 MSRP, why would anyone pick up the DD M4A1 RIII, especially when you can get cheaper AR-15s for $400 and less these days? James puts this to the test by buying and building a budget Palmetto State Armory (PSA) AR-15 on an Anderson Manufacturing lower, two of the cheapest AR-15 manufacturers in the business. To make the contest a little more fair, James spends an extra $100 or so on a stainless steel barrel for the budget build, and compares accuracy between the two, as well as discussing the pros and cons of each. Check today's video to see which one comes out on top.
««« GUNS AND GEAR IN THIS VIDEO »»»
AR-15 Parts at Top Gun Supply: 

https://www.topgunsupply.com/gun-parts/ar-15-parts.html
««« APPAREL IN THIS VIDEO »»»
Apparel: All TFBTV apparel is sponsored by 5.11 Tactical and you can get it at www.511tactical.com
««« GUN AND GEAR GIVEAWAYS »»»
We give away guns and gear EVERY month to our supporters. Consider supporting us.
Gun and gear giveaways are not affiliated with, associated with, or in any way endorsed by YouTube and TFBTV is solely responsible for the giveaways mentioned in this video and this description. No purchase required for gear worth over $250. Full rules and terms are found at http://tfbtv.gun.team/
««« FOLLOW US ON SOCIAL MEDIA »»»
https://www.facebook.com/TheFirearmBlogTV/
https://www.instagram.com/TFBTV/
https://www.reddit.com/r/tfbtv/
««« SPONSORS »»»
Please Support Them! They help make our videos possible.
– Ventura Munitions – www.venturamunitions.com
– Blue Alpha Gear – www.bluealphagear.com
– Top Gun Supply – www.topgunsupply.com
««« TFB CHAT ROOM »»»
Want to join the TFBTV chat room? Use our Discord Invite: discord.gg/tfbtv
#TFBTV