NEW Gerber Center-Drive Rescue Multi-Tool: MOLLE or Berry Compliant
Adam Scepaniak 10.20.22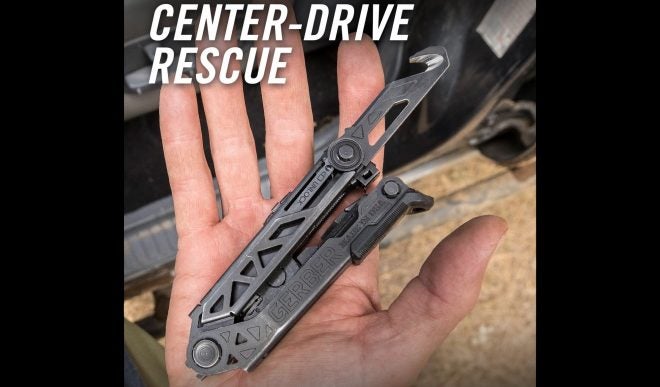 When we are looking at multi-tools we want them to have everything plus the kitchen sink. Simultaneously, we know we can't have everything (as hard as we may try), so we look to get as innovative of features as possible. This very motivation lead Gerber to create their Center-Drive series and continue to refine it. The NEW Gerber Center-Drive Rescue multi-tool looks to give users that center-point advantage along with other life-saving tools on board.
Gerber Coverage on AllOutdoor
You are looking at an MSRP of $145 for the Gerber Center-Drive Rescue (MOLLE-Compatible Sheath) and an MSRP of $155 for the Gerber Center-Drive Rescue (Berry-Compliant Sheath). Both of these new offerings carry Gerber's legendary Limited Lifetime Warranty in the rare event you should ever need service for one of their tools. The complete specs read-out can be seen below as presented by Gerber:
One-Hand Open Strap Cutter & One-Thumb Opening System
Spring-Loaded Needlenose Pliers with X-Channel Rail System
Rotatable Carbide Wire Cutters & Strippers
Full-Size 2.5″ Partially Serrated Blade
Magnetic 3.2″ Center-Axis Bit Driver
Pry Bar with Nail Puller & Bottle Opener
Awl, File, Magnetic Flathead & Phillips Bit Sets
MOLLE-Compatible or Berry-Compliant Sheath Options
Closed Length: 4.7″
Open Length: 6.6″
Weight: 9.5 Oz

The Center-Drive Rescue offers uncompromising performance through revolutionary design, now with a one-hand opening strap cutter. The innovative center-axis driver opens to align like a real screw driver, yielding maximum torque and rotation. No productivity is sacrificed with a 2.5″ internal partially serrated blade and one-thumb opening sliding jaws. Full size, real tools—the multi-tool just got a reality check. Available with MOLLE-compatible or Berry-Compliant sheath options.
We all know how important it is to have a multi-tool that gives you a bit set over the "center" of your multi-tool. Otherwise, you are slipping, sliding, and stripping out hardware – not good. Also, it is nice to have a utilitarian knife and such life-saving tools as a strap/seat belt cutter (take it from this firefighter, that can be invaluable). So, if you are in the market for a new multi-tool, the Gerber Center-Drive Rescue could be right for you. As always, let us know all of your thoughts in the Comments below! We always appreciate your feedback.