POTD: How Could I Forget! – The Colt 1877 Thunderer
Sam.S 10.21.22

Welcome to today's Photo of the Day! Here we have another Colt 1877 DA revolver. I say "another" because I have previously covered the 38-caliber Lightning and the 32-caliber Rainmaker but somehow I forgot about the Thunderer. Maybe this is just time to bring these neat revolvers up one last time (until a future Curious Relics…wink-wink). The Colt 1877 thunderer (and other caliber counterparts) were initially an attempt to design a double-action revolver that would please the British government during some military trials. Needless to say, it did not get picked but Colt figured they had something so they ran with it. They ran with it for 32 total years! These revolvers today have a lackluster reputation which is not fully warranted. in their own time gunfighters such as Billy the Kid, John Wesley Hardin, and Doc Holiday all used Colt 1877s.
"Manufactured in 1901. The barrel has the two-line Hartford address on top and "COLT D.A. 41″ stamped on the left side. The left side of the frame has the three-line patent dates marking followed by a circled Rampant Colt. Matching serial numbers are on the frame, trigger guard, and back strap. Provenance: The Milan J. Turk Collection"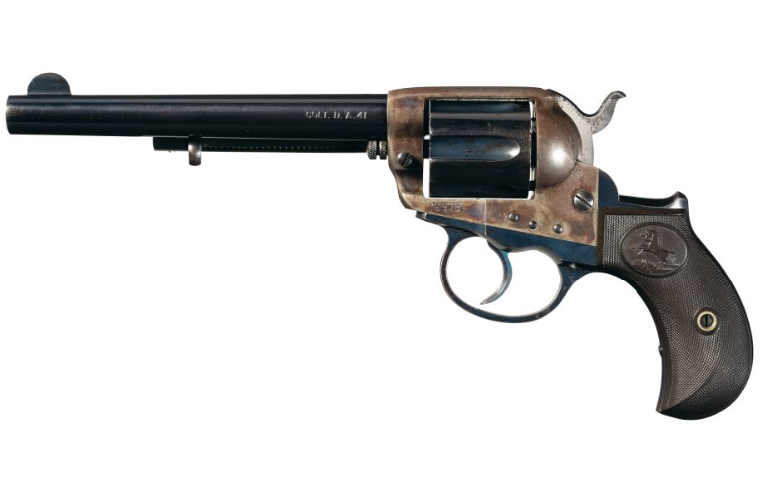 Lot 3277: Colt Model 1877 Thunderer Double Action Revolver – Colt Model 1877 Thunderer Double Action Revolver with 6 Inch Barrel. (n.d.). Rock Island Auction Company. photograph. Retrieved October 19, 2022, from https://www.rockislandauction.com/detail/84/3277/colt-model-1877-thunderer-double-action-revolver.