Northland's NEW Elite Series Weedless Cabbage Crusher Jig
Eugene L. 10.24.22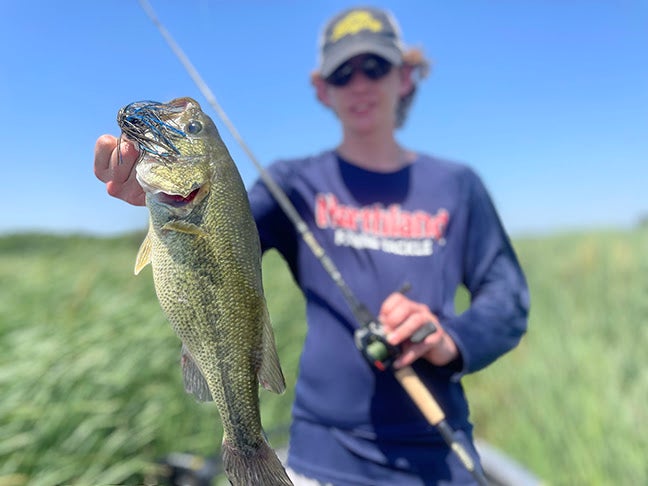 Largemouth bass love grass and vegetation, they will just cruise along the weedlines looking for a quick and easy meal. They also will lurk deeper in cabbage, coontail, and milfoil beds and depth breaks doing the same thing. So while these fish are willing to eat, the problem is often the inability to get a lure into the jungle of grass the bass are living in. That's where Northland comes in with their new Elite Series Cabbage Crusher weedless jig. It is a slender upturned bullet-shaped weedless jig built specifically to operate in vegetation.
The guys at Northland put a lot of thought and effort into the new jigs. With lots of testing and re-testing of the designs until the final retail-ready Cabbage Crusher was complete. The jig features a 60-degree tie eye which easily slips through the weeds and heavy cover. The eye itself was also designed with a larger gap to fit heavier fluorocarbon that is often used by bass anglers plying vegetation. The next feature is the weed guard, a piece of titanium chosen for both its strength and flexibility. A dual wire weed guard, instead of a single grass guard the bait can glide easily through heavy cover without having to sacrifice any of the hook gap. To round off the jig a molded-in bait holder and wire keeper combine to keep plastics and skirts in place.
Looking for a way to get more bites in the vegetation-filled bass lakes, rivers, and reservoirs you fish? Give the new Cabbage Crusher a shot, either with a big swimming plastic, a Beaver-style bait, or dress it up as a jig with your own favorite skirt and tip it with the plastic of your choice. The options are endless…

Northland's Cabbage Crusher will be available in four sizes – 3/16-, 1/8-, 3/8- and ½-ounce – and four colors: RUSTY CRAW, BLACK, GREEN PUMPKIN, and SILVER SHINER, two jigs per pack. MSRP $6.49

Available late 2022.