NEW Evergreen CR-Series Combat Crankbaits – Running All Depths!
Eugene L. 10.25.22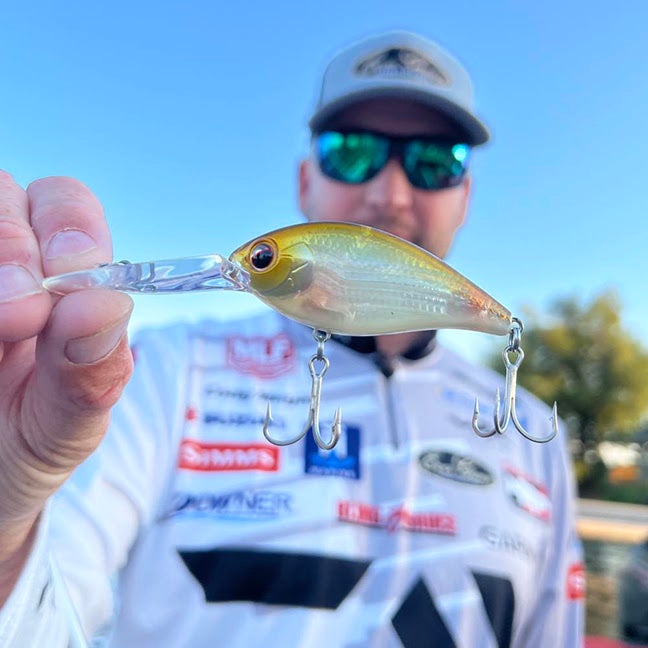 Evergreen has released its new CR-Series of crankbaits. A badass series of cranks is made up of five different sizes, each geared for a specific depth range. They have been designed to act like lipless crankbaits, so you can quickly search and cover water to find active fish. The CR-Series of crankbaits have a superior casting range, while still being surprisingly light, so you can fish them all day with no fatigue. Each lure possesses a well0deinfed swimming action with unrivaled balance. They are also modeled with a dead-ringer shad profile, accurate eyeballs, scale patterns, and gill patterns. On top of all that they have wicked sharp hooks and very durable diving bills.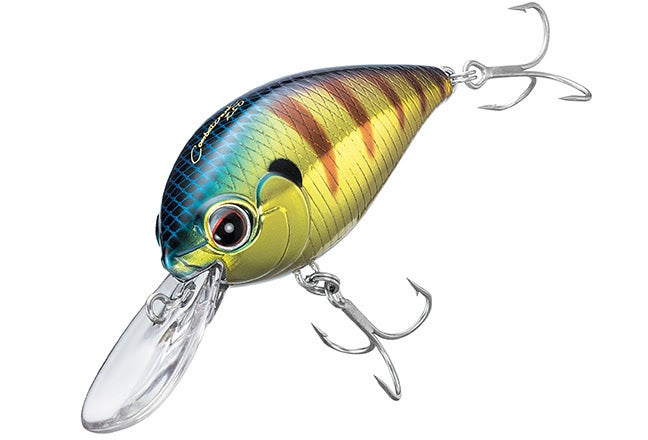 Colors for the CR Cranks include; Champion Shad, Chart Shad, Ghost Wakasagi, Diamond Shad, Ayu, Blue Back Chart, Fire Craw, Olive Crawdad, Queen Shad, Pre-Spawn Dynamite, Hologram Wakasagi, Pumpkinseed, Cold Shad, Oki Gold, Oki Chart, Skeleton Wakasagi, and Half Mirror Shad.

Heres an over for each of the individual models.
CR-6
The shallowest running of the five crankbaits, its great for fishing through obstacles and grass, due to its ability to not get entangled as easily. The CR-6 performs consistently with a forceful action that induces reaction bites from fish.  Being easy to cast and with superb obstruction-avoiding capabilities, the CR-6 is a lure that moves effortlessly in shallow water.
FLOATING
DIVES: 4- to 6-feet
LENGTH: 2 1/4-inch (58mm)
WEIGHT: 7/16-ounce (13.2g)
HOOKS: #6
MSRP $15.99
CR-8
The next step up is the CR-8, a no-nonsense crankbait that promises steady results. It features a tungsten weight transfer system as its main weight, giving it incredible castability. All the while the CR-8 still offers great accuracy for medium to long-distance casts. Using a low-center of gravity fixed sub-weight system this crank doesn't suffer problems that commonly effect other weight transfer system lures. The body has a hexagonal cross-section to create flashing as it swims and color variations.
FLOATING
DIVES: 5- to 8-feet
LENGTH: 2 ¼-inch (58mm)
WEIGHT: ½-ounce (13.7g)
HOOKS: #6
MSRP $15.99
CR-10
Middle of the pack the CR-10 has the same amazing castability as all the other CR-Series lures. The CR-10 as its name implies easily reached 10 feet down, great for attracting schools of fish and stimulates bites with its natural high-pitch action. The CR-10 is resistant to getting clogged up with grass and allows anglers to cast and reel all day long comfortably.
FLOATING
DEPTH: 8- to 10-feet
LENGTH: 2 ½-inch (64mm)
WEIGHT: 9/16-ounce (16.5g)
HOOKS: #6
MSRP $16.99
CR-13
Now getting into deeper running lures the Cr-13 has the greatest castability of the series. This is a must for this deep-running crankbait, so it can be fished in the strike zone for the longest time possible. This lure dives down to 13ft but still doesn't create a lot of drag and resistance when fished.
FLOATING
DEPTH: 10-to 13-feet
LENGTH: 2 ¾-inches (68mm)
WEIGHT: ¾-ounce (21.0g)
HOOKS: #4
MSRP $16.99
CR-16
The deepest running crankbait, the CR-16 casts well while it's light retrieval resistance makes it easy to fish this deep diver all day. It can be fished deeper than 13-feet on the cast (maximum depth: 16-feet), and even deeper than 25-feet when fished long line. The CR-16 has a irregular, secondary action that draws strikes while knocking the bottom. The CR-16 raises the bar of deep cranking, whether in big lakes, reservoirs, or rivers.
FLOATING
DEPTH: 14- to 16-feet
LENGTH: 3-inches (75mm)
WEIGHT: 15/16-ounce (26.0g)
HOOKS: #6
MSRP $17.99