International Hunting & Shooting Days 2022: Blaser and Silencers
Alexander Straube 10.26.22


As one of the leading companies in the field of guns and gun accessories, Blaser was – of course – represented at this year's "Jagd- und Schützentagen" (International Hunting & Shooting Days 2022). They not only showed their well-known rifles and shotguns, but also took the opportunity to present their new products including the world primer of a completely new innovation!
When it comes to guns, Blaser is following a trend that has also been picked up by most other producers. The growing popularity of silencers has noticeably changed the demand and prompted the company to design integrally-suppressed rifles. The current highlight of this series is the R8 Ultimate Silence HunTec Camo. This model utilizes a camo-colored polymer stock that has been specially designed for hunting in European forests. It has excellent camouflage properties for hunting in this environment. To improve the feel when carrying and – above all – aiming, leather parts were used in the grip and in the cheek piece; however, they can be removed if desired. Thanks to the integrated silencer, the weapon is also extremely well-balanced and less front-heavy than models with a traditional barrel. The rifle is available in these cartridges:
.308 Winchester
8x57IS
9.3×62
8.5×55 Blaser
.30-06 Springfield
.300 Winchester Magnum
.300 Blaser Magnum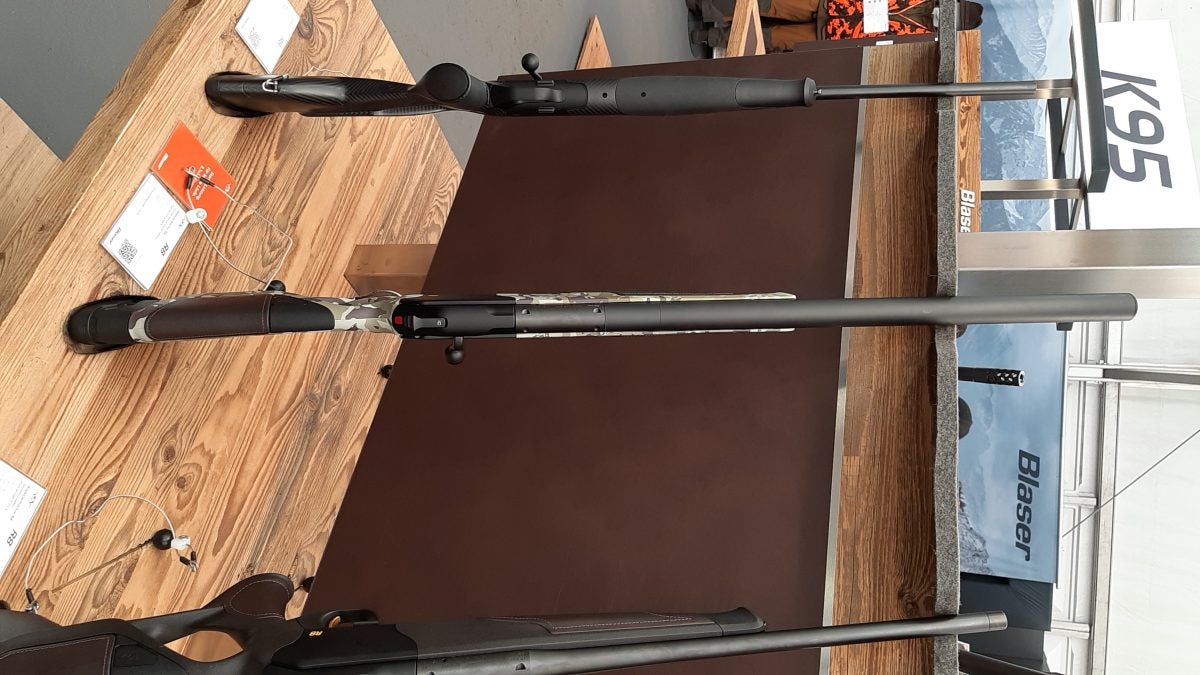 However, this weapon paled next to the world premiere of their latest product! Since hunters had repeatedly complained about the dimensions of their carrying bag, Blaser decided to redesign it. As a result, a new, extra-long protective cover was introduced. While a length of 1.2 m was normally considered sufficient, the increasing use of silencers has led to new requirements. By extending the bag to 1.35 m, Blaser made it possible to stow your rifle and silencer assembled and removed the necessity to dismantle it. In addition, the dimensions also allow a second rifle or shotgun to be stowed in the protective cover. In terms of height, the use of an optic was also taken into account and enough space was left. The price will be around $197.
Even though it is not a major or especially complicated innovation overall, it's a useful product that can benefit many hunters. It corresponds to Blaser's goal, which one employee described as follows: "To make something simple even a little bit better."