NEW Mossberg Patriot Predator 7mm PRC (Precision Rifle Cartridge)
Adam Scepaniak 10.27.22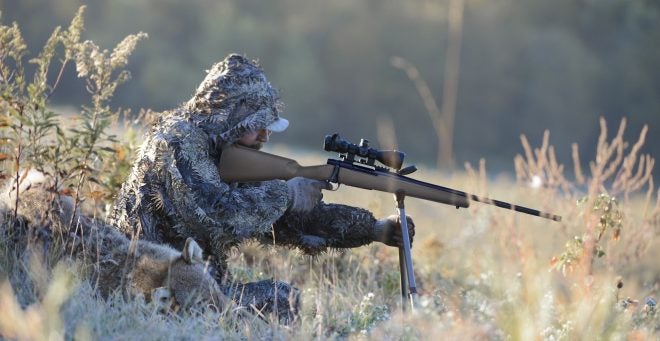 In the last 48 hours you may have heard of or seen this new cartridge floating around the internet dubbed 7mm PRC or 7 PRC. Everybody says it is the best thing since sliced bread, but what is it?… Well, Hornady has taken the genius and phenomenal shooting performance of their 6.5 PRC and 300 PRC, and brought it to the .284 caliber to create the 7mm PRC (Precision Rifle Cartridge). In fact, it is such a stud cartridge that Mossberg has produced a Patriot Predator 7mm PRC as well. Let's check it out!
Mossberg Coverage on AllOutdoor
The secret sauce behind 7mm PRC is that it is a round developed from its origin to be the perfect long-range cartridge. The brain-child that is the Hornady collective of engineers got together and brought terminal performance, accuracy, and flat-shooting properties to the .284 caliber. Mossberg was so impressed that they took their equally high-quality Patriot Predator and chambered it for us in two offerings.
Flat Dark Earth (FDE) Stock w/ Matte Blue | SKU 28170 | MSRP $519
TrueTimber Strata Camouflage Stock w/ Patriot Brown Cerakote | SKU 28171 | MSRP $616

North Haven, CT – Mossberg is pleased to offer the latest Hornady® Precision Rifle Cartridge, 7mm PRC, in its series of Patriot Predator bolt-action rifles. Designed to outperform existing 7mm cartridges in a standard long-action rifle, the 7mm PRC is a match-grade cartridge that delivers consistent velocity and repeatable accuracy. The 7mm PRC is the perfect "match" for Mossberg's purpose-built, suppressor-ready Patriot Predator platform. Two synthetic-stocked models are available with 24-inch barrel length and 1:8 twist rate to maximize the performance of the 7mm PRC cartridge.

The Patriot Predator bolt-action is based on Mossberg's proven twin-lug push-feed machined-steel action, fed from a flush polymer magazine. The free-floating, carbon steel barrel is threaded (5/8"-24 threads per inch) for ease of adding a suppressor or muzzle brake; includes a protective thread cap; has a 11-degree match crown; and is fluted. For the addition of optics, the Patriot Predator is equipped with a receiver mounted Picatinny rail. Patriot rifles feature Mossberg's patented LBA™ (Lightning Bolt Action™) user-adjustable trigger with a 2 to 7-pound range of adjustment for consistent shot placement. Rounding out this full-featured rifle is an oversized bolt handle; spiral-fluted bolt; and sling swivel studs.
The Mossberg Patriot Predator 7mm PRC would not only be a fantastic rifle for predator hunting of coyote, fox, wolf, etc this winter, but it would also be a great western rifle for this fall chasing such big-game animals as antelope, mule deer, elk, and many others. The only thing that remains is what do you think? Is this cartridge and the Patriot Predator 7mm PRC something you would be willing to try? As always, let us know all of your thoughts in the Comments below! We always appreciate your feedback.