POTD: Pritchard-Greener Revolver Bayonet with Sheath
Sam.S 11.01.22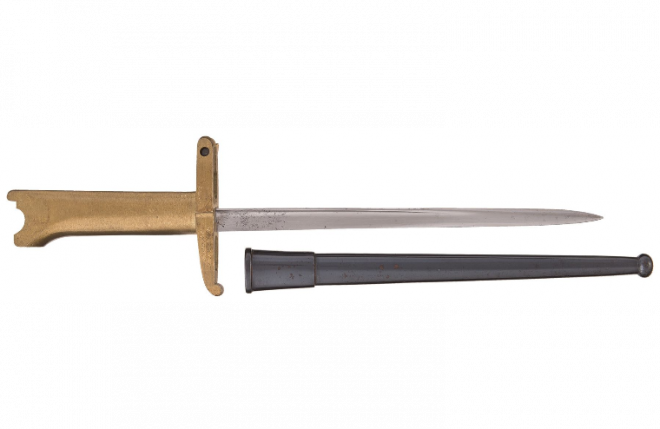 Welcome to today's Photo of the Day! World War One was the start of innovation on an expedited and colossal scale. As we have seen, however, this innovation is not always appreciated or always useful. This particular revolver bayonet probably falls into the latter category. Here we have one of many strange inventions of World War One. This is a Pritchard-Greener Revolver Bayonet meant for the Enfield/Webley pattern of revolver used by soldiers of the UK. It was designed by a former British officer by the name of Arthur Pritchard. He thought that if a soldier is already resorting to using a revolver on the battlefield and they run out of ammunition they probably wouldn't not be able to reload fast enough. For obvious reasons this was not logistical or practical for the military but nonetheless Pritchard enlisted the services of the Greener company to manufacture a projected 200 units of this revolver bayonet.
"Measuring 12 1/2 inches overall, this bayonet was designed by one Arthur Pritchard, a British officer and Western Front veteran, who had a prototype fabricated by Wilkinson Sword and successfully sold gunmaking firm W.W. Greener on the concept. While the bayonet and the Enfield double action revolver made an impressive combination, Pritchard's design failed to take off, with less than 200 made and fewer sold. The blade is 8 1/8 inches long, bright steel with a "T" cross-section and a flat spine, fixed to the brass grip via a threaded and staked "rat tail" tang and a hexagonal nut. The hilt is one-piece brass construction, with a spring-loaded steel bar to lock the bayonet in place, and the cross guard marked "PATENT/No. 17143/16" next to an oval around "W. W. G" over an "elephant" (Greener trademark). These bayonets were numbered to the revolvers that they were hand fitted to. With a blued steel sheath. Notes from the consignor attribute this bayonet as an early example for use in weapons trials, and an accompanying letter of provenance indicates that it was purchased in 1961 from the director of W.W. Greener when they closed the company and sold off the remaining items in their inventory."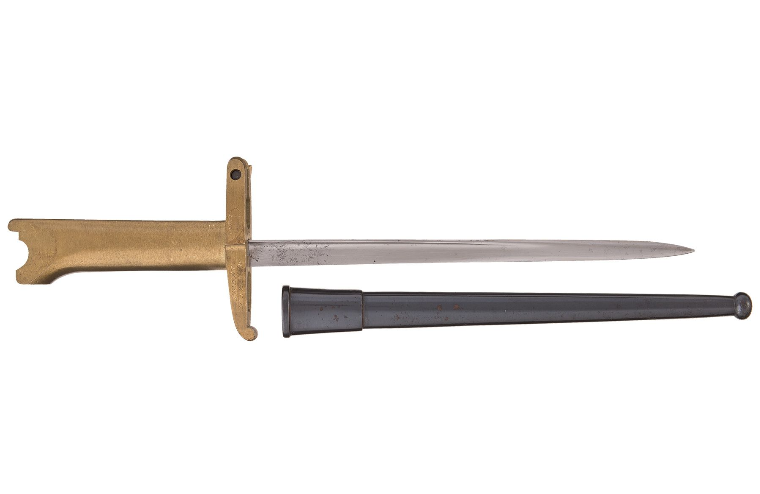 Lot 2595: Pritchard-Greener Revolver Bayonet with Sheath – Rare Prototype Pritchard-Greener Bayonet for an Enfield Mark Vi Revolver with Sheath. (n.d.). Rock Island Auction Company. photograph. Retrieved October 31, 2022, from https://www.rockislandauction.com/detail/72/2595/pritchardgreener-revolver-bayonet-with-sheath.