NEW Do-It Molds CNC Bushi Beetle Softbait Molds
Eugene L. 11.11.22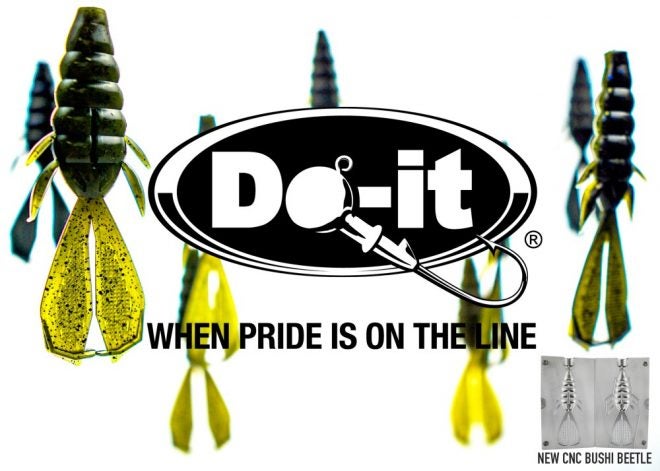 Earlier this year back in July the original Do-It Bushi Beetle mold was released at ICAST 2022. It has been a tremendous success with the bass-angling community since then. Now Do-It has recently announced that they now have a new CNC version of the popular mold available now as well. A new mold of the same Bushi Beetle but in even higher detail and HD finish.
"Whenever we have a successful profile of an Essential Series Mold, we have custom tackle makers who request a CNC version. Our CNC Precision Series offers the same great profile in a mold that produces high quality detail and an HD finish." – Brennan Chapman (Product Development)
The Bushi Beetle comes in at 4.2″ long and boasts a profile that draws in big fish. The fins and appendages of the creature bait have a wide-splayed aggressive kick when worked through the water. Even with a minimal movement of the rod tip or a slight bit of reeling the bait will create a big drag profile in the water when falling or being retrieved. This creature bait excels any time you flip or punch grass and cover or just as a trailer on your favorite jig. The wide stature and alluring action of the Bushi Beetle draw in the fish while the streamlined body allows the beetle to bust through grass and cover to get those big bites.
The new CNC Bushi Beetle has been released as part of the Do-It Precision Series of Molds. It is made of CNC-machined billet aluminum and is a single cavity mold. The CNC machining gives any bait you make at home with this mold that traditional shine and gloss that you see from commercially made soft plastics.
The CNC Do-It Bushi Beetle mold is immediately available for purchase at Do-It Molds and coming soon to custom tackle retailers everywhere.

MSRP – $103.50