Possible End To Commercial Menhaden Fishing in Virginia
Eugene L. 11.16.22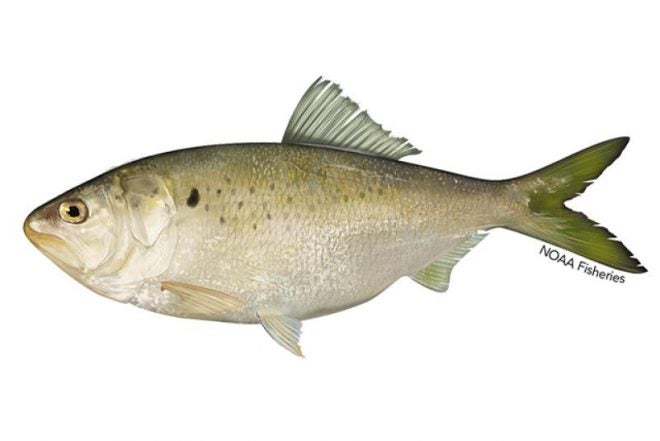 A possible end is in sight for commercial menhaden fishing in Virginia. A bill was introduced for the next session of the Virginia General Assembly for a two-year moratorium to be placed on Atlantic menhaden. The moratorium would be put in place in Virginia's portion of the Chesapeake Bay. The bill is sponsored by State Delegate Tim Anderson (R)-Virginia Beach.
The Atlantic Menhaden (Brevoortia tyrannus) is a silvery-scaled baitfish that serves as a major forage species for many different larger and sportfish species. Being such an important prey species for many popular species of sportfish in the Chesapeake Bay there has always been a lot of contention about the commercial harvest of Atlantic menhaden. Starting with just the method of fishing for the menhaden, also known as bunker, a fleet of purse seining boats has gotten major flak from sportfishing and conservation groups. Their argument is that the Omega Protein fleet has driven down the number of menhaden in the Chesapeake Bay, and in turn, the sportfish numbers who prey on the bunker have followed.
Omega Protein though has insisted in the past that the science is on their side, saying the menhaden numbers are still healthy. They instead blame the sport fishers and commercial anglers for the drop in sportfish numbers. Omega Protein's annual harvest is capped at 51,000 metric tons of menhaden out of the Chesapeake Bay. This is a sizable portion of their 137,000 metric ton average annual harvest. So the loss of the ability to fish inside the Chesapeake Bay would be substantial for the business. This is not the first time we've heard the name Omega Protein this year with the blunder in Louisiana earlier in September.
Anderson's bill would besides closing the Chesapeake Bay to commercial bunker fishing would also establish an advisory committee to do research on reduction fishing during the two-year moratorium. The advisory committee would then provide the data on its findings to the Virginia Marine Resources Commission (VMRC) after its research is complete.