POTD: A Fancy Dress Revolver – The Devisme Model 1858 Revolver
Sam.S 11.29.22

Welcome to today's Photo of the Day! Here we have a very well-made centerfire revolver made in the 1860s. This is the Devisme Model 1858 (sometimes called the 1859). Many of these revolvers were percussion cap muzzle-loading revolvers but this one is centerfire. This is significant because as of this point in time centerfire has not really become the accepted standard for ammunition type. It uses an 11mm cartridge and is single-action. The receiver is a break-open type but instead of being top-break, it is bottom-break. The ejector rod is a bit overcomplicated since it includes a gear mechanism to pivot in order to eject cartridges. If the name has not given it away these were made in Paris and many customers of the company were confederate soldiers and allies. Devisme the man sided with the south in the American civil war.
Louis-François Devisme (active around 1833-1886) is well-known for creating a variety of innovative and often unusual firearms. These revolvers were among the earliest centerfire revolvers and are very robust. Known Devisme clientele include high level Confederate generals and politicians including Robert E. Lee and Jefferson Davis, French Emperor Napoleon III, Queen Victoria, King Luis I of Portugal, and other European nobility, and high end Devisme arms are part of some of the finest private and public collections in the world including in the Metropolitan Museum of Art and the collection of King Farouk of Egypt. Davis owned a .74 caliber Devisme stalking rifle and had it with him when he was captured. Robert E. Lee wore a Devisme sword at Appomattox that had been sent to him by a Confederate sympathizer from a Maryland native living in Paris in 1863. These early cartridge revolvers were manufactured in the 1860s and 1870s. It has a dovetailed round blade front sight, "Devisme a Paris" in script on top of the barrel, an iron cross on either side of the frame at the breech suggesting Prussian ownership, "DEVISME BTE" on the lower right side of the frame, "No. 179" on the lower left, notch rear sight on the top of the recoil shield, checkered walnut grips, and a lanyard ring on the butt.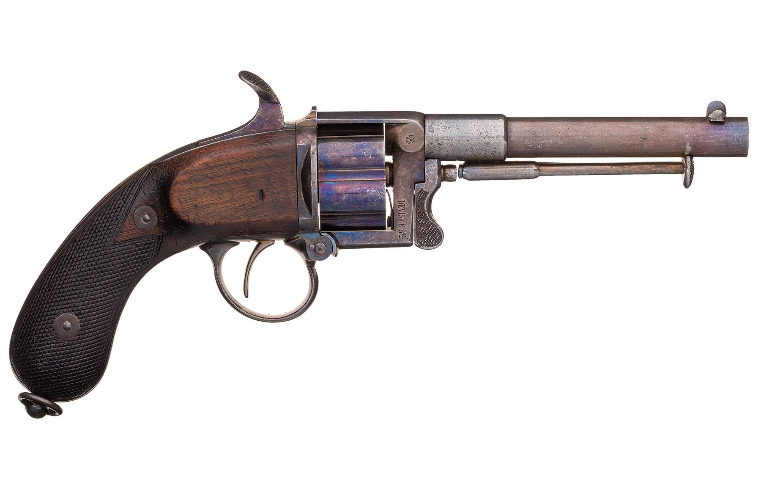 Lot 3242: Scarce Devisme Centerfire Cartridge Revolver. (n.d.). Rock Island Auction Company. photograph. Retrieved November 28, 2022, from https://www.rockislandauction.com/detail/72/3242/scarce-devisme-centerfire-cartridge-revolver.