NEW True Tactical Everyday Carry (EDC) Kit: Lighter, Tweezer, Light, Knife
Adam Scepaniak 12.09.22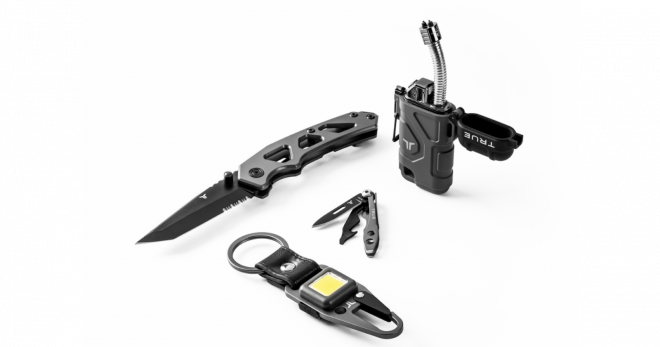 When it comes to concealed carry, and general everyday carry (EDC), there are a bevy of items people like to carry with them. This might change day-to-day depending if they are roaming a concrete jungle or a wooded forest, but some things remain the same. A new everyday carry (EDC) kit has been announced from True Tactical that contains a plasma lighter, tweezer, clip light, and a pocket knife. Nearly everything you need to leave your house aside from your keys and wallet.
Knife Coverage on AllOutdoor
This tactical everyday carry (EDC) 4-piece essentials kit retails for $99. While the True Tactical EDC kit contains 4 main components there is significantly more utility than that. For poeple who are looking for last-minute gifts or stocking stuffers, this would be great to slip into someone's stocking before Christmas. All of the basic specs for the various tools can be read below as presented by True Tactical:
Tweezer Tool

6-in-1 Multi-Tool featuring: Titanium coated Tweezers, Black Oxide Knife, Flat Screwdriver, Bottle Opener, Cord Cutter, File

Clip Light

Rechargeable key ring light with 4 Light Modes

Plasma Lighter XR

Flameless, Fuel-Free, Rechargeable, Lightweight, and with a Retractable, Flexible Neck Ignitor

Tactical Knife

3.25″ Black Oxidized Stainless Steel Partially Serrated Tanto Blade
Fort Worth, Texas (December 8th, 2022) – TRUE has released the perfect holiday gift: The 4 Piece Tactical Kit. With several multi-use pieces and outstanding functionality, the 4-piece Tactical Kit makes an exceptional gift, prep, readiness box set or personal purchase.

Planning and readiness were the main focus when assembling this unique kit. TRUE has assembled this 4-piece readiness kit to let users focus on the potential, unpredictable tasks. Putting all these tools in one place allows a user to save time and effort, allowing them to focus on unexpected tasks in which these tools can be employed. This kit includes a Plasma Lighter, Tweezer Tool, LED Clip Light, and Plasma Lighter XR. Every item in this kit has been cataloged to offer the best versatility.
When it comes to knives and tools for everyday carry it is like "potato chips" – you can never just have one! So, whether you or someone you know has no knives or a bevy of them, this could make a great gift this Christmas for the outdoorsman or outdoorswoman in your life. As always, let us know all of your thoughts in the Comments below! We always appreciate your feedback.