TFBTV – Hop vs. James Best, Cheapest, AR-15 Budget Build-Off
Adam Scepaniak 12.12.22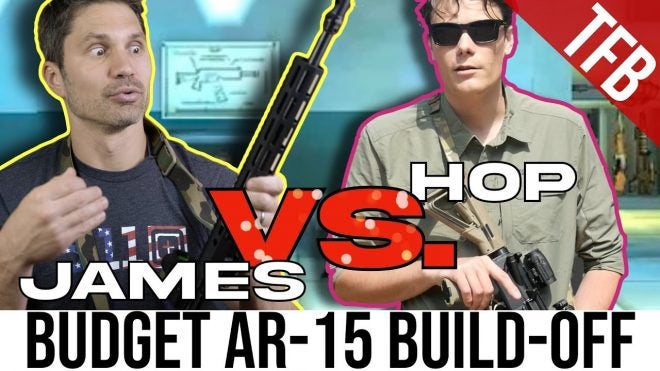 In this episode of TFBTV, James Reeves and Hop face off in an AR-15 Budget Build-Off. The boys have a $1,250 budget to build the cheapest, bestest, most completest AR-15 possible while staying under budget. This is a competition to be decided by YOU, the viewer. There are two ways of voting for the winner – with your vote (free), or, with your wallet (greatly preferred). There is a Google Forms survey below for you to vote in the people's choice category, and one voter will win a 5.11 RUSH 24 backpack.
Vote on a winner for a FREE chance to win a @511tactical RUSH 24 2.0 backpack: https://forms.gle/T8gSmsUXci9sxhah7
Bid on James' Build here: 

https://www.gunbroker.com/item/960737309

Bid on Hop's Build here: 

https://www.gunbroker.com/item/960732296
««« APPAREL AND GEAR IN THIS VIDEO »»»
Blue Alpha Sling: 

https://bit.ly/3iPLQn3

Blue Force Vickers Sling: 

https://bit.ly/3uzsq8D

Cheap AR-15 Mags from Top Gun Supply: 

https://bit.ly/3VHmp5L

Cheap .223 Ammo from Ventura Munitions: 

https://bit.ly/3FMSaoN

Apparel: All TFBTV apparel is sponsored by 5.11 Tactical and you can get it at www.511tactical.com
««« GUN & GEAR GIVEAWAYS »»»
Consider supporting us at patreon.com/tfbtv
Gun and gear giveaways are not affiliated with, associated with, or in any way endorsed by YouTube and TFBTV is solely responsible for the giveaways mentioned in this video and this description. No purchase required for gear worth over $250. Full rules and terms are found at http://tfbtv.gun.team/
««« FOLLOW US ON SOCIAL MEDIA »»»
https://www.facebook.com/TheFirearmBlogTV/
https://www.instagram.com/TFBTV/
https://www.reddit.com/r/tfbtv/
««« SPONSORS »»»
Please Support Them! They help make our videos possible.
– Ventura Munitions – www.venturamunitions.com
– Blue Alpha Gear – www.bluealphabelts.com
– Top Gun Supply – www.topgunsupply.com
««« TFB CHAT ROOM »»»
Want to join the TFBTV chat room? Use our Discord Invite: discord.gg/tfbtv
#TFBTV