AllOutdoor Review – Triple Aught Design Fast Pack Scout
Patrik Orcutt 12.14.22

Triple Aught Design (TAD) is a small, employee-owned, American company that takes great pride in producing quality-made gear and apparel in the USA. Everything they make is assembled in the USA from 97% USA-sourced materials. While only being manned by roughly 50 full-time employees the company is responsible for another 100-200 American jobs through contract workers. While producing everything in small batches it is common for them not to have anything in stock from time to time. If you read TAD's mission statement on their website you will come across this passage, "Whether on your toughest excursions or in your everyday adventures, we know that exceptional quality and engineered functionality will help you succeed. We make gear and apparel for capable people" I think this last sentence sums up TAD pretty well in my opinion. So, today we are going to be reviewing the Triple Aught Design Fast Pack Scout pack to see how it performs in the field.
The Triple Aught Design Fast Pack Scout was purchased by the reviewer and Triple Aught Design has had no input on this independent review. 
The FPS is designed to be a small, rugged pack for all your light and fast adventures in the mountains or on the streets. At just 16" tall, 10" wide, and 4" deep and a total of 915 cubic inches of volume, it is a very minimal pack but don't let that fool you about its capabilities. 
The TAD Fast Pack Scout or FPS as I will be referring to it for the remainder of this review was tested over the course of 12 months while being used in applications such as everyday carry, day hikes, and military missions. A particular place the FPS shined was while working with NAVY SEAL's in Croatia on boats at night, but we will get into that more later. 
Disclaimer
The small hook and loop field you will see on the pack in many of my images was a self-modification and the FPS will not come with this feature standard. 
Triple Aught Design Fast Pack Scout – Quality and Comfort 
TAD runs small production batches of many of its products, meaning that there are multiple material variations and special editions of almost all of its products. The FPS is no exception and the variation we will be looking at for this review is the standard 1000 D Cordua flavor.  As stated prior, the FPS is sourced with almost all American-made components and materials, and TAD certainly chooses quality stuff. 
The FPS is primarily constructed of 1000 D Cordura with the same padding you will find on their standard fastpacks.  The padding is soft and breathable but definitely not as comfortable as what you will find on a Mystery Ranch Pack. Bhind the padding there is a plastic hardshell for helping the pack keep its shape and prevent anything from jabbing you into the back. While this is not a necessary feature on most lightweight packs, I really appreciate this feature of the FPS. 
While I did not get a chance to test it, the FPS does come with small waist straps for your longer endeavors. The zippers are of high quality but I can't tell who makes them as they are not marked. Definitely on par with that of YKK thought. All buckles are plastic but still very sturdy. Overall the quality of the FPS is very high and while I am the second or third owner of this particular sample, I can tell this bag is built to last. 
Triple Aught Design Fast Pack Scout – Organization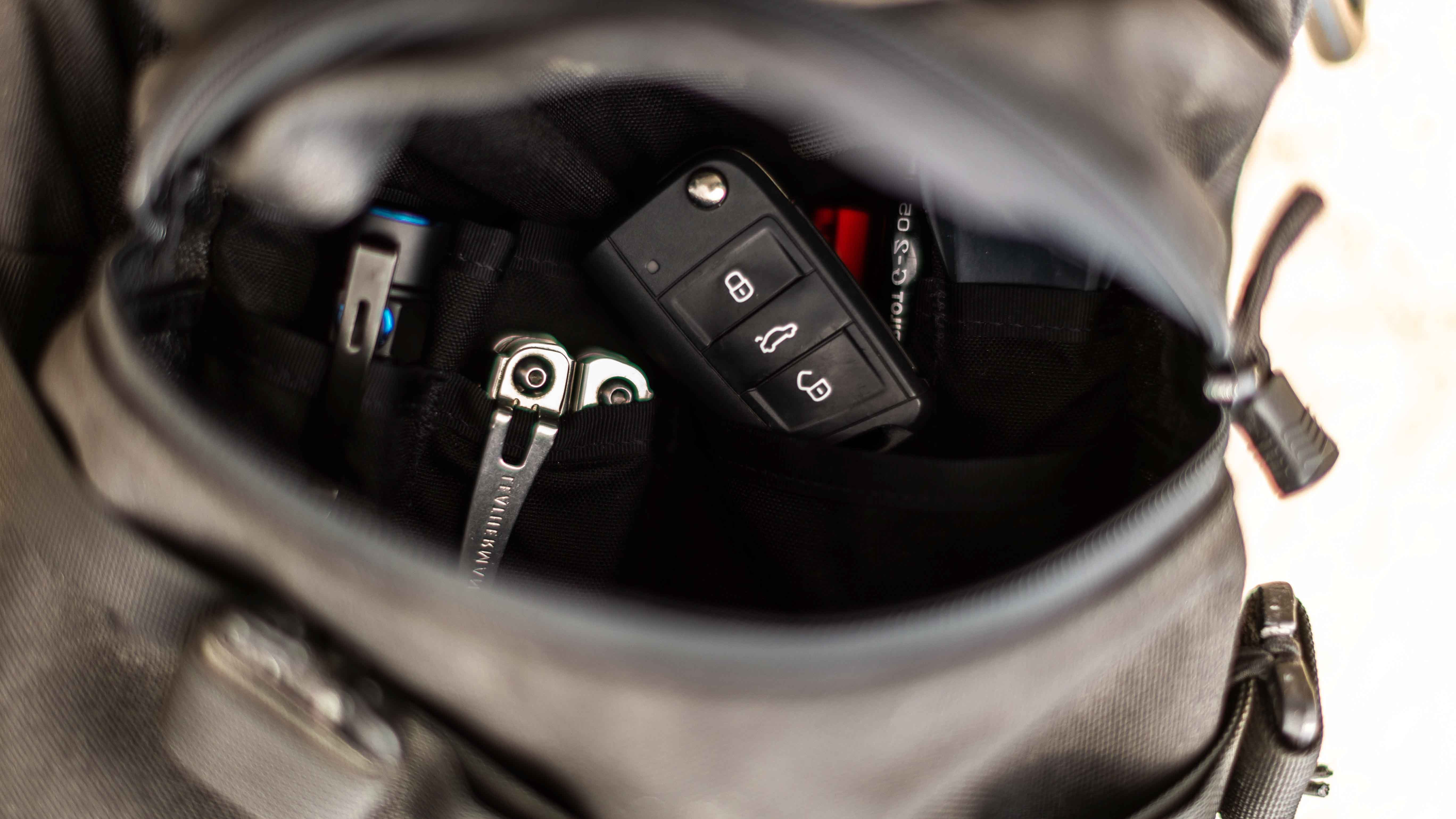 If I had to describe the FPS in one word I think it would have to be "EXPANDABLE". TAD has done a wonderful job producing a pack that can be configured for whatever the day or the mission requires while providing an assortment of optional add-ons to meet those demands. 
In my testing, I kept the exterior of the pack mostly slick, but there are two removable compression straps, a small number of PALS webbing on each side, and attachment points on the bottom that would allow the addition of TAD's Transporter Tails to be mounted. 
The face of the pack holds a flat zippered admin pocket, again very similar to the one found on the TAD Lightspeed. This pocket is much larder and cavernous than you would imagine. It can expand to hold a medium-sized jacket or even an 11" MacBook Air laptop. There is also some built in organization here to be utilized. There are several pockets sewn into this compartment that can fit everything from a small notebook to individual pens. This is one of my favorite aspects of the pack as the organization of tools is very important to me. Above the pockets is a singal plastic D-Ring for attaching keys. One downside to this compartment is that if you overfill the main compartment, it can become difficult to access this one. 
Moving on to the main compartment there is a hanger for mounting a hydration bladder with a hole to run a drinking straw. The bladder would fit in a mesh pocket and there is another zippered mesh pocket on the opposite side of this compartment. The aforementioned mesh pocket is expandable and creates nice organization options for the end user. Above the bladder attachment, there are two of TAD's proprietary attachment points for their control panels and other accessories.  While I did not get a chance to test these points as I do not own any of TAD's backpack accessories, they seem well thought out. This compartment is large enough to fit a 15" Macbook Pro laptop and a warming layer or two. The main compartment also fully clambsells open when the front buckle are released aiding in easy access to your gear. 
There is a hidden third pocket on the front bottom of the pack and is held closed via Velcro. Another brilliant feature in my opinion as you can use this to stash more sensitive items or documents. There is also the option to place a small layer in here so that if you want to dawn it, you won't need to open the entire pack. Another use of this pocket is that if you own the TAD's Transporter Tail you can simply hide it in this pocket and flip it out when you require additional PALS webbing.  The exterior of the pack comes with two removable buckles for cinching down the bag or holding additional items like shoes or chest rigs. 
Triple Aught Design Fast Pack Scout – Philosophies of Use 
Like TAD mentions in their marketing material for this pack, the FPS is at home as your adventure backpack considering its size and weight. I enjoyed using this pack on several day hikes and as a summer EDC bag. It's big enough for the essentials and a few more items. I extensively used it for a few missions in Croatia where I was following a team of NAVY SEAL's when they conducted VBSS and OTB exercises with their Croatian counterparts. The size and durability of this pack proved to be its greatest assets while riding in small watercraft and moving through tight spaces in ships. 
Likes 
Great organization 

Durable 

Well thought out for adding additional equipment 

American-made and sourced materials 
Dislikes 
Wrap up 
The Triple Aught Design Fast Pack Scout is a great pack for very specific uses like short day hikes and light summer EDC. I think TAD hit it out of the park with this one and if you can find them for sale id snatch one up immediately. Keep your eyes open for alternative fabric options, too!