AllOutdoor Review – Kammot Burro Roll 26L Backpack
Patrik Orcutt 12.15.22

Established in 2010, Kammok has been a high-quality supplier of primarily outdoor camping hammocks, until they ventured into the pack game in 2019. The company is dedicated to creating better outdoor gear that is lighter, stronger, and aimed at elevating the outdoor experience. "We're committed to designing lasting, technical gear to elevate time outside. Our gear allows you to pack less and go further with stronger, lighter fabrics and best-in-class construction. Each Kammok product is backed by our lifetime warranty." – KAMMOK Mission Statment. So, today we are going to review the Kammot Burro Roll 26L Backpack.
The Burro Roll 26L was provided to the reviewer by the manufacturer as a review sample.
Kammot Burro Roll 26L – How This Bag Was Tested
Burro was tested over the course of nine months in a variety of conditions and uses. First, it was taken to Slovenian for a long weekend of rainy hiking, then to Portugal where its travel and photo gear capabilities were tested. Finally, the pack has been on a daily EDC regimen for several months. 
Kammot Burro Roll 26L – Tech Specs
Overall Dimensions  – 61 × 28,5 × 15,25 cm or 24 x 11 x 5.9 Inches 
Materials – Adamas™ 70D ripstop nylon, ZipperYKK® AquaGuard®
Weight – 624 Grams or 1.37 pounds 
Warranty – Lifetime warranty
Volume – 26 L
Kammot Burro Roll 26L – Quality and Comfort 
When I received the Burro I initially did not want to like the bag because of one feature, the roll top. For years I had avoided the pack design like the pledge due to the multiple steps for getting in and out of these types of bags. While I'm still not the biggest fan of this design I definitely understand it's used much better now but more in that in the next section.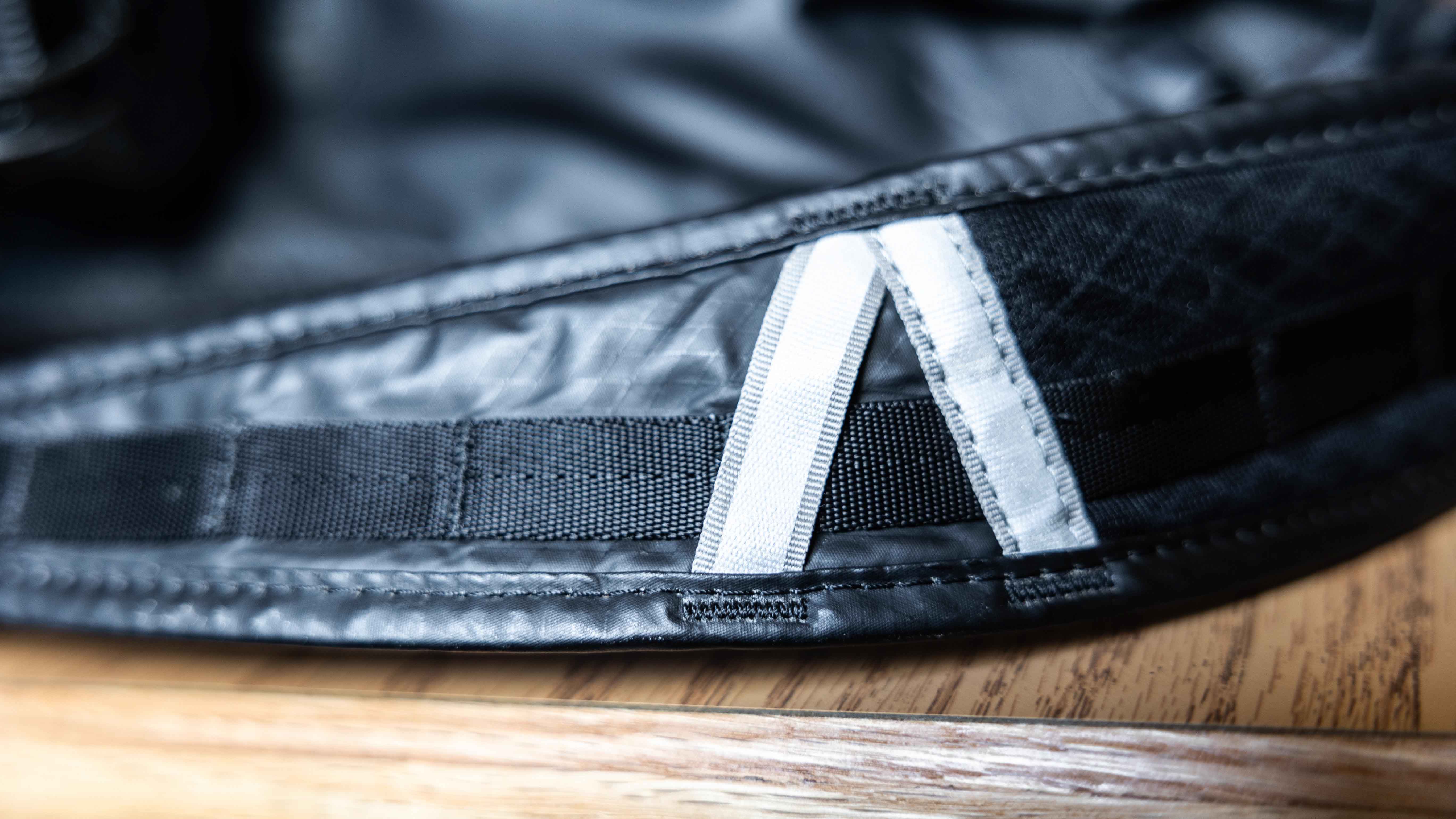 The Burro has primarily constructed of Adamas™ 70D ripstop nylon with a laminate core, PU coated, seam-sealed, for a 12,000 mm waterproof rating. The YKK AquaGuard® zippers are water-resistant, the zippers will resist most encounters with water. While Kammok claims this pack to be completely waterproof they do state it should not be completely submerged. So what was the next thing I did? Filled my tub to the top, placed a 15-pound weight inside the pack, and closed every damn zipper as best I could. When I pulled the pack out there was definitely some water in the bag but not as much as I had expected.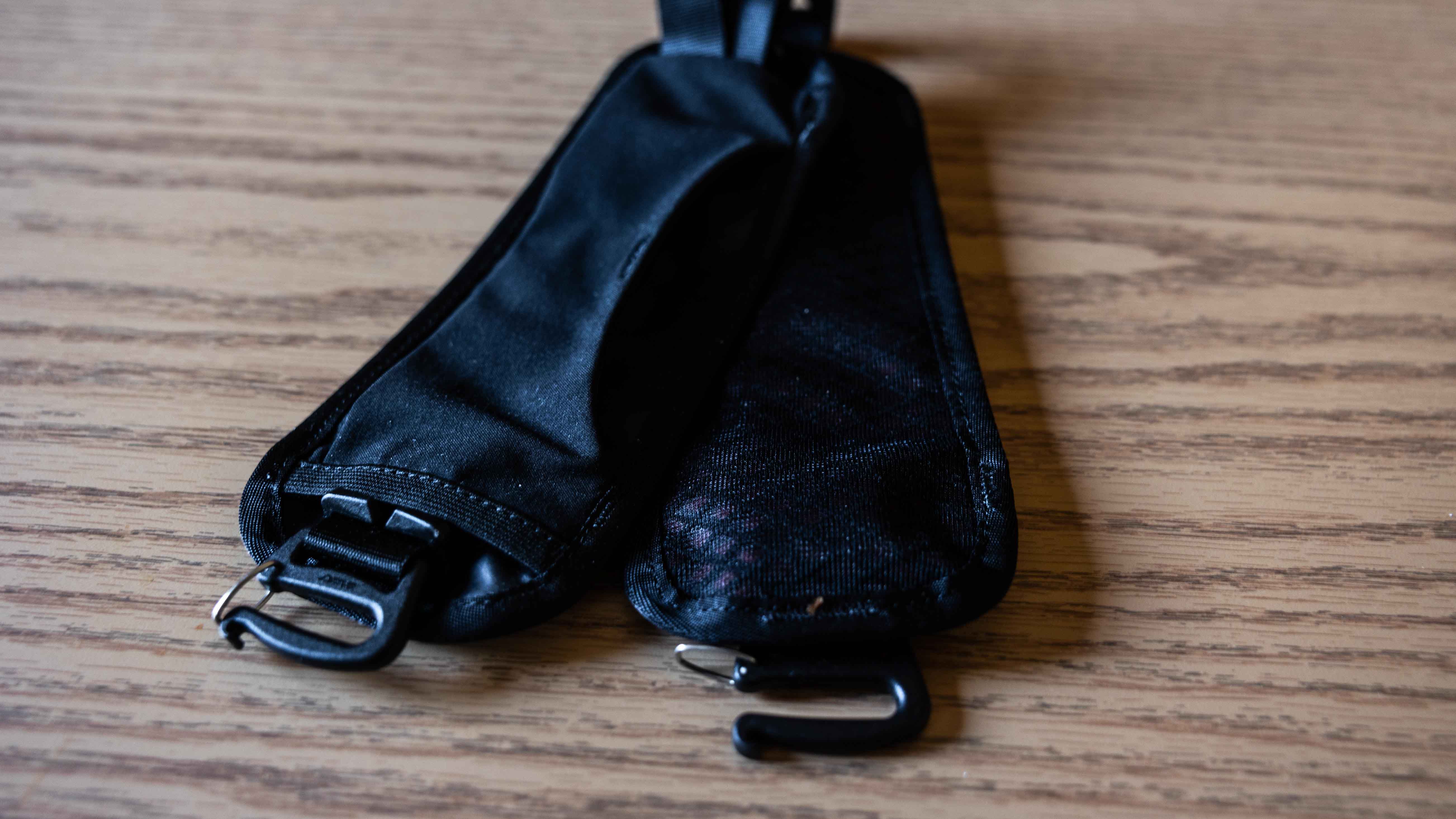 With the pack being lightweight some compromises were definitely made in the padding department. The Burro features a frameless design with the only thing separating your gear from your spine being a few thin pieces of Adamas™ 70D ripstop nylon and a cleverly designed laptop pad. While this doesn't sound like a lot the pack is surprisingly comfortable even while being weighted down with heavier loads. And I think that statement really holds to my overall opinion on this bag, just "Surprising." 
The harness system on the Burro is just like the rest of the bag, light but strong. It's certainly not as comfortable as a Mystery Ranch harness but that's asking a lot. After an entire day of hiking in the rain in the Julian Alps, my feet were killing me and there was plenty of chafing but my shoulders and back felt fine. While not included with the pack the padded sternum straps add a lot of support to the pack overall and feature small pockets on them. Unfortunately, the pockets are not big enough for anything larger than a trail mix bar but it's better than nothing. The straps are easily removed when not in use.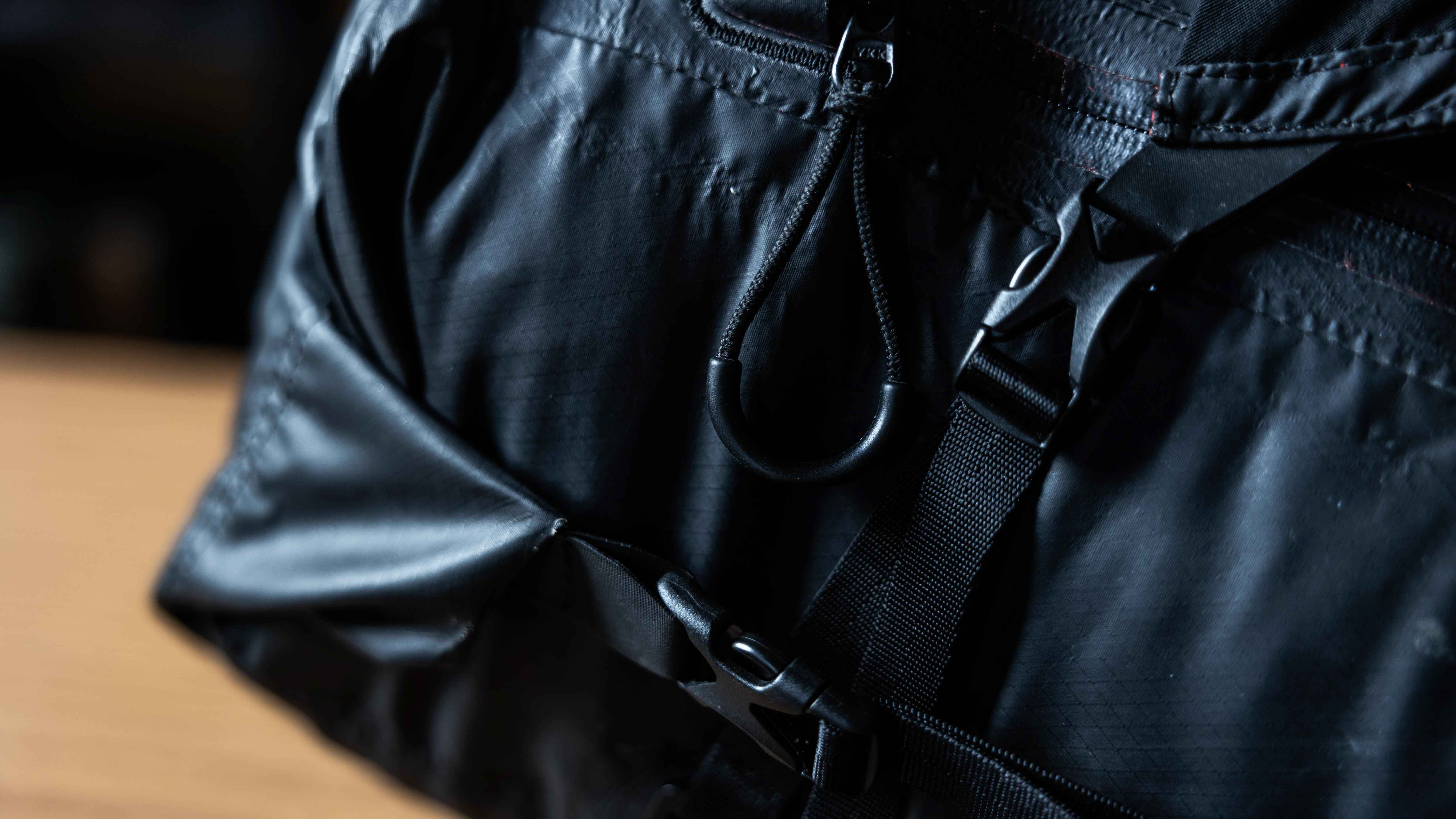 I would also like to say that all of my gear was nice and dry after that hike. The roll-top design coupled with four compression straps allows the pack to be as small or large as your adventure requires. This proved to be a very valuable feature in my testing. If I was walking back from the store with some groceries I could simply adjust the roll-top to create more room for extra items. Overall I was very impressed with the build quality and comfort of the Burro.
Kammot Burro Roll 26L – Organization and Access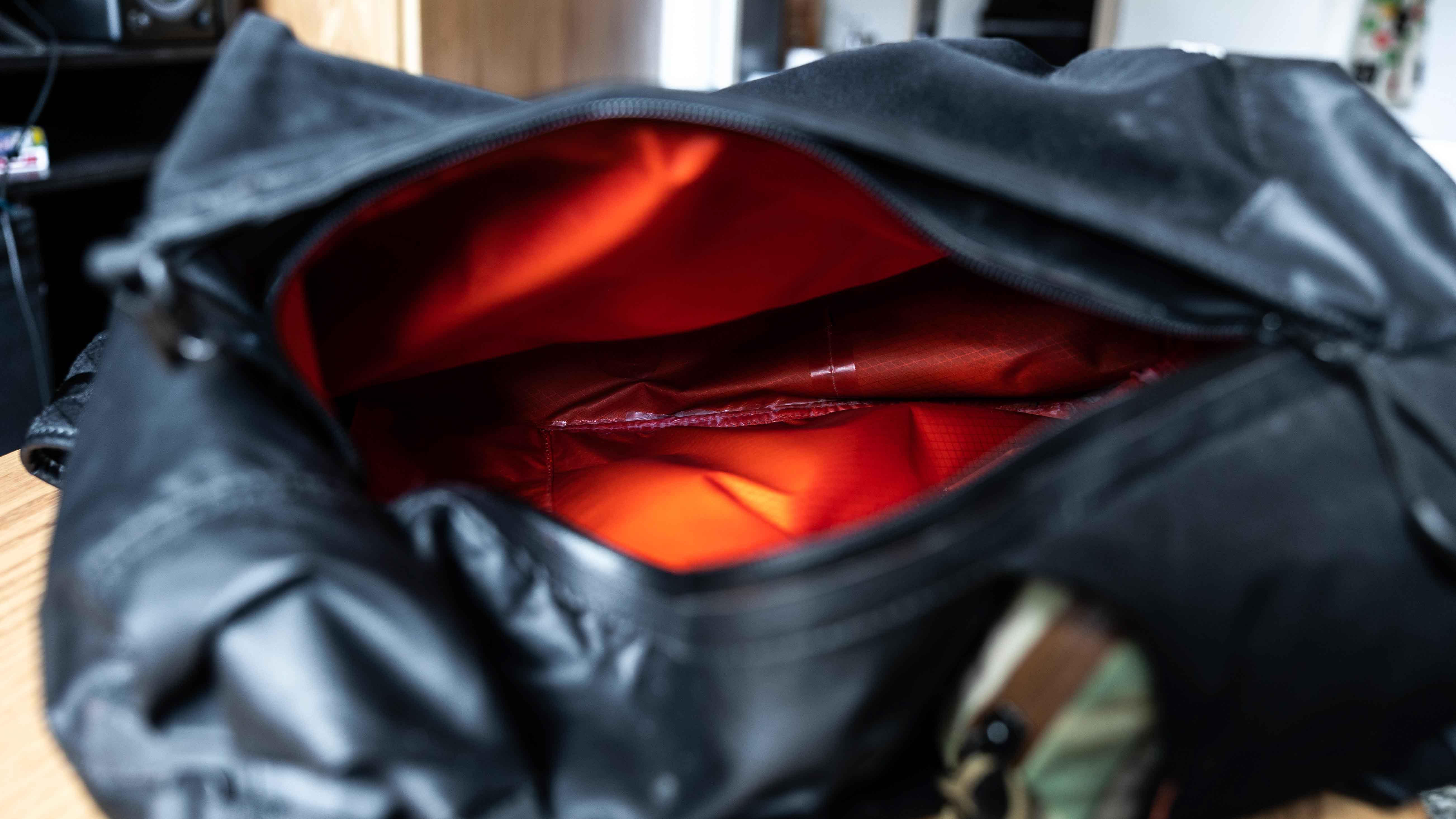 As mentioned above, the Burro is a roll-top so it has many advantages and disadvantages with this design. To aid in quicker access to your goods in the bag, Kammot has placed a large zippered access spot on the left side of the pack. This is a genius idea and helps alleviate the constant rolling and unrolling of the bag when you want to get into the main compartment. This is a case of a good idea but poor execution. The zipper will often get stuck on the compression strap buck and it's not easy to use meaning this quick access zipper is not so quick. I think an easy fix for this would be to actually shorten the length of the zipper so it does not intersect with this compression strap. If this sounds confusing I will include a picture to show what I'm talking about.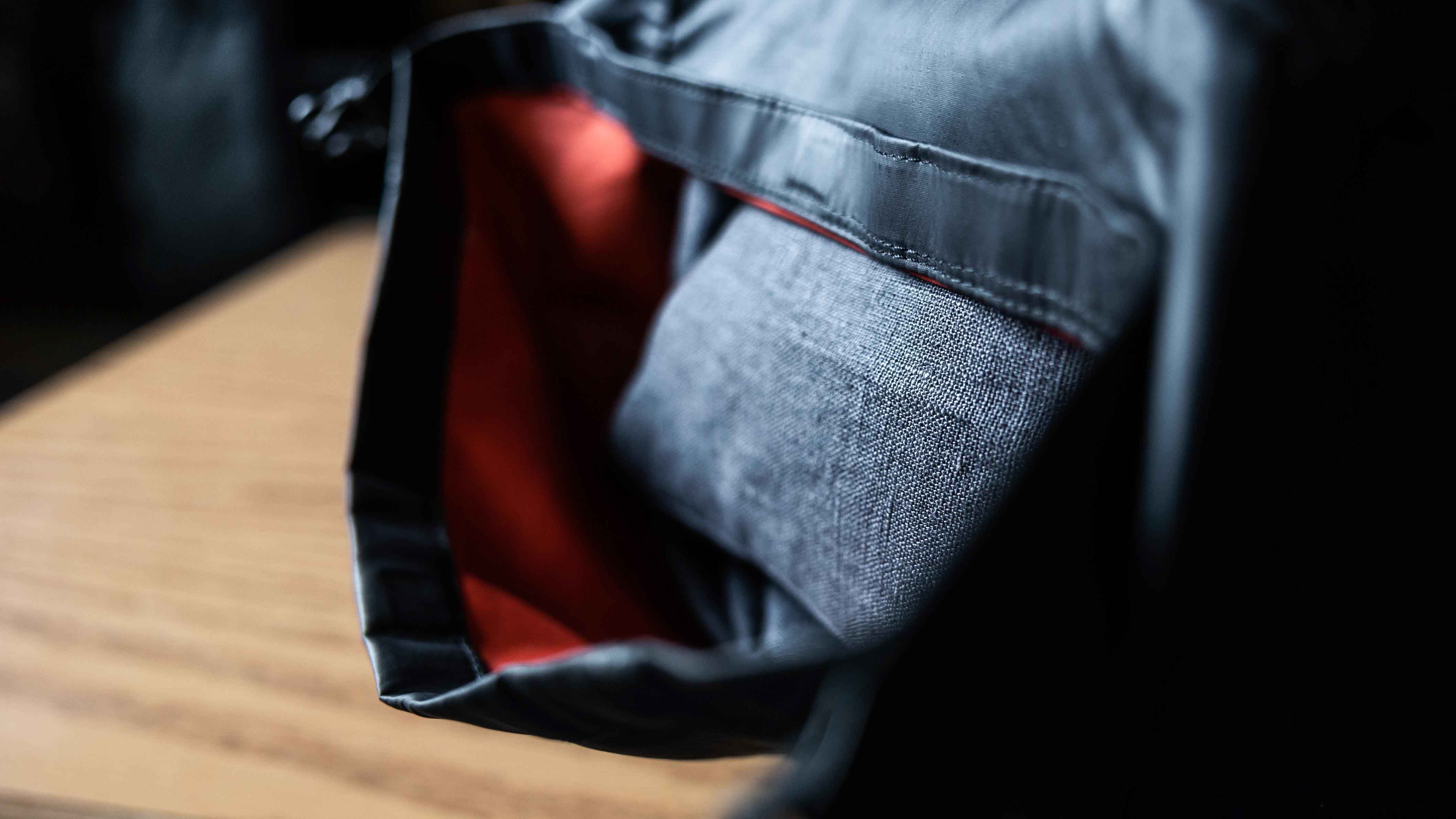 The Burro has a vertical quick-access pocket on the front of the bag that can allow for a few smaller items. In my experience, this was a good spot for things such as headphones, gloves, and granola bars. Something that I really appreciated about this pack was the choice of interior color. The Burro has a high-vis burnt red/orange inner color which aids in figuring out where your stuff is inside the pack. This is definitely a good feature to have on such a tall pack with a roll-top design. On both sides of the pack are expandable mesh water bottle pockets that can fit a 32 oz Nalgene with ease. I opted to put my Mystery Ranch EDC pouch in one of the bottle pockets as it was a very secure fit and helped me have an additional organization of smaller items. 
The primary storage section of the Burro is the very large, roll-top accessible main compartment. This is where the majority of your goods will go when you through stuff in this bag. I can tell you for certain you can fit about 28 beers in the pack if you pack it carefully.  The compartment is very minimalist like the rest of the pack having only one additional pocket inside it. I believe Kamoot calls this a secret compartment as it is very small. Once inside the main compartment, you can see all of the extra work that went into the burro making it as water-resistant as possible. All of the seams as taped across to help keep the water and elements of your valuables inside the pack. To gain access to the main compartment you can either use the "quick" access vertical zipper or the roll top. One of the unique features of the pack is that the rool-top has a magnetic closure making it that much easier to close in a hurry. I truly appreciated this feature the more I used the Burro so big win here.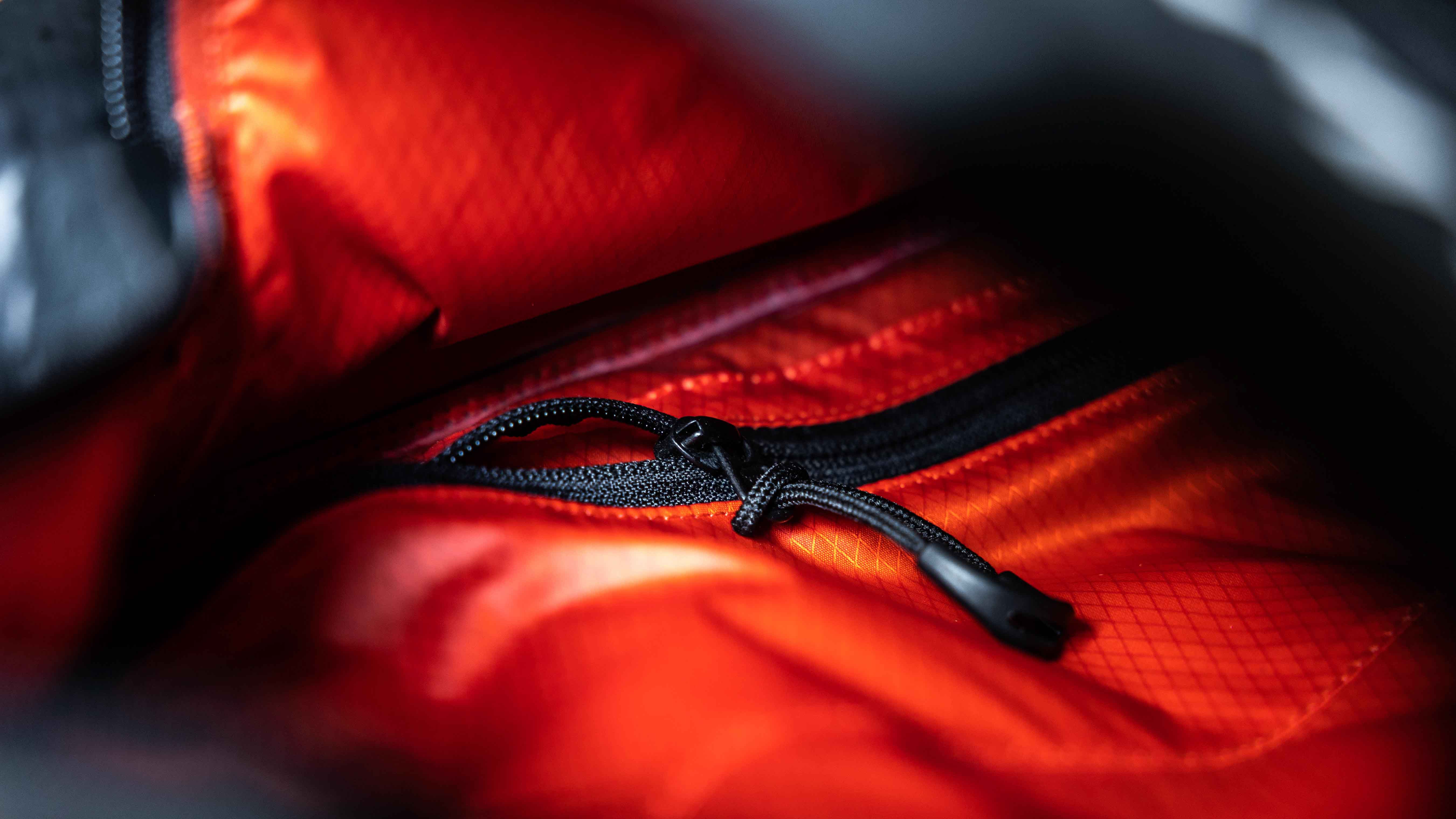 Moving to the front mesh pocket, I think this was my favorite feature of the pack. It acts as a mostly secure and easy way to stuff your larger and high-access items like jackets or large plastic water bottles or even tripods. I found I could through just about anything in here and it retained it and I was not worried about it falling out. I really can't say enough good things about this pocket. The laptop sleeve also acts as a hydration bladder slot when needed. The protective part of the laptop sleeve can be removed and as Kamoot claims, you can use this as a camping pad. I tried to sit on this and thought it was mildly comfortable but nothing is better than a wet rock so I think this is a nice feature. 
Likes 
Front mesh pocket proved to be a great addition 

An incredibly comfortable pack given its minimalist design 

Water-resistance is pretty great but not submergible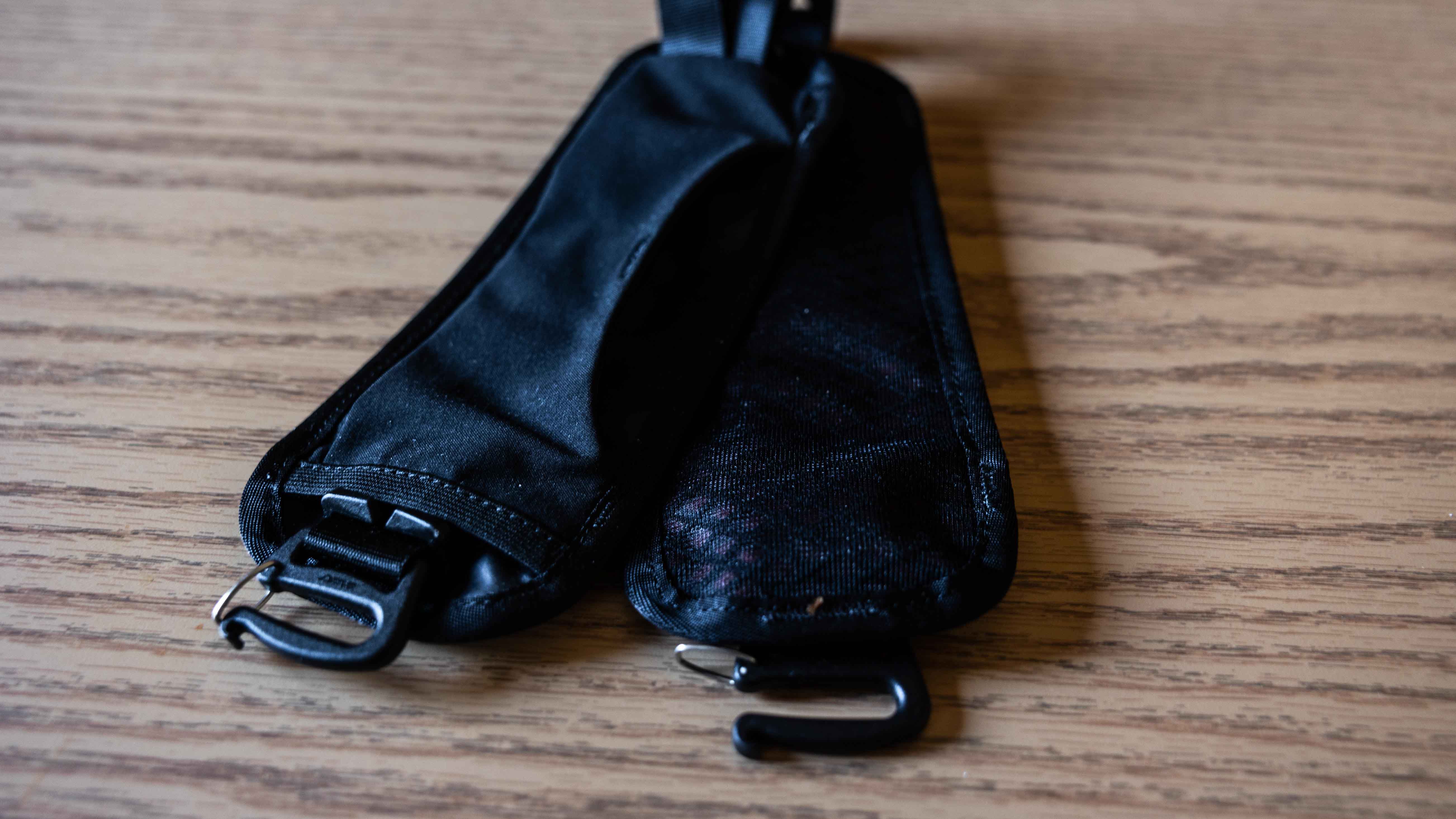 Dislikes 
Main compartment zipper actually needs to be a bit shorter

Pretty pricey at $140

Only available in 1-2 colors
Kammot Burro Roll 26L – Wrap up
Outdoor/urban hybrids are a tricky niche to tackle. But Kammok does a solid job with the Burro Roll 26. A versatile bag that's a day hiker but adaptable to urban settings too. Considering I didn't want to like this bag when I first picked it up, I'm definitely a big fan of it now.