TFBTV – The Glock 47 is Coming in 2023! Get Hyped!
Adam Scepaniak 12.19.22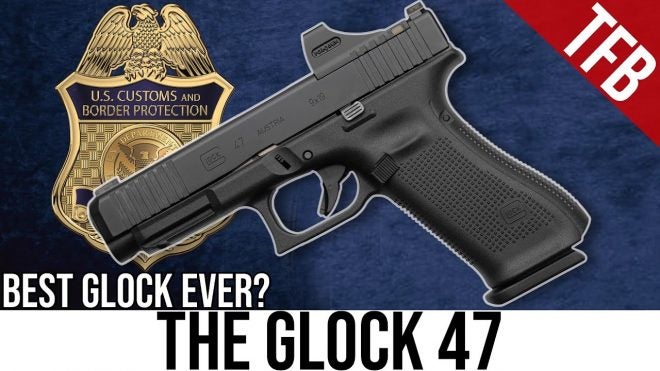 In this episode of TFBTV, James Reeves brings you an exclusive on the NEW Glock 47, coming to the civilian market in 2023. Originally introduced quietly by Glock in 2019, the Glock 47 was a contract-only gun for Department of Homeland Security Customs and Border Protection agents. A full-size 9mm pistol with a 17-round capacity and the Glock MOS optics mounting system, the Glock 47 is similar to the Glock 17 MOS – almost identical, on paper. But the Glock 47 has a few tricks up its sleeve. Using a Glock 45 frame, the Glock 47 has the ability to also accept Glock 19 slides. Moreover, the Glock 47 slide is compatible with Glock 19 frames, meaning that the G47 gives you unofficial access to the long-awaited factory Glock 19L "long slide."
««« GEAR AND APPAREL IN THIS VIDEO »»»
Apparel: All TFBTV apparel is sponsored by 5.11 Tactical and you can get it at www.511tactical.com
««« GUN & GEAR GIVEAWAYS »»»
Consider supporting us at 

patreon.com/tfbtv
Gun and gear giveaways are not affiliated with, associated with, or in any way endorsed by YouTube and TFBTV is solely responsible for the giveaways mentioned in this video and this description. No purchase required for gear worth over $250. Full rules and terms are found at http://tfbtv.gun.team/
««« FOLLOW US ON SOCIAL MEDIA »»»
https://www.facebook.com/TheFirearmBlogTV/
https://www.instagram.com/TFBTV/
https://www.reddit.com/r/tfbtv/
««« SPONSORS »»»
Please Support Them! They help make our videos possible.
– Ventura Munitions – www.venturamunitions.com
– Blue Alpha Gear – www.bluealphabelts.com
– Top Gun Supply – www.topgunsupply.com
««« TFB CHAT ROOM »»»
Want to join the TFBTV chat room? Use our Discord Invite: discord.gg/tfbtv
#TFBTV