AllOutdoor Review – Mystery Ranch Blitz 30 EDC Pack
Patrik Orcutt 12.20.22

Mystery Ranch is one of those companies that needs no introduction at this point, if you are unfamiliar with them please refer to any of our past reviews on their products. The Blitz series of packs was launched early in 2022 with a 35-liter and the focus of today's review, a 30-liter variation. The Blitz peaked my interest as it was designed from the ground up as an EDC bag before all of the tactical accouterments were added to it. In theory, then the Mystery Ranch Blitz 30 should be the perfect EDC pack for the tactically-minded individual. 
The Mystery Ranch Blitz 30 was tested over the course of several months as my primary EDC bag when conducting Military activities. I also stretched its legs on a few weighted Rucks to really test the durability and yoke system of the Blitz 30. 
The Mystery Ranch Blitz 30 was provided by Mystery Ranch for this review and I am allowed to keep this copy for my personal use after the conclusion of the review. 
Mystery Ranch Blitz 30 – Quality and Comfort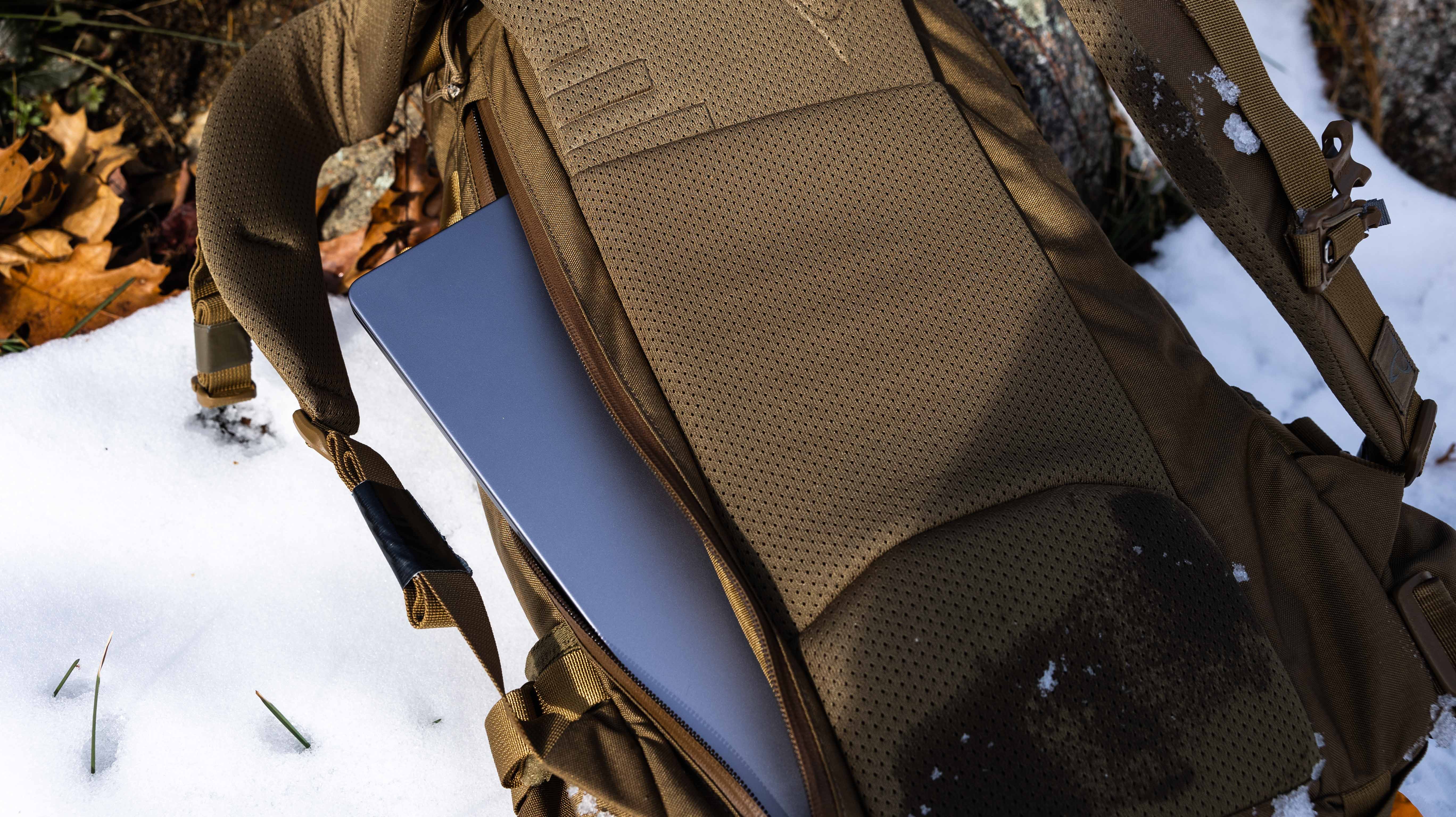 Since this is a Mystery Ranch Bag you can bet that it's going to be a quality bag. This past August I took a trip out to Montana for vacation and had a day to kill in Bozeman. I took a personal tour of Mystery Ranch's primary manufacturing facility and was very impressed with its quality control and repairs department. The repairs team asked me if I had ever had any issues with bags from them and if I ever did that they would fix them free of charge. 
The Blitz 30 is primarily constructed of a 500 D Cordura fabric giving the pack great durability while not being too heavy for most uses like a 1000D material might be. All zippers on the exterior are of the coated YKK variety and are top notch. I would bet on the fabric of the pack giving out before these zippers do. The Blitz features Mystery Ranch's famous harness system offering great comfort and stability on the pack. 
This harness is identical to that of the 2-Day Assault. This means the foam is softer than what you would find in the military/Made-in-USA variants of the Mystery Ranch bags but in line with what you find in the smaller hiking packs. This means that the bag should be very comfortable at lighter weights, and I found that it was bearable when loaded with 35 pounds for a ruck. For most people, this will feel comfortable. But for those with an ASAP or 3-Day Assault, the padding will feel less robust.
 Mystery Ranch Blitz 30 – Organization 
Organization is one department that the Blitz really stands out. Simply put, the Mystery Ranch Blitz 30 offers more organizational options than most of Mystery Ranches' other offerings. Starting with the two most noticeable pockets on the front of the pack. These are called A, B, and C pockets and are part of a system that includes that top lid pock, so we will start there and work our way down. The top lid/admin pocket is medium-sized and has a mesh backing to the interior of the pack. The pocket has zipper access and I would that to be a good place to put my gloves or sunglasses. The top of the pocket features a branded Velcro field for your patches. 
Moving down are the two other pockets in the A, B, and C system. These two pockets have molle webbing on the exteriors for mounting additional gear. Inside there are two pockets that have small dividers for smaller gear and also elastic webbing. The top pocket also has a key lanyard for making sure your keys are where you think they are after a long hike. I think the addition of their pockets gives the bag a lot of unique organization options but personally, I wish the molle webbing was left on the cutting room floor. 
Gaining access to the main compartment of the bag is done via a full horseshoe zip and this gives the user easy access to the contents of the bag. There are compression straps on both sides of this bag meaning that if you do want to fully open it, you will need to unclip these. There are two water bottle pockets on the bottom of either side of the pack. The pockets are large enough to easily hold a 32 oz Nalgene or larger items like tripods or radios. The bottom of the pack has two more compression straps for rigging extra gear like a camping bag or sleeping pad with ease. 
Moving to the internals of the bag you can find a generous main compartment with enough organization to keep things neat but not difficult to access. There is a laptop sleeve (fits up to a 15-inch laptop) that also doubles as a hydration bladder carrier given the inclusion of a mounting point for said bladders. This part of the interior is also lined with a hook and loop should you want to store a few patches or Velcro-backed ouches here. 
One of the smartest designs on the bag is that the laptop sleeve can also be accessed from a single zippered passthrough pocket on the left side of the pack. This gives the end user another way to get to their computer if the top of the pack is crammed full and difficult to open. Lastly, there are two internal, compressible water bottle pockets in the main compartment just like on the Three Day Assault Pack. 
Likes 
The frame is incredibly comfortable

Great organizational options

Side access laptop capability
Dislikes 
Compression straps block zippers when fully opening the pack

Price is steep for not being produced in the United States

Only offered in three colors
Conclusion
While I'm not a big fan of using tactical-looking bags for EDC unless I'm working in that kind of environment, the Mystery Ranch Blitz 30 offers a lot of great features. I found this pack was the perfect size for me to carry everything I would take to work. Overall I really liked the Mystery Ranch Blitz 30 and that it was aimed at an EDC roll and this makes me excited to see what Mystery Ranch comes up with next.