POTD: World War II British Enfield Prototype Light Rifle
Sam.S 12.20.22

Welcome to today's Photo of the Day! During the early part of World War Two, England was struggling for resources with the fear of German invasion. This is a British Enfield Prototype Light Rifle. These popped up in 1942 as an Enfield prototype for a simplified and lightened Enfield rifle. The receivers are different than a normal Enfield receiver since they have a bit of extra metal and material (seems funny for a "light" rifle). they have some wooden slats on the side of the receiver for both looks as well as comfort. These never really took off mostly because by the time the development got really going the war started turning in the Allies' favor. Why make a new gun when production on the old ones is going well and they were in need of them?
"This is a very rare example of a British rifle produced in 1943/44 as a prototype substitute light rifle. It is estimated that only a handful were actually produced with the British Ministry deciding to just retain the original No 4 rifles. This design was developed by the C.S.A.D. (Central Small Arms Dept) which was basically the concept/design agency for the British Ordnance/Government office. Once a requirement was established, the C.S.A.D. would develop the concept and produce a limited number for evaluation by the Enfield factory, and then, if approved, a bid proposal would be solicited form various manufacturers. In this case, the requirement was established as a lightweight rifle design when in actuality (based on this describer opinion) it is actually more of a wartime expedient product, an improved/redesigned No. 4 rifle intended to make manufacture of the rifle much easier with a stronger and better design than the old No 4. In this design, the rifle action and barrel are still very robust and rigid, and are chambered in the standard 303 British cartridge but are easier to produce. The action of the rifle is comprised of 4 different sections that were welded together. It also features a completely new bolt, magazine and stock design. The receiver probably started out as a square bar stock or forging that was machined out for the bolt raceways. "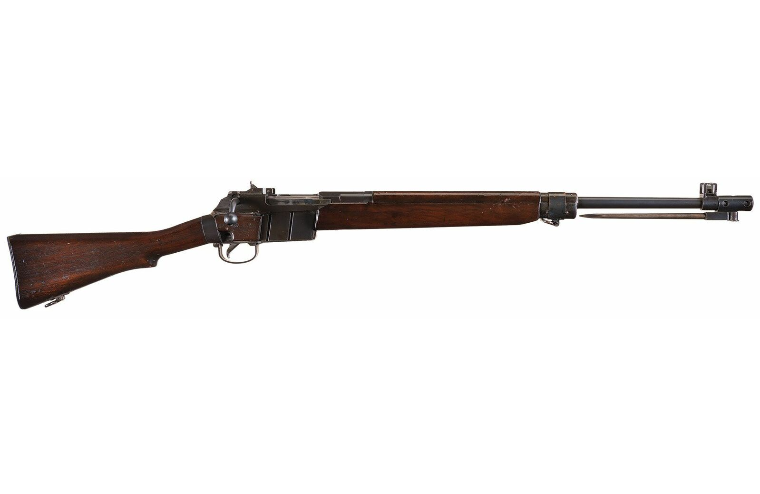 Lot 2626: World War Ii British Enfield Bolt Action Prototype Light – Rare World War Ii British Enfield Bolt Action Prototype Light Rifle. (n.d.). Rock Island Auction Company. photograph. Retrieved December 19, 2022, from https://www.rockislandauction.com/detail/75/2626/world-war-ii-british-enfield-bolt-action-prototype-light.