AllOutdoor Review – Trijicon ACOG 4×32 BAC (300 Blackout)
Travis Olander 12.22.22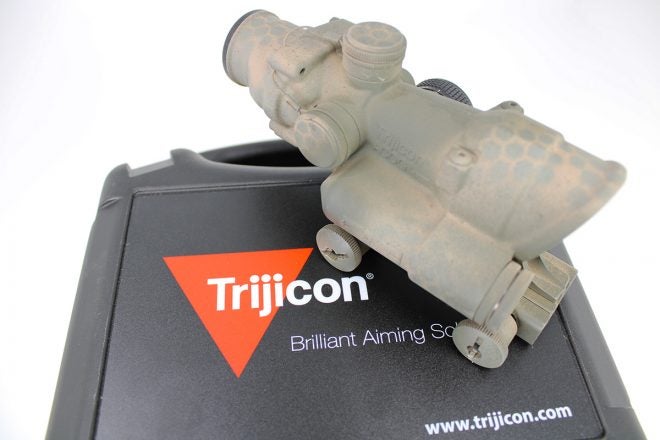 The 300 AAC Blackout (300 BLK aka 300 Blackout) is one helluva round. It's arguably the only AR-type cartridge capable of running suppressed or un-suppressed – supersonic or subsonic – without ever changing your rifle's or pistol's configuration. It accomplishes this with a wide range of loads. Light 125-grain loads are capable of providing excellent supersonic performance with accuracy beyond 300 meters. Heavy loads (like Sig's 205-grain hunting rounds) can punch serious holes up close with excellent sound signatures ran through a can. But swapping supers for subs, or vice versa, presents some targeting challenges. The ballistics vary wildly between these loads, making the typical optic's zero somewhat useless. That is where the Trijicon ACOG 4×32 BAC (300 Blackout) optic comes into play and we are going to review it here today!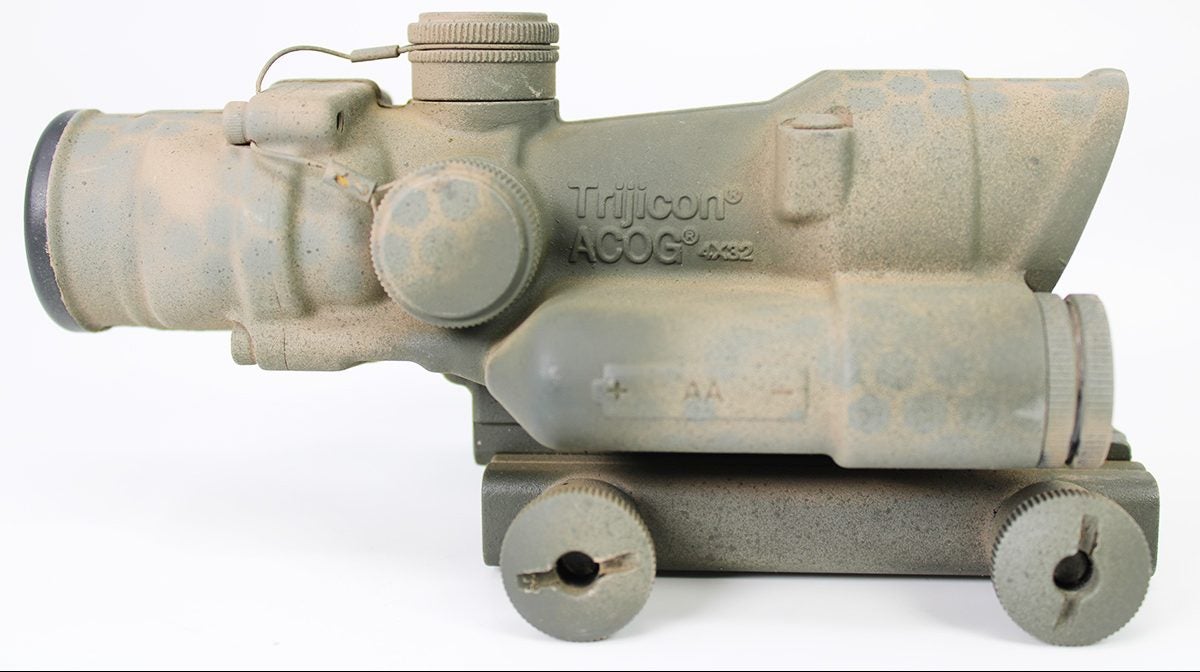 Trijicon ACOG 4×32 BAC (300 Blackout)
Magnification: 4x, fixed
Exit Pupil: 8.13mm
Eye Relief: 1.5″
Objective: 32mm
Reticle: Super/Sub BDC
Adjustments: 2 MOA / click
Field of View: 36.8 ft @ 100 yards / 7 degrees
Additional Specifications
Housing: Forged 7075-T6 Aluminum
Illumination: Fiber Optic / AA Battery
Mount: Integrated RMR / 1913 Rail
Waterproof? Yes (Submersible to 36 feet)
Weight: 17.6 Ounces / 499 grams
Model # Reviewed: TA02-C-100431
The ACOG BAC Reticle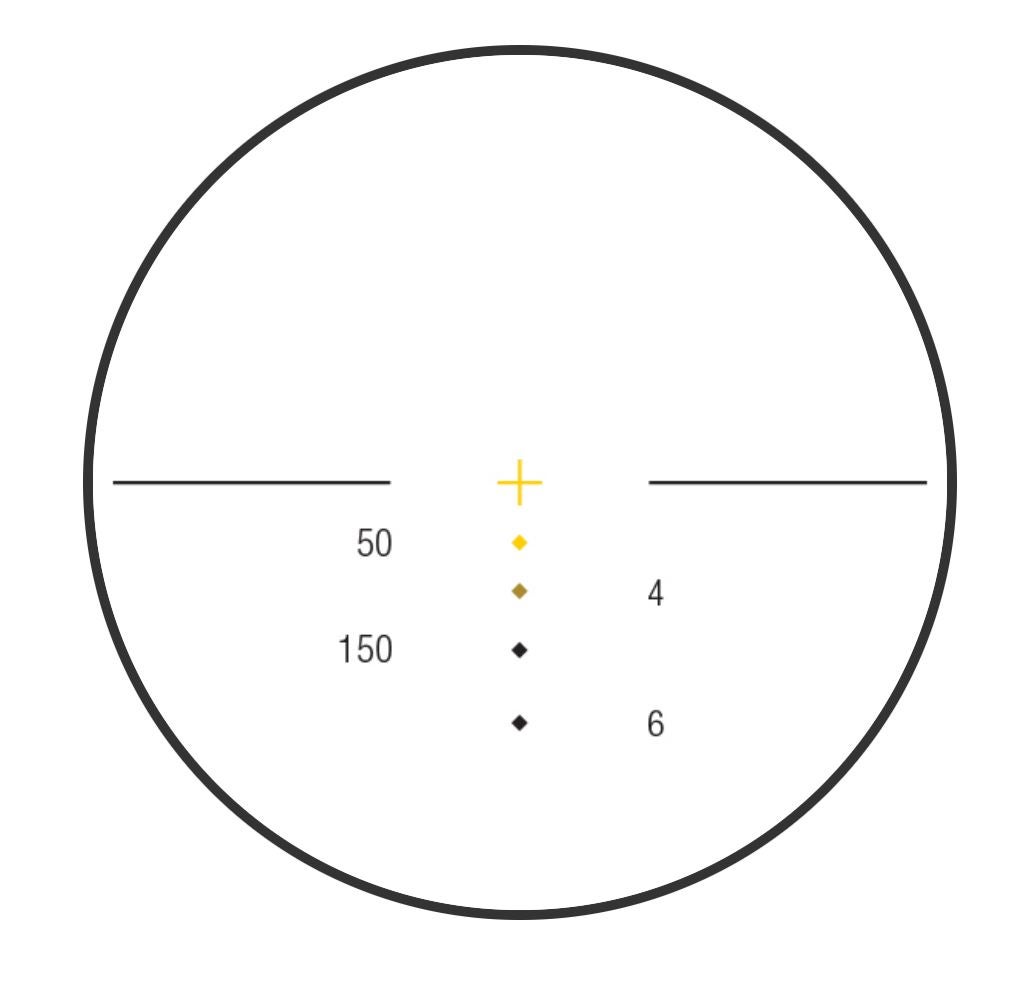 The ACOG BAC's reticle is what makes this optic really shine, especially when it comes to 300 BLK. The diamond aim points provide bullet-drop compensation for standard subsonic (left) and supersonic (right) loads.
Zeroing
To use this reticle accurately, Trijicon says you must zero at 100 yards using 115-grain supersonics. Generally, ballistics of most supers and subs will perform accurately with holdovers once this zero is achieved.
How the Reticle Works
For subs, each diamond is set to compensate at zero, 50 yards, 100 yards, 150 yards, and 200 yards. Supers are set to compensate for zero, 200, 400, 500, and 600 yards along the same plane. I've tested how well the holdovers work with both 150-gr. Hornady FMJs, and 220-gr. OTMs from Black Hills, as these two loads tend to represent the most common super and sub weights on the typical shelf. They are quite accurate. They'll never be 100%; there are simply too many grain weights available within both camps. But it gets the job done on the typical 12″ target.
Illumination
Illumination on battery power is fine. I run at the 4th brightness setting. It's adequate for bright daytime shooting in the open deserts oh Utah. Settings #5 and #6 show a lot of bloom and wash out the center reticle, but you probably won't ever need to run it this bright. Color options include yellow, red, and green. I prefer red for low-light conditions.
Trijicon says at brightness setting #4, you'll get around 12,000 hours of battery life, or 500 days of continuous use. I prefer running off battery. The ACOG's original fiber optic brightness is reliant on ambient light. I found myself using the old "cover-it-with-tape" method to reduce brightness on my service-issued ACOG. The ACOG is available with this same BDC reticle for .223 and 5.56 rifles.
Scope Construction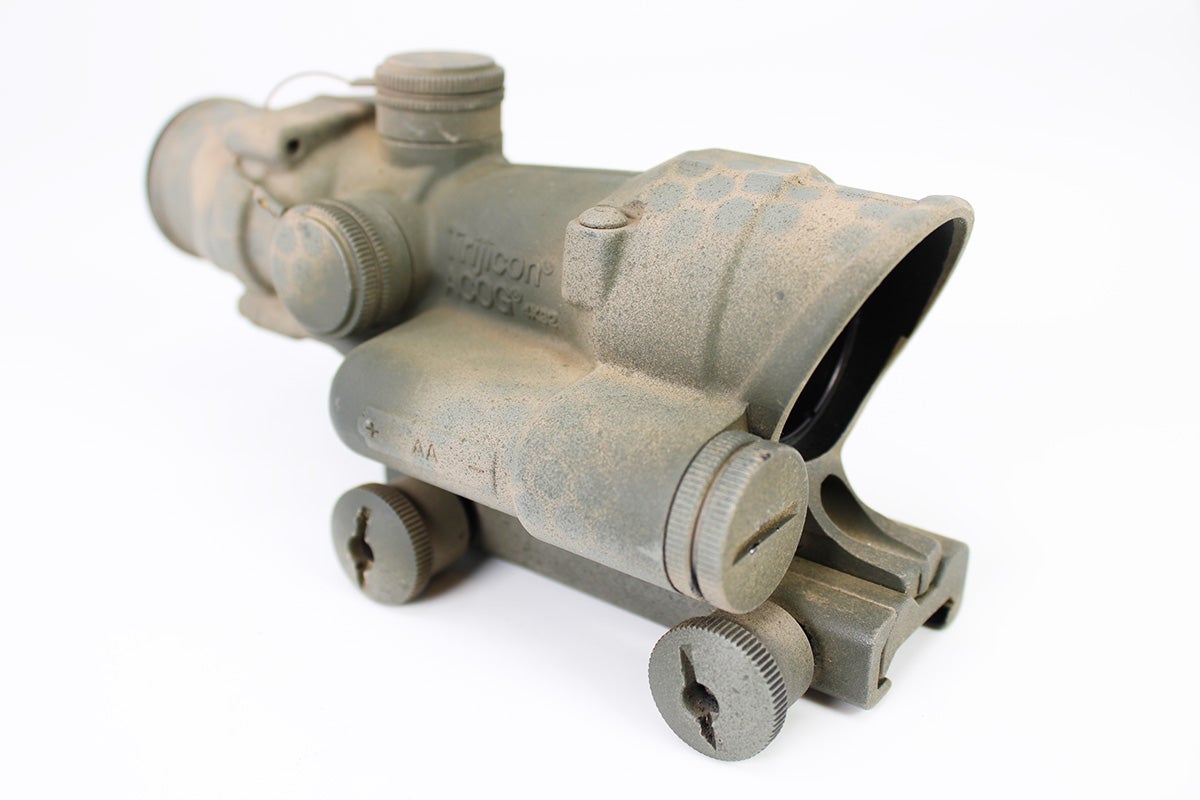 Anyone who's used an ACOG knows they're one of the toughest optics you can buy. This iteration is no different. It sports the same one-piece, forged aluminum housing and (beneath my janky Duracoat paint job) the typical matte black, rubberized coating that never seems to wear or fade.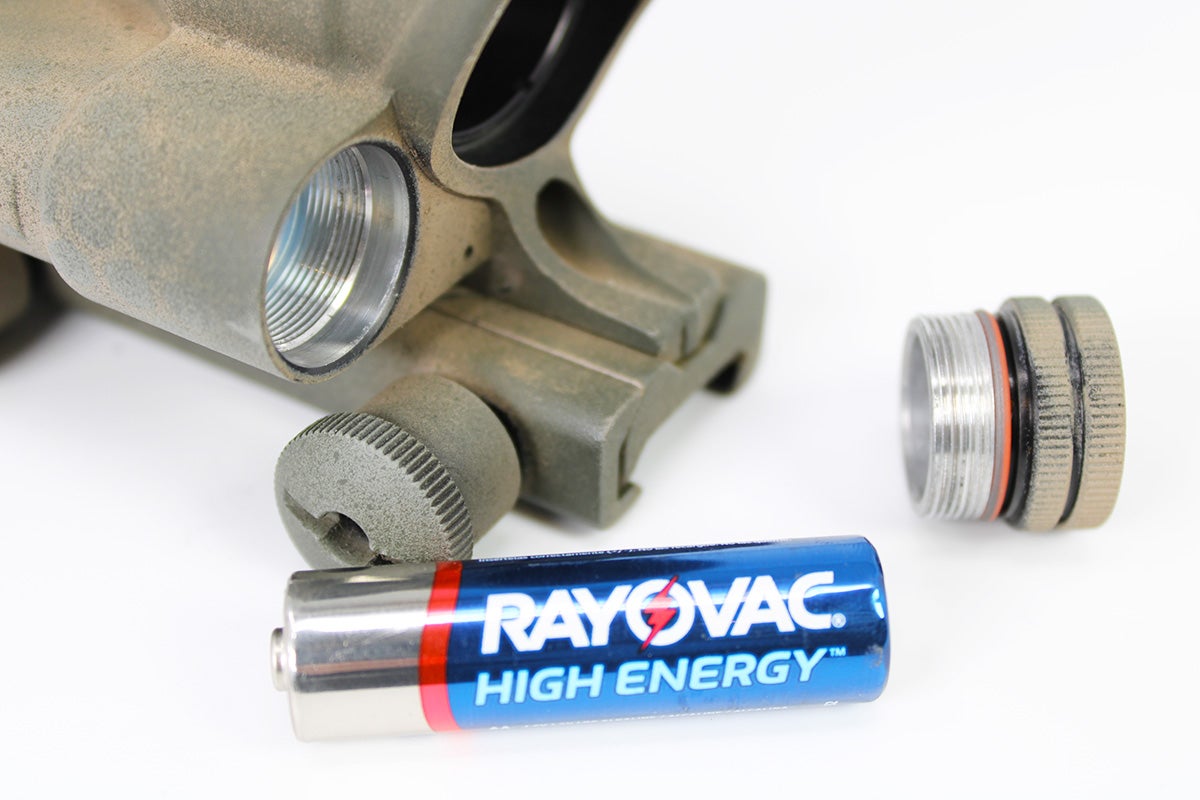 Something I've wanted for years: The ACOG BAC runs off good ole' AA battery power. Fantastic. A single cell is required, with a waterproof O-ring sealing the knurled flathead screw cap.
Turrets and Adjustments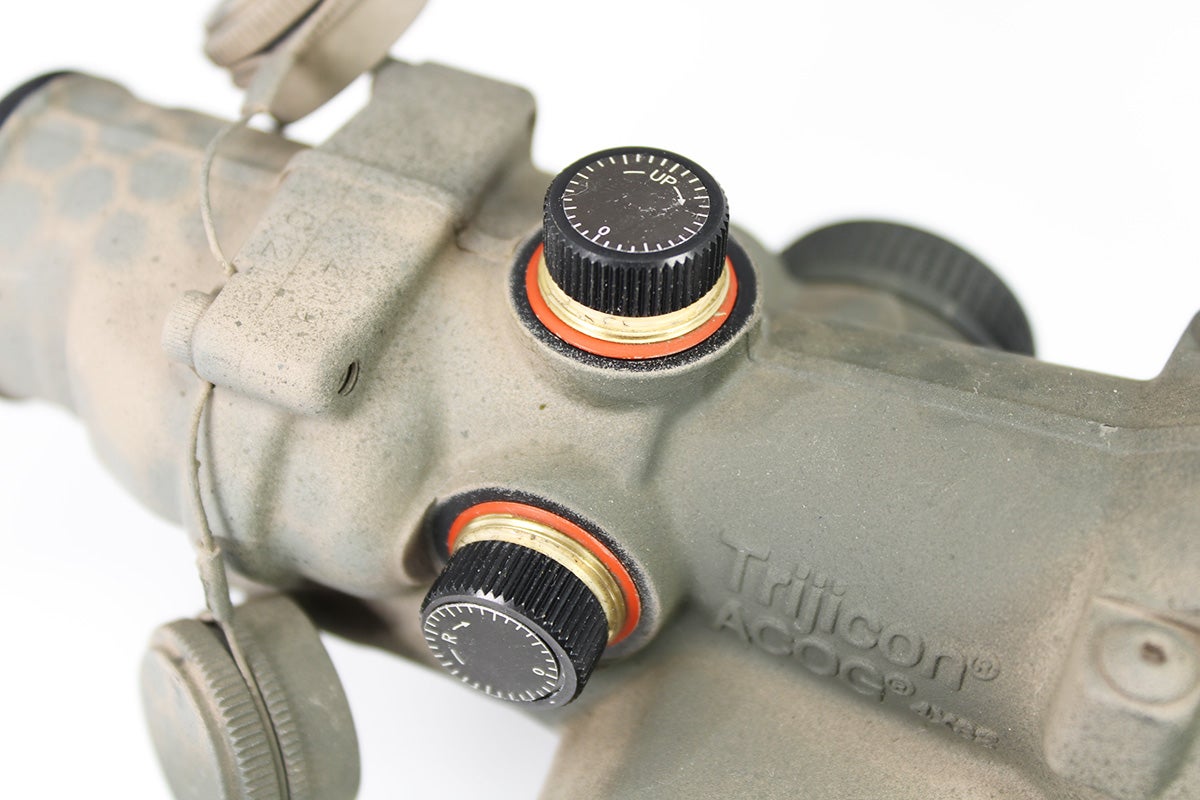 The turret caps also sport waterproof O-rings, in keeping with this optics IP69 submersible rating. Windage and elevation both adjust 2 MOA, or 2″ per click at 100 yards. Clicks are tactile and feel solid; there are no fancy zero stops. But then again, this a "set-it-and-forget-it" type of optic.
Brightness Adjustment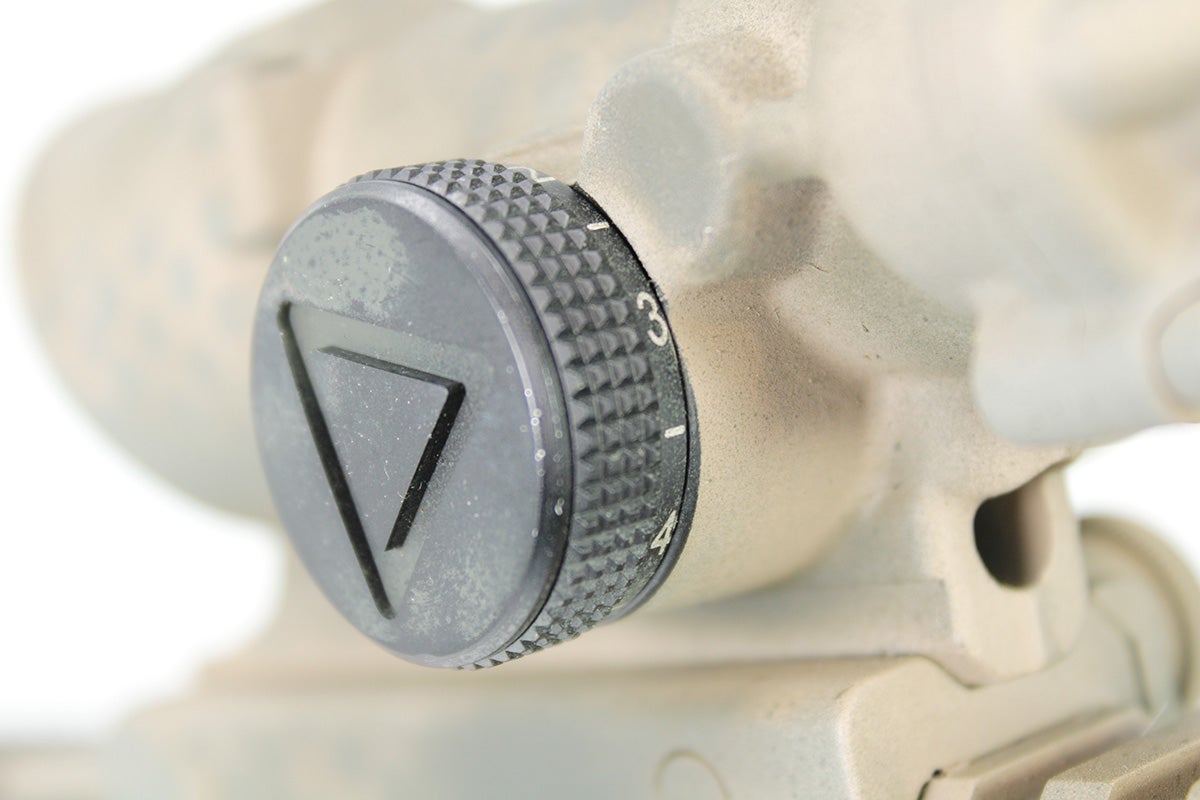 The brightness adjustment knob is large and knurled. It feels solid, with small detents alongside white labels to indicate each brightness setting. The optic powers on and off between settings, which means you don't need to cycle all the way up and back down to get to your preferred level of brightness. A convenient little design choice.
RMR Mount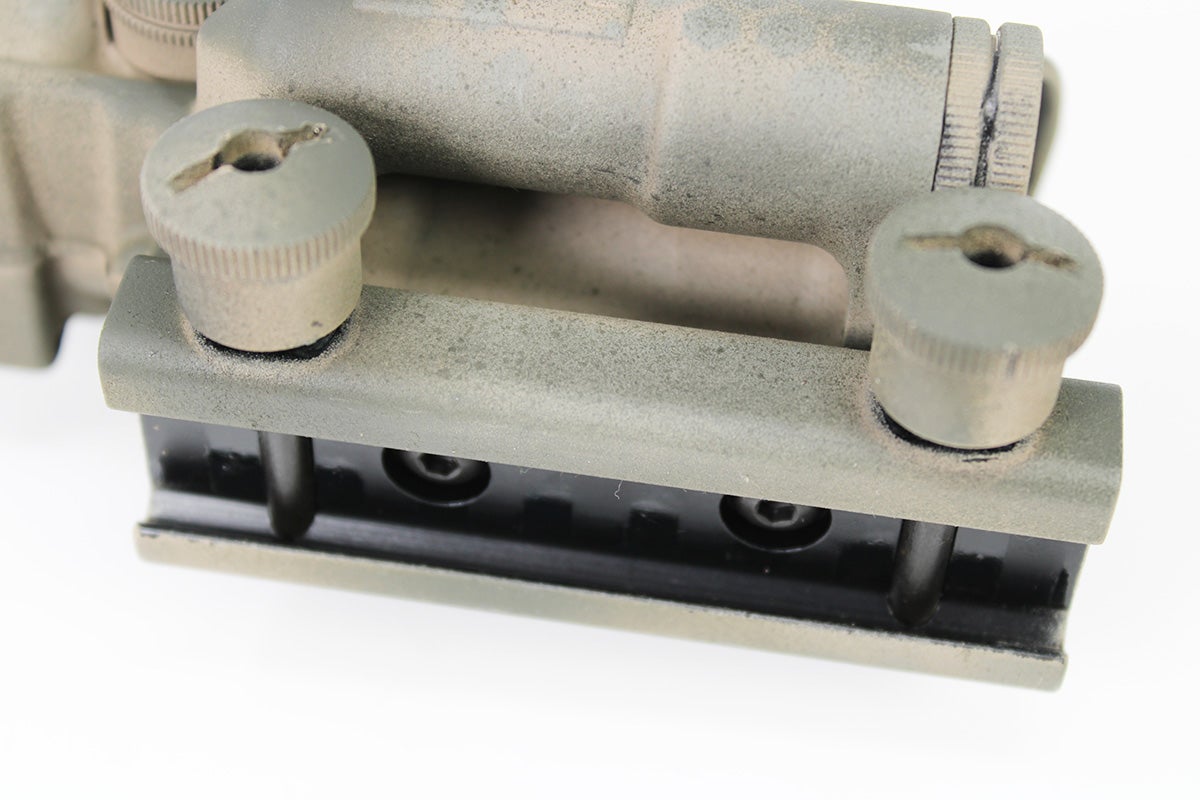 The RMR mount provides great lock-up. I've removed my ACOG once or twice to temporarily accommodate other scopes. I found there was no need to re-zero after re-indexing and clamping it back down.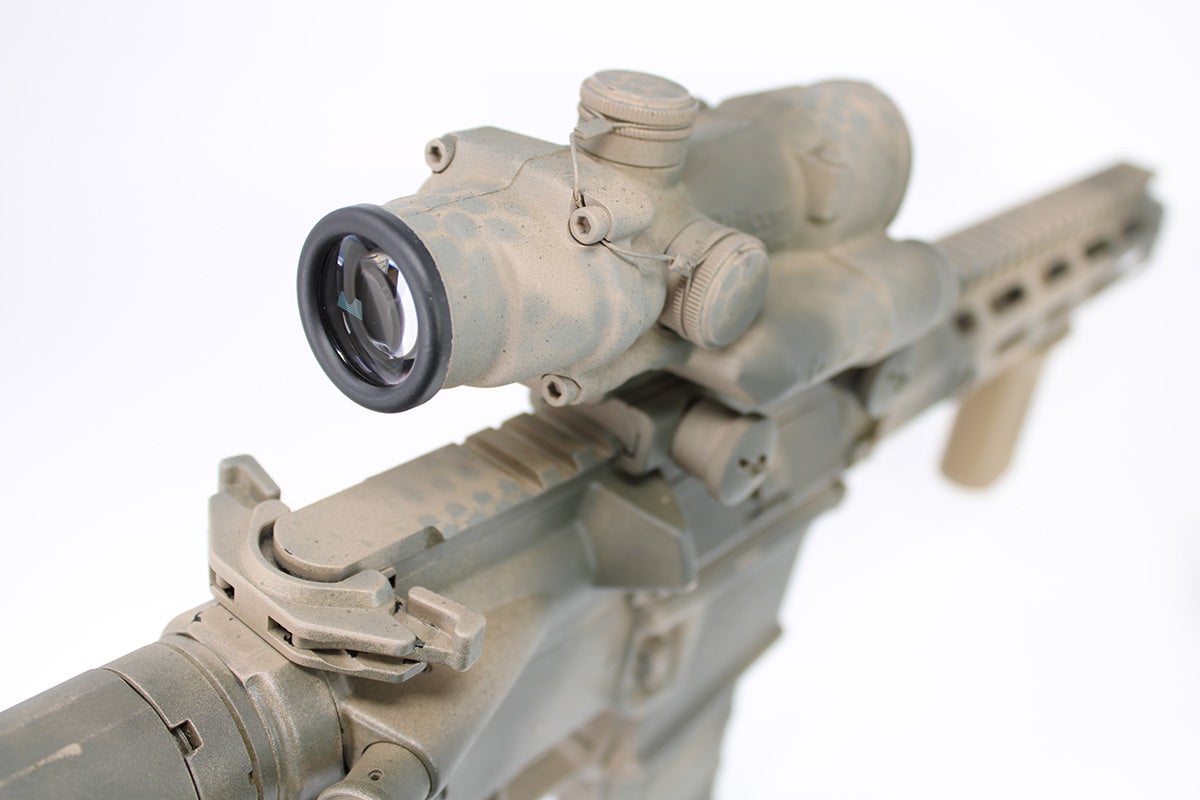 With the RMR mount biased forward, ample clearance is provided underneath the rear lens for grabbing your charging handle. This is with the mount seated as forward atop the typical flattop rail as it'll go.
What's Not to Like?
Take a second look at that picture above, and you'll realize I'm running no backup irons. Even with the optic pushed as forward as it'll go, there's just not enough clearance on the typical AR's upper receiver for flip-up rear sights. You could spend some extra doe and grab a micro-red dot that mounts atop the rear lens. But they're expensive a bit too "tacticool" for my taste. So, if you like shooting irons, you'll find yourself unscrewing that RMR mount quite often. This is the only foible I've found running this optic.
The Hog Hunter's Companion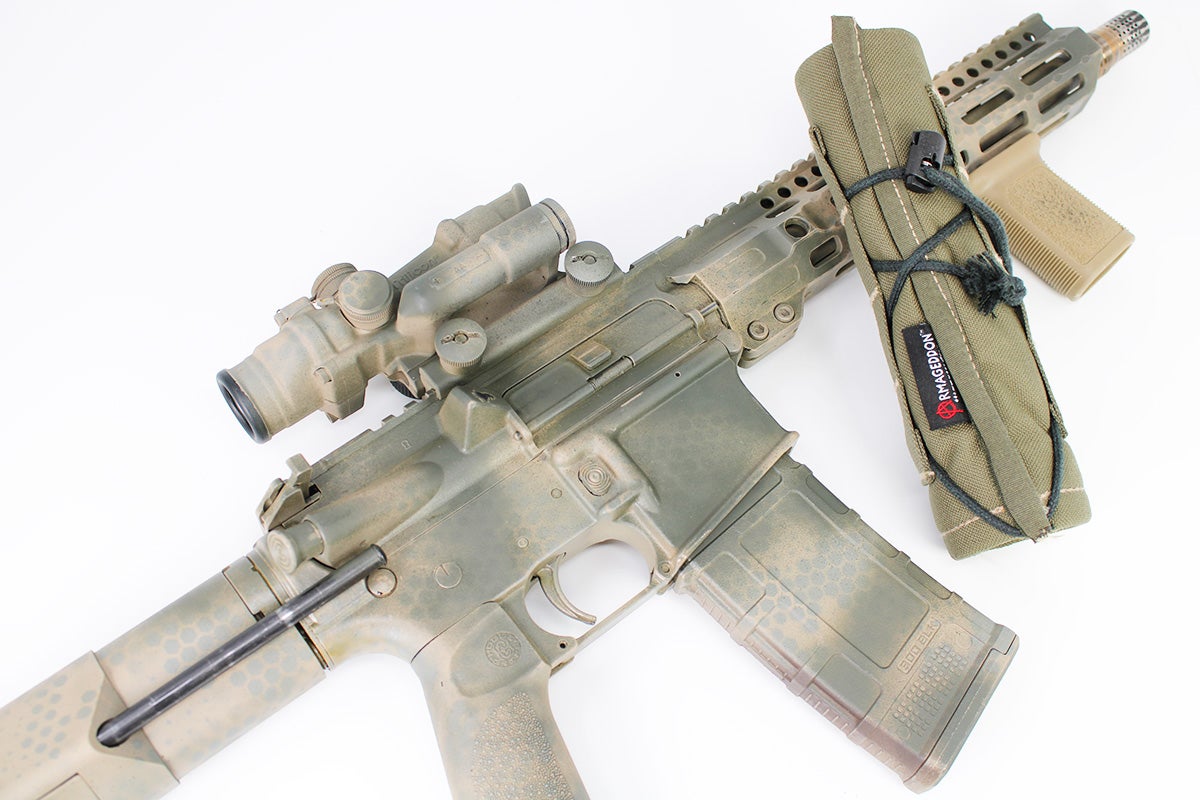 Used alongside a quality barrel (like my 10.3″ Triarc TRACK 2.0) and a decent suppressor, the 300 Blackout ACOG 4×32 BAC is the perfect scope fast acquisition and accuracy with all loads. It's an excellent hog scope, and arguably the most convenient piece of glass for those of us who enjoy shooting supers and subs equally. Grab one for yourself, zero and familiarize, and then set up a hog hunt in Texas for some serious fun.