DECKED Storage System: Organization For Your Gear
Doc Rader 12.22.22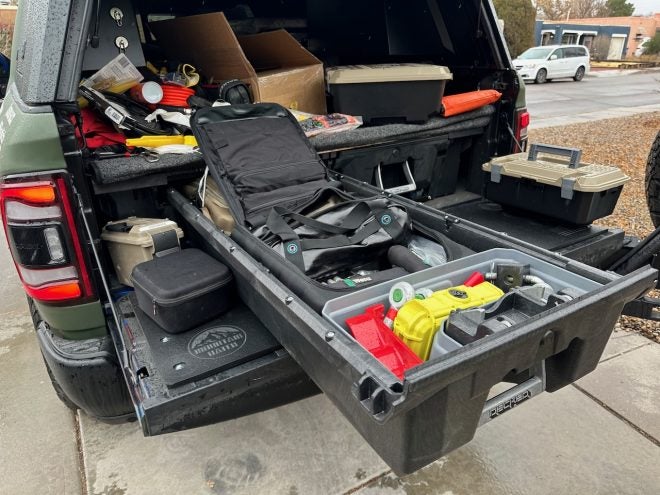 Trucks are great for hauling things. Most have a large rectangular area in the back called a bed which can hold a lot of things, including gas:
Kidding, DO NOT PUT GAS IN YOUR TRUCK BED.
Good day everyone and welcome to a new installment of AllOutdoor's Off-Road and Overlanding series brought to you by onX Offroad--mapping software for all your adventures.
Trucks lack the ability to organize gear easily or securely store stuff in the bed. We tend to take gear with us when it comes to off-road and Overlanding. Maybe it's tools and recovery gear. Maybe it is kitchen setup and food. Sure, you can sling a toolbox (or bag) in the bed along with an old Igloo cooler. But then, how could you post on Instagram with a straight face? What would your peers think?
The modern car camper needs a more bougie way of managing gear in their truck bed. That generally translates to a drawer system of some kind. We were sent a DECKED Drawer System for the RAM Power Wagon build and a set of the DECKED D-Bags for this article. Full disclosure: I have a DECKED system on my Tacoma and have been using it for a couple of years, as have several buddies.
Installation
As far as installations go, DECKED installs pretty easily. It is best to take off any caps or shells first (if you have one)–it just makes life easier. There is a little bit of tedious bolting you need to do, but not as bad as doing a roof rack.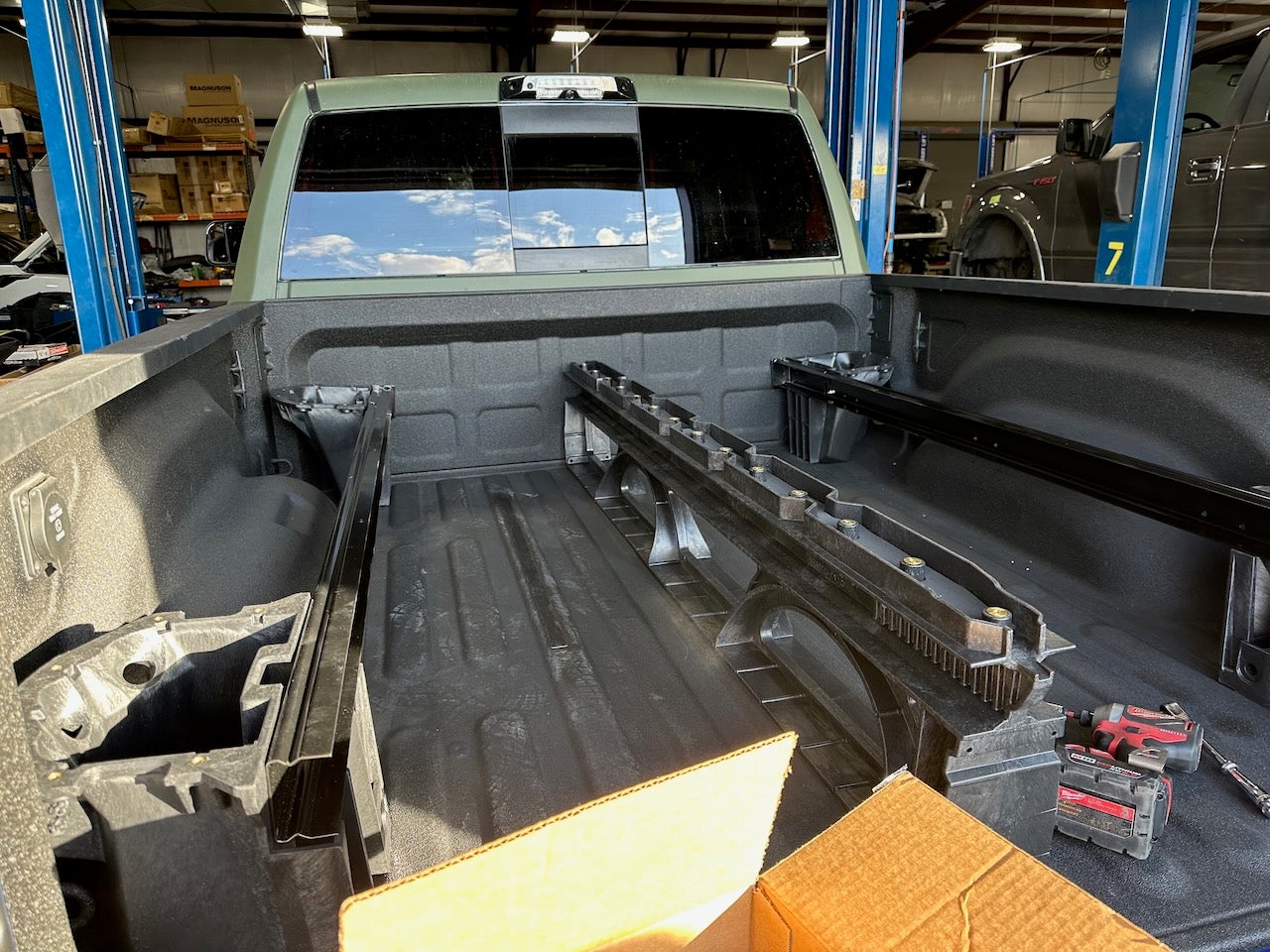 Once you install the frame into the bed and anchor it down (each vehicle is a little different–DECKED has done an excellent job of documentation for each install), you put the top deck plates in place and bolt them down. There are some finishing parts, like the ruler and bottle opener, but that is pretty much it.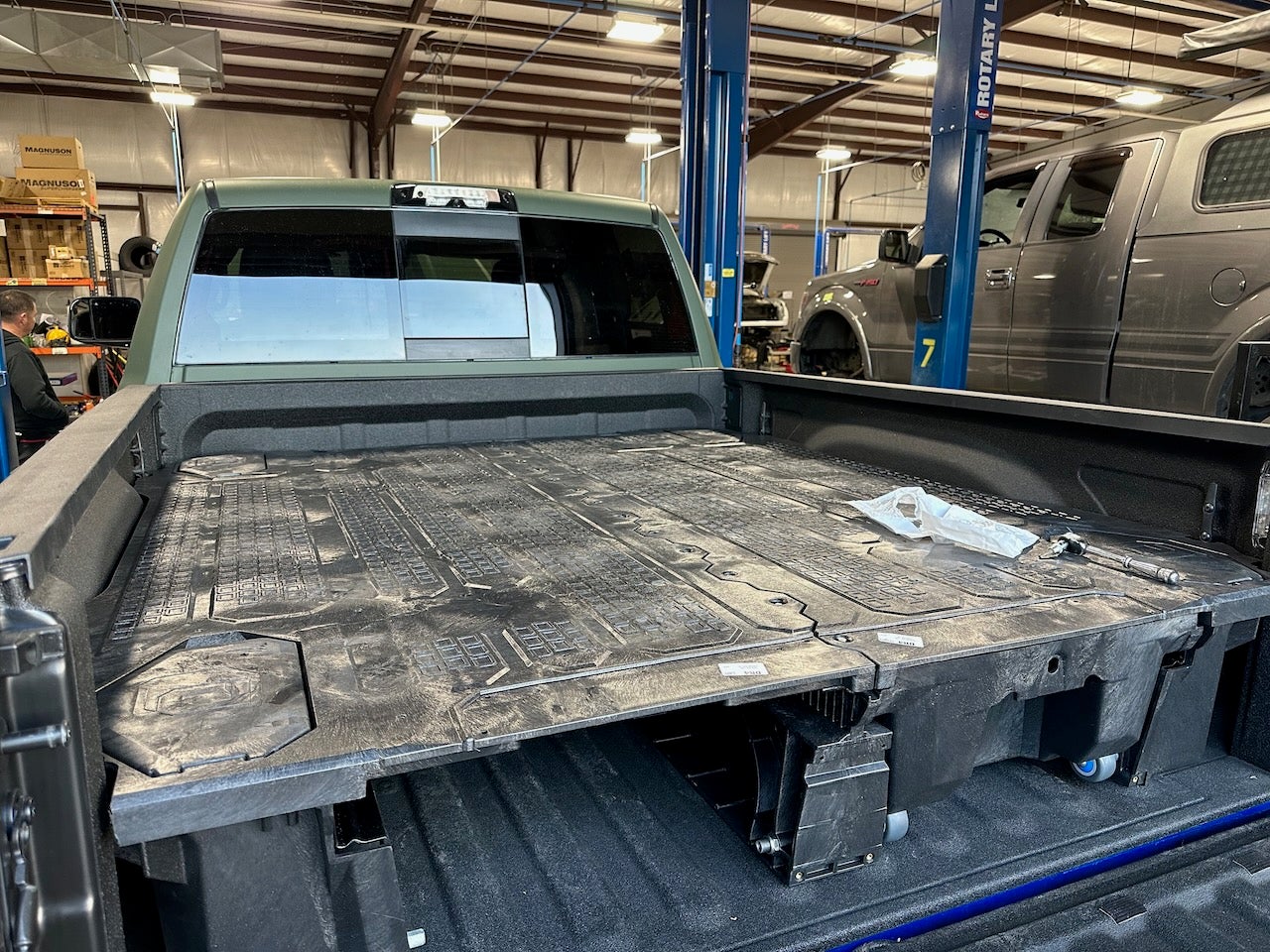 You are done when you slide the drawers in place and install the last roller wheels. You could outfit it with the drawer locks or top rail tracks if you added those. Install took maybe an hour.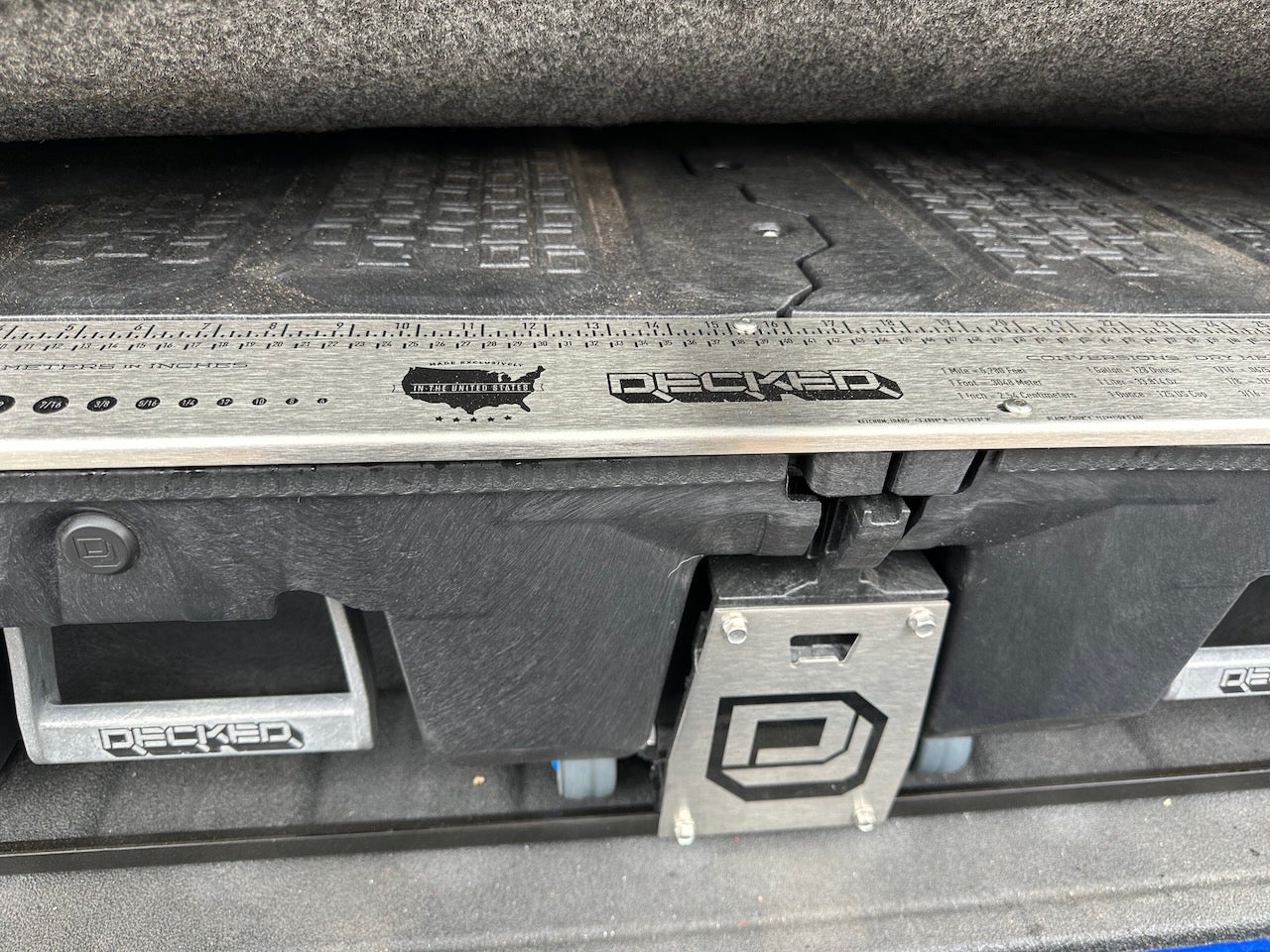 I have the drawers installed, so what next?
I am a big proponent of having a "system." You should consider your vehicle a ship with limited space and carrying capacity (you want to manage weight and ballast so you don't move into dangerous territory with vehicle dynamics).
You should also have the plan to access your gear in the worst of conditions. It is easy to locate gear when you can explode it on the nice dry ground on a sunny day in warm, even weather. But can you locate that 10mm socket (that fell out of your tool bag last month) when you are slogging through knee-deep muck at two in the morning using a headlamp with failing batteries (because you forgot to replace the batteries)?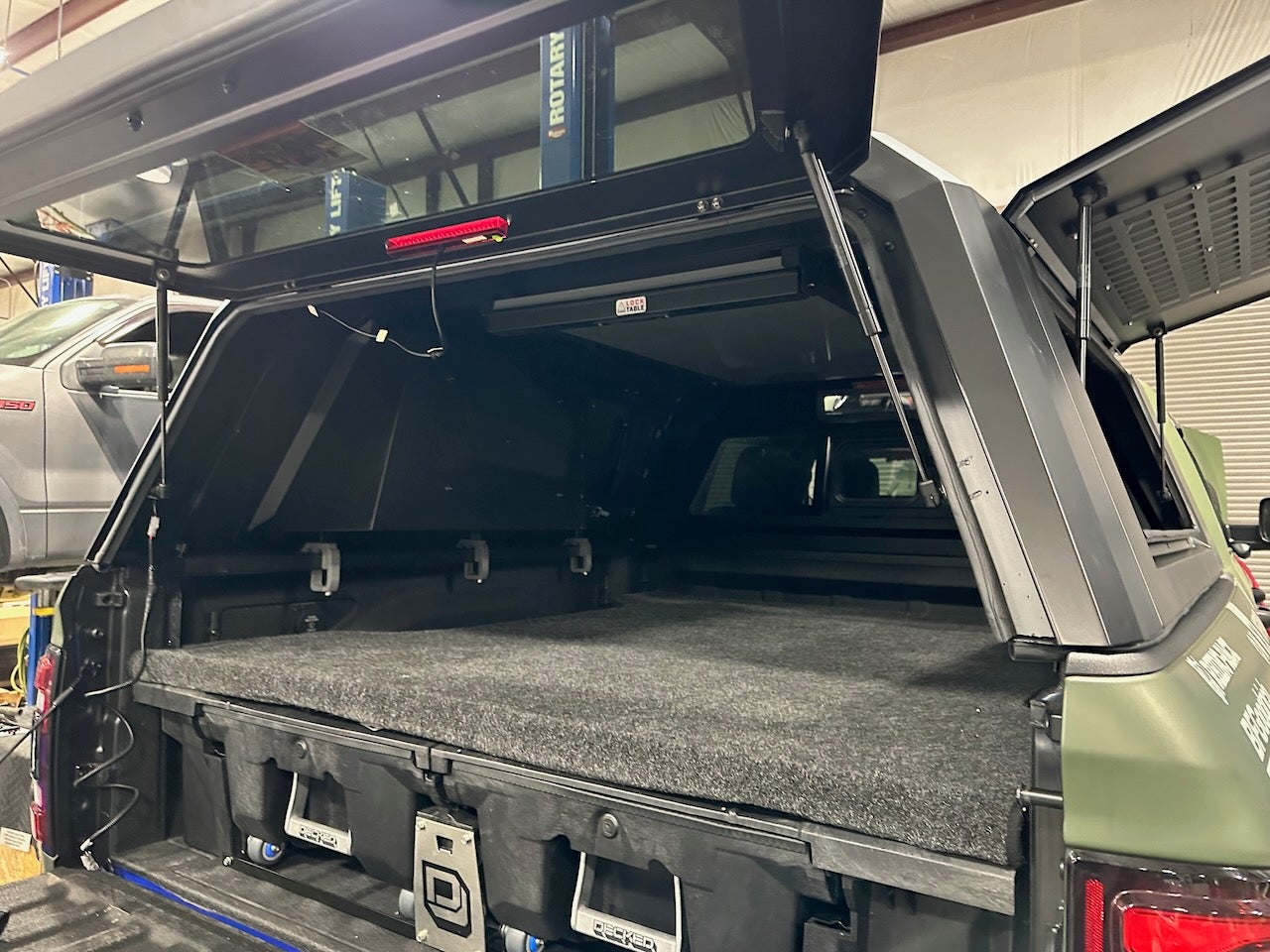 I organize my vehicle into a set of conditions and purposes. I have a "clean" area and a "dirty" area (which helps me prevent contaminating sleeping and hygiene areas). I also declare one side of my vehicle as the working and recovery side (driver side). The other side (passenger) is typically galley, hygiene, and recreation.
Working side
The DECKED system helps me maintain this organization. In the driver's side drawer, I have my Safe-Xtract recovery gear, tools, and other items like a tarp and empty sandbags. I also have a Drawerganizer with awkwardly shaped components like a tire repair kit and Hi-Lift rescue components.
The recovery gear fits nicely in one of the DECKED D-Bags–the only thing I cannot fit is the beefy kinetic rope and some extra shackles I carry (these are stowed in a mesh bag in the far back of the drawer). This is a huge benefit to me since I can quickly deploy that D-Bag during a recovery and keep the gear organized and contained. My only complaint is that the D-Bags are so weatherproof that dirty gear will not get the opportunity to start drying or shedding excess dirt until I get home.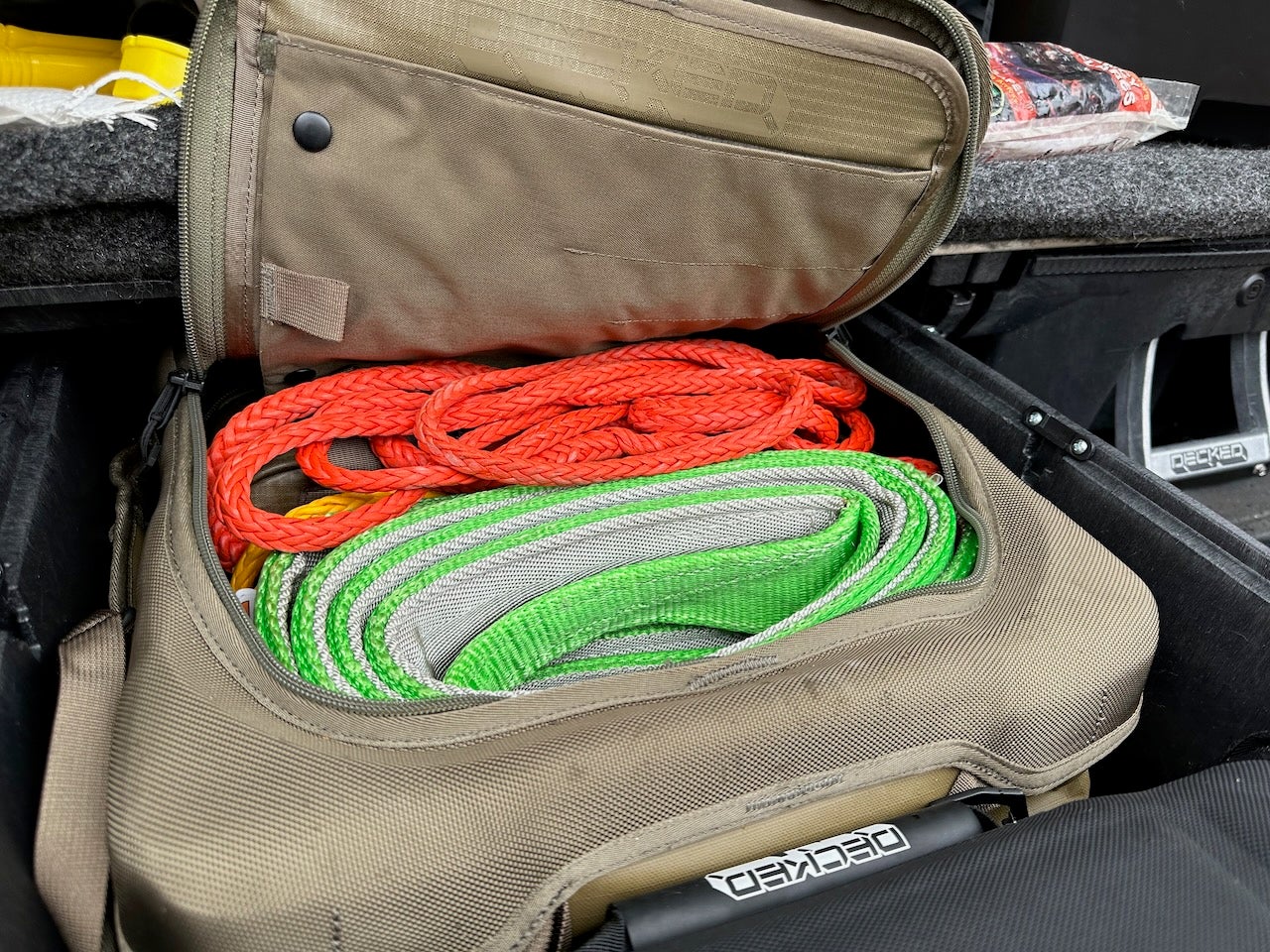 I have a fairly complete mechanical tool set (I'm currently running Wera tools) and stuff for managing electrical fixes. I keep a large Adventure Tool Company tool bag stocked with some common extra hardware and any spare parts that come with components installed on the truck. This whole set also fits in its own D-Bag. Again, this makes it easy to move the tools where I need them or open the top lid of the D-Bag and work right from the DECKED Drawer.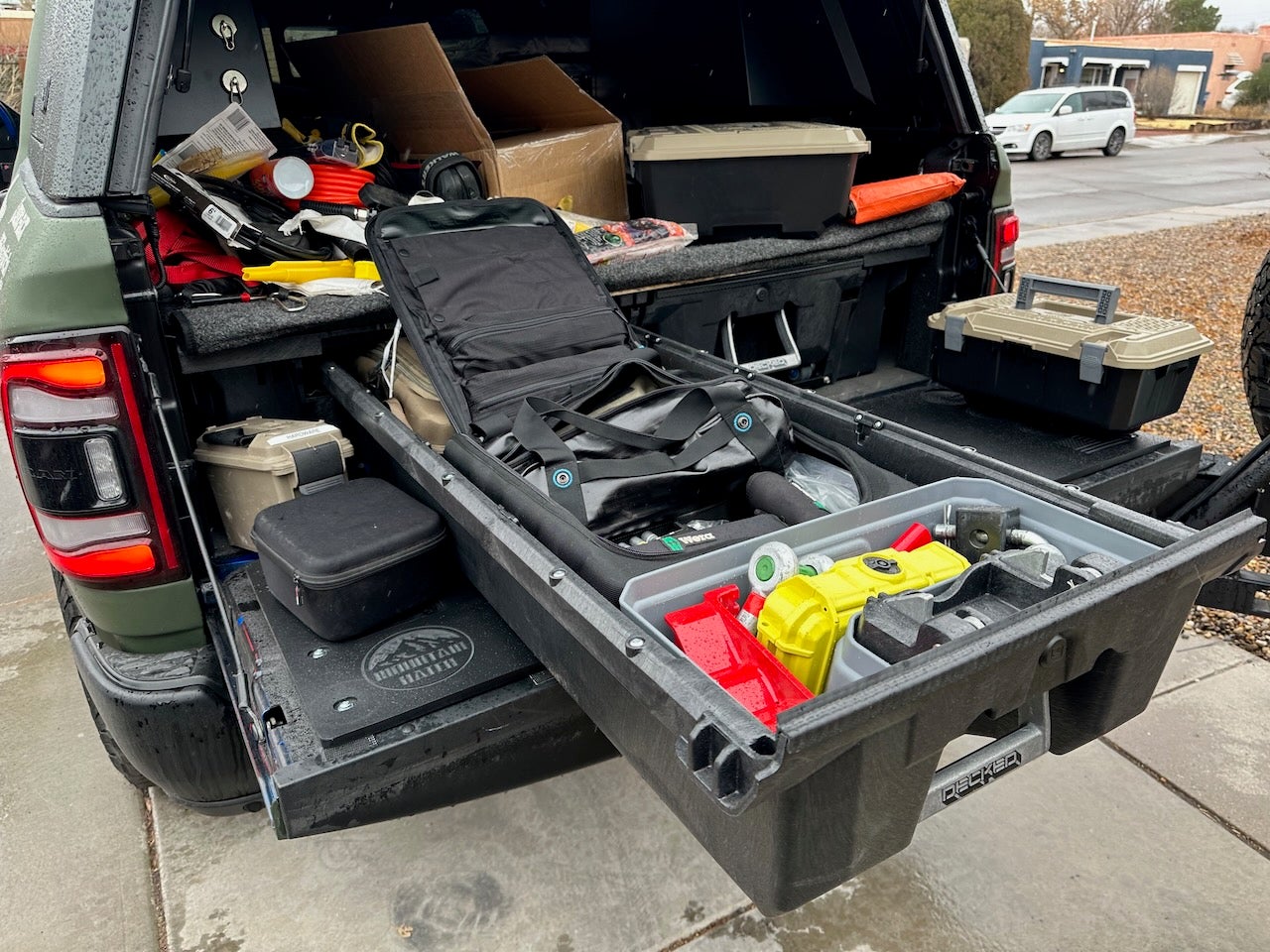 Also, on the "working" side, in the rear ammo can, I keep things that I don't want to potentially contaminate anything in the drawers themselves. This includes a can of touch-up paint for the sliders, Invisible Glass, shop towels, and a can of WD40.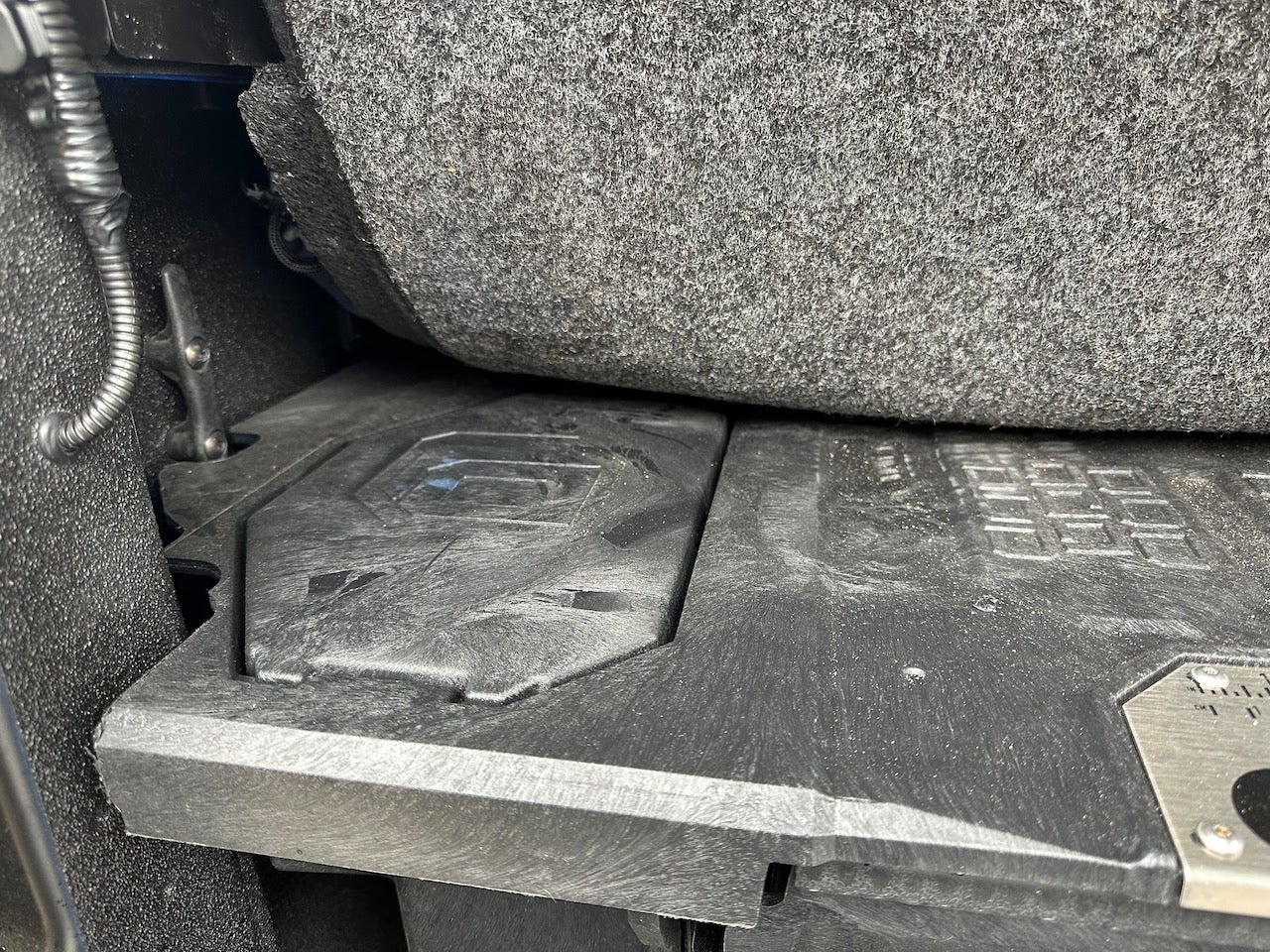 Recreation side
Most DECKED systems come with a D-Box and the smaller CrossBox. I use these to store items I don't want to get crushed. This purpose switches out as I change what I am going out to do.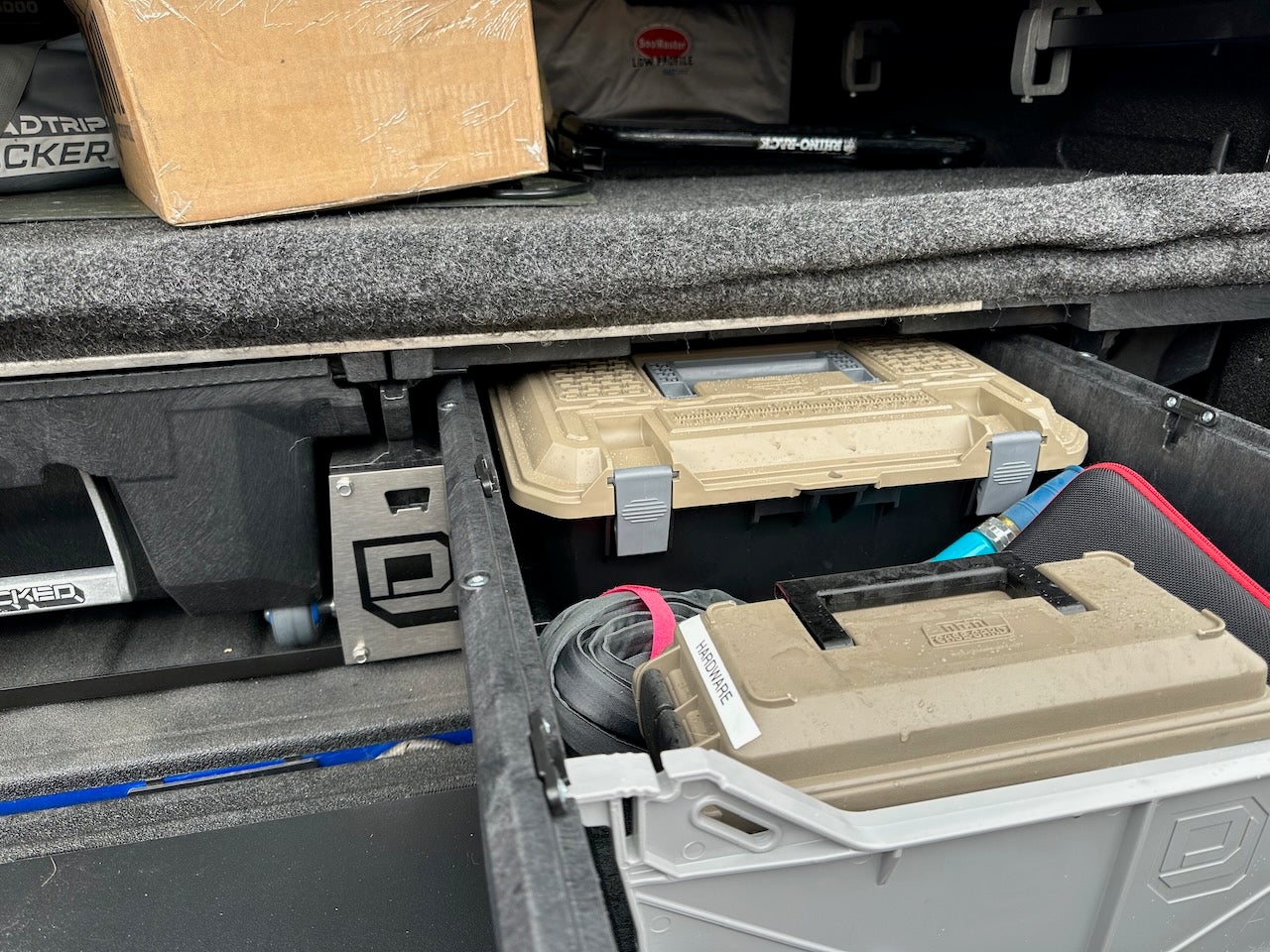 On an Overlanding trip, I will put foodstuff in the big D-Box (which also helps you efficiently use that space in the back of the drawer which can be hard to access). I may put some spices, bottles of cooking oil, and boxes of things I would not like critters to chew their way into (like rice, etc.). I used to keep this stuff in a Front Runner Wolf Pack, but the D-Box fills this role better.
The ammo can on the passenger side rear is where I put the soft buckets I use for doing dishes and the Scrubba Wash Bag I use for field laundry.
The rest of the drawer is honestly kept pretty clear unless I have a specific reason. If I go shooting, I will put ammo cans, magazines, and range kit stuff here. I have room to put training materials if I am teaching a course.
Top of the deck…
The only mod I plan on doing on top of the DECKED system is adding the Seadek traction mat and Core Trax for securing loads. The DECKED does a great job of making gear on the top accessible through the side hatches on the RSI Smart Cap.
Final thoughts…
Adding a storage system to the back of your rig will always come with a trade-off. All drawer or slider systems will consume usable space at the expense of ease of access or better organization.
The DECKED system arguably consumes the most space of any drawer systems I have used. The polymer material and shape of the drawers require a little more space to build the structure for the drawer slides. You get back some of the space with the side ammo cans (the number you get depends on your vehicle and bed size).  The organization and accessories make up for any shortcomings.
The AluCab bed drawer system had squared drawers (that accommodated Front Runner Wolf Packs). And you had hatches that allowed access to the normally unusable space fore and aft of the wheel wells. All this came at the expense of more weight. Truck Vault is even worse regarding weight (and cost), though you get pretty hardened storage for things like firearms.
DECKED, in my opinion, is the best of the bunch. It is not as heavy as competitors (while being heavier duty–you can park 2,000 pounds on top). You have a pretty configurable storage system if you get into the full ecosystem of dividers, D-Boxes, and D-Bags. You also have the option for top mounting rails with attachment points so you can tie down equipment.
Off-Road and Overlanding is sponsored by
To subscribe, visit: https://subscribe.onxmaps.com/offroad/purchase/membership