POTD: Scooby Doo Where are You? – Mystery Experimental Slide Action Rifle
Sam.S 12.22.22

Welcome to today's Photo of the Day! Here we have a big mystery rifle in more ways than one. There is literally no actual factual information available or known about this experimental slide action rifle. Thankfully Ian at Forgotten Weapons actually worked with this same gun to give some speculation and a rundown of how he thought it was supported to function. I have seen some reports that this gun was found in patent drawings for Samuel McClean who was a big part in designing the Lewis gun. This rifle is slide action and in some sort of 30-caliber cartridge. If it was invented in the United States I would guess it was intended to be a 30-40 or 30-06 cartridge but it of course could have been something proprietary.
"Manufactured by an unknown party and completely unmarked, this is an unusual and interesting magazine fed rifle. The main body is constructed from sheet metal, with a set of side plates to access the internals and a hardwood stock. A reciprocating lever is installed in a track behind the trigger guard, inviting comparison to the Burgess shotgun line, and a fixed magazine is ahead. The magazine follower doubles as the floorplate, retracting into the magazine housing via a thumb lever to clear the loading port for individual rounds. A rotating bolt, reciprocating arm, and a two-piece lifter assembly are linked to the lever. In operation, rounds are drawn backwards out of the magazine by the reciprocating arm into the lifter assembly which then elevates the round to be chambered. Dual extractor claws are present on the bolt head, with ejection via a top port, likely assisted by the lifter. In total, the mechanism is unique in both function and profile. The forearm and buttstock are both smooth and straight, with a naked butt and a sporting profile."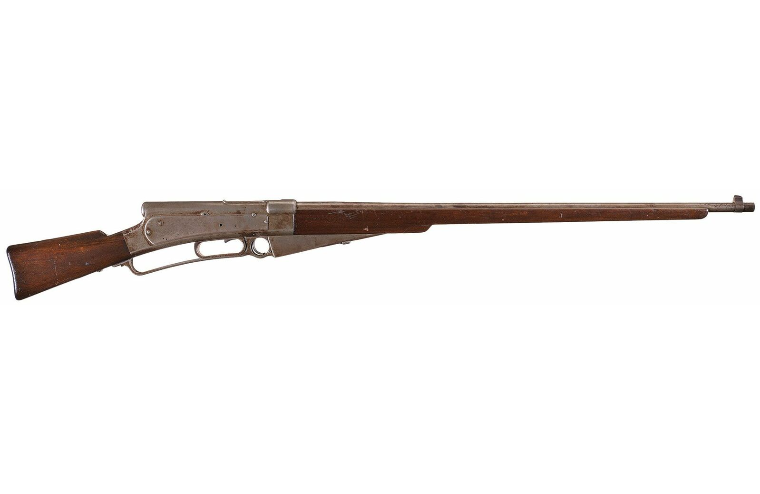 Lot 2635: Unidentified Experimental Slide Action Rifle. (n.d.). Rock Island Auction Company. photograph. Retrieved December 21, 2022, from https://www.rockislandauction.com/detail/75/2635/unidentified-experimental-slide-action-rifle.