POTD: Dodging Patents – The Brooklyn Firearms Co Slocum Revolver
Sam.S 12.29.22

Welcome to today's Photo of the Day! Here we have yet another instance of patent dodging in firearm history. When Rolin White patented the bored-through cylinder it basically tied companies' hands (besides Smith and Wesson who licensed it) for a couple of decades. Therefore you will see a lot of creative ideas, techniques, and technologies pop up intending to avoid patent infringement. One such example is the Slocum revolver made by the Brooklyn Firearms Company. The Slocum was better than a lot of other patent dogging designs since it used regular ammunition. Most designs that did successfully avoid patent infringement ended up having proprietary types of ammunition in order to feed their unique mechanisms. Instead of having the cylinder bored through the cylinder would have the outside curve cut so you could slide the chamber forward and either load or unload some 32 Rimfire.
"Manufactured in 1863 and 1864. Marked "B.A.CO. PATENT APRIL 14TH 1863" on top of the barrel. The bottom of the frame is inscribed "F D Taylor" (no history is available on this individual at time of description). Post front sight and frame notch rear sight. 5-round cylinder with chamber sleeves. For loading and unloading the sleeve is pushed forward into a fixed ramrod. Like most others of this model it shows light scroll engraving on the brass frame and there is scalloped engraving on the top strap. Blue barrel and cylinder, silver frame and casehardened hammer and spur trigger. Fitted with smooth two piece varnished walnut grips."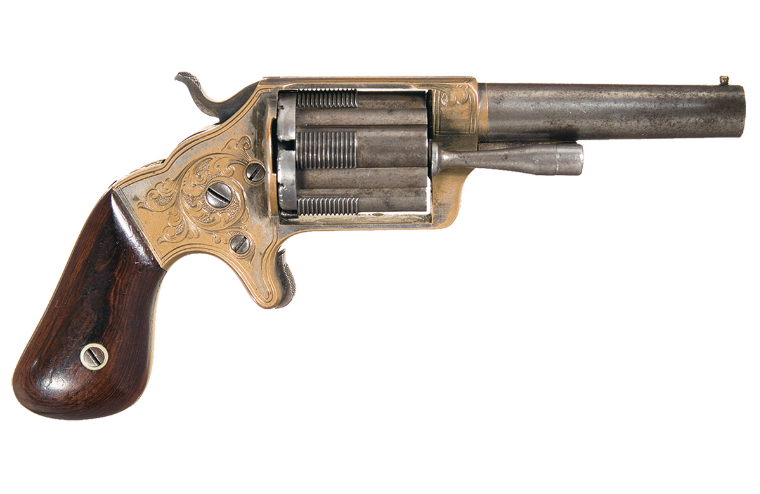 Lot 287: Brooklyn F A Co Slocum Revolver 32 Rf – Brooklyn Arms Slocum Sliding Sleeve Pocket Revolver with Inscription. (n.d.). Rock Island Auction Company. photograph. Retrieved December 28, 2022, from https://www.rockislandauction.com/detail/49/287.