AO Review: Leatherman Skeletool "Everything you Need, Nothing you Don't"
Patrik Orcutt 01.03.23

In 1975, while on vacation in Europe with his wife, Tim Leatherman constantly came across leaky hotel plumbing and roadside fixes for their cranky Fiat. Tim realized the need for a pliers-based multipurpose tool. "I was carrying a scout knife and used it for everything from slicing bread to fixing the car. But I kept wishing I had a pair of pliers!" This is where the idea of the multi-tool was born and it would only take Tim eight years before Cabelas placed an order for 500 of his tools. Today, Leatherman is still the king of multi-tools and offers more models than you can shake a stick at. Since 1983 all of their tools have been produced in Portland, Oregon where their teams can put their products to the test. The focus of this review will be on the Leatherman Skeletool. 
The Leatherman Skeletool was purchased privately by myself and tested over the course of six months in an everyday carry role. 
 Leatherman Skeletool Review – Specs 
WEIGHT: 5.0 oz. | 142 g.
CLOSED LENGTH: 4 in. | 10 cm.
OPEN LENGTH: 6.0 in. | 15.24 cm.
BLADE LENGTH: 2.6 in. | 6.60 cm.
WIDTH: 1.24 in. | 3.15 cm.
OVERALL THICKNESS: 0.52 in. | 1.32 cm.
MATERIALS: 

420HC Stainless Steel

INCLUDED BITS: 

Phillips #1 & #2, Screwdriver 1/4″ & 3/16″

MSRP $74.95
Personally, I'm not the kind of person who likes to carry around a lot of things in my pockets. I think things can become very uncomfortable very quickly when you have a phone and a wallet and then 2-3 other tools competing for space in your front pockets. The Leatherman Skeletool is a combination of seven different tools that can still fit into my pocket without being too bulky.  
When I was looking for a multitool to replace my Leatherman Wingman that I lost this past summer, I did some looking and came across the Skeletool. For years I had heard people rave about this multitool and how it has everything you need and nothing you don't. What I liked about the skeletool a first glance was that it had a nice blade that was easily accessible when the pliers were not engaged.  While being a bit larger than my misplaced Wingman, this one was also not as massive and heavy as many of the other Leatherman multitools.  
 Leatherman Skeletool Review – Features 
The Skeletool comes with seven tools with three of them being built into the nose. There are needle nose pliers, regular pliers, and wire cutters. All of these tools work as advertised but I do with the pliers were spring loaded like on the Wingman and many other Leatherman multitools. There is a 420-HC serrated knife and a carabiner that doubles as a bottle opener because leather doesn't want you to die from thirst at your next party where everyone is drinking white claws and you brought a six-pack of Allagash White. Finally, there is a bit driver with a slot to hold an extra bit.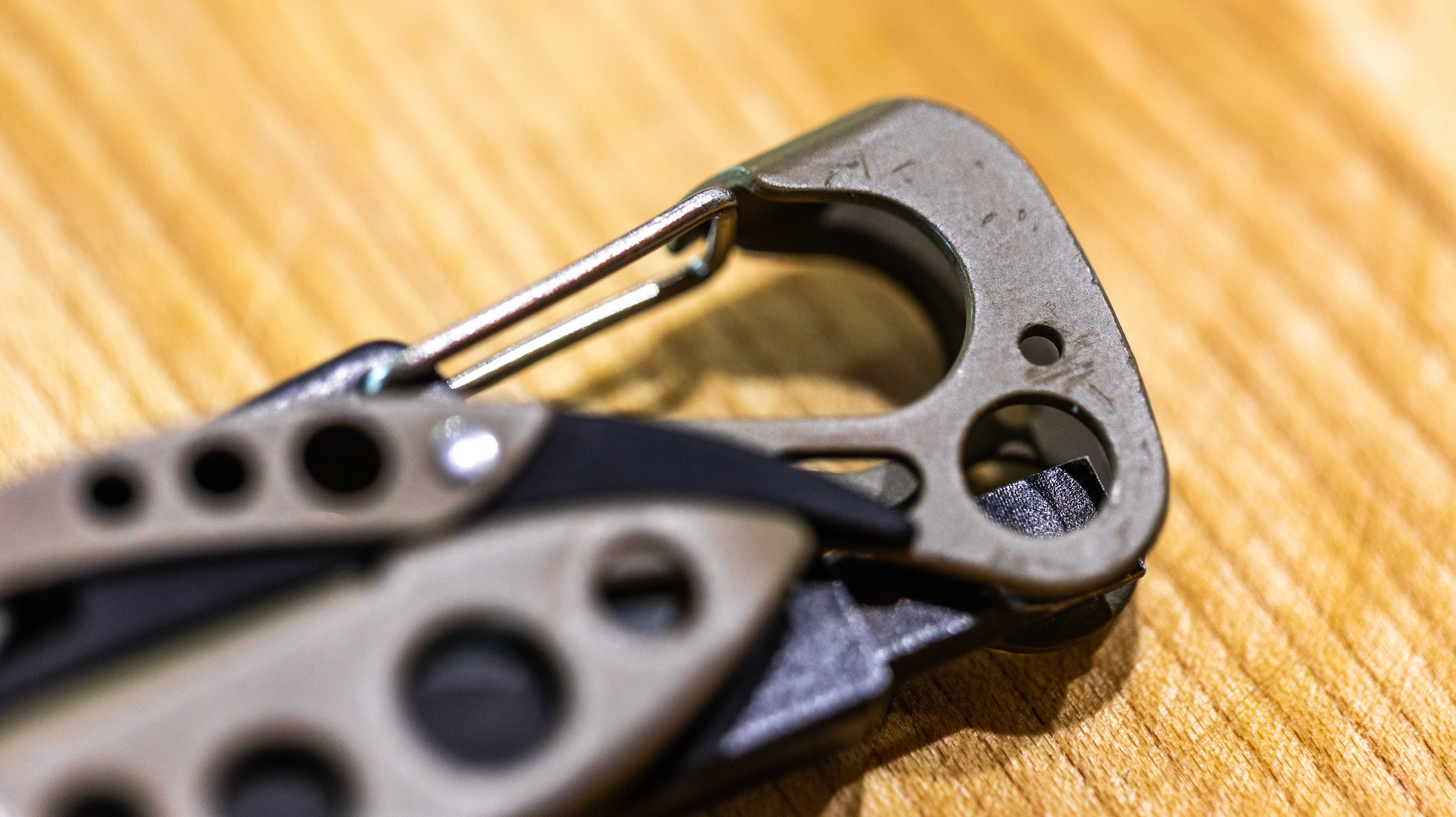 What I really like about this combination of tools is that it's everything you need and nothing you don't in an everyday carry capacity. While carrying this I found that I used the knife the most. As mentioned before, the Leatherman did a great job making the knife accessible while the tool is closed. Personally, I think other multitools that don't have this feature are either from the past or still living in it . The blade is easily opened and closed with only one hand and is combo serrated. There are additional variants of this knife like the CX that come with a 154CM blade and is non-serrated and that's the version I would go with if you think you will be using the knife the most here. 
While the knife is what I use the most, I am surprised at how much I find myself using the bit driver for daily tasks. It seems like there is always a tripod plate or a screw I need to tighten with one of the two included bits. If two bits are not enough for you, Leatherman sells a set of 21 double-sided bits that can all fit in the driver of the Skeletool. 
One of the nice things about buying a Leatherman is that they stand behind all of their products with a 25-year warranty. This doesn't cover theft or misuse but I love to see a company stand behind its products like this. I would also like to touch on just how cool this multi-tool looks. Leatherman went with what I believe to be a really unique design here that evokes organic curves while keeping the weight down as much as possible. It certainly stands out amongst its contemporaries and competition with everything else being much more blocky in design. 
Likes 
Minimalistic is design 

Weights only 5 oz

25-year warranty 

Comes in many color options 

Comes with a Pocket Clip
Dislikes 
Pliers are not spring loaded

Standard blade is serrated making it more difficult to sharpen

Carabiner is gimmicky, would like to see an option without it
Leatherman Skeletool Review – Wrap Up 
Overall, the Leatherman Skeletool was meant to replace my wingman and while it certainly succeeds in that role, I do wish there were a few minor tweaks in the overall design. At the end of the day you're getting an American Made product that is backed by an impressive 25-year warranty so there is really not much to complain about here. At this time, the Skeletool will stay in my EDC rotation until something better comes along.