POTD: The First Broomhandle Carbine – Early System Mauser Model 1896
Sam.S 01.05.23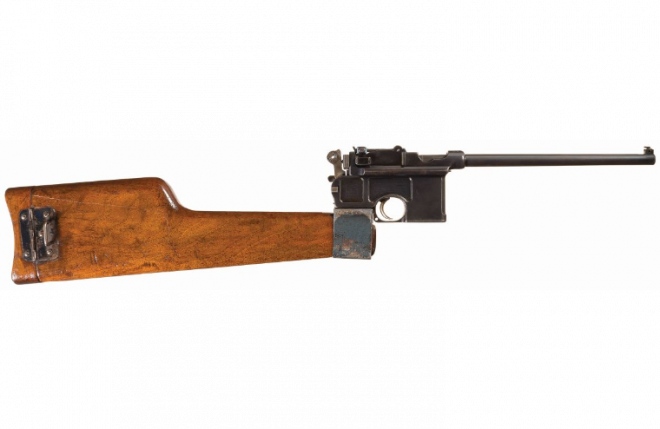 Welcome to today's Photo of the Day! Here we have a very interesting stepping stone in the developmental history of the Mauser C96. This Photo of the Day follows up with yesterday's as well as the Curious Relics article that went live yesterday. The "Broomhandle" as its nickname goes was developed in a standard configuration at first. Then they manufactured smaller capacity models as well as larger capacity models. Not long after the race was on to market these guns to militaries around the world. One such chunk of the military in every country which was usually first to get the "new stuff" was the cavalry. Before World War One the cavalry was an integral part of winning most battles. They usually would be equipped with swords and/or a brace of single-shot pistols. Mauser manufactured this prototype broomhandle carbine in hopes of wowing the cavalry…Guess they forgot they already basically had a broomhandle carbine since the normal C96 could mount a shoulder stock.
"This is an extremely rare example of an early production Model 1896 System Mauser Prototype Stocked Carbine serial number "5". This exact pistol is pictured and briefly discussed on page 194-209 of the reference book "The Broomhandle Pistols 1896-1936" by Pate & Erickson. These early System Mauser pistols and stocked carbines are all very rare with many of them having unique features. The first being the most desirable having all the early/unique features with the System Mauser markings. Starting with serial number 1-4, all had the early screw-in barrels that used a completely hollowed out shoulder stock/holster with different/unique attaching irons. Starting with pistol serial number "5", this exact example, Mauser changed the design to have an integral barrel and barrel extension all machined as one piece. This pistol has a unique 9 3/8 inch round tapered barrel with an early bead front sight and an early non-reinforced tangent rear sight graduated 1-10. This specific example has all the early unique features to include the noted detachable, push button lower pistol grip/buttstock attaching assembly, the deep milled frame side panels, cone hammer, long extractor and the dovetailed firing pin stop. The serial number "5" is stamped on the left side raised area of the frame, the follower, magazine base plate underside of the rear sight assembly. Internally, it is numbered "5" on all of the appropriate parts. The top of the chamber is stamped in two lines "SYSTEM/MAUSER". Included is the original early stock/holster with a homemade, non-function attaching iron. Consequently the lower rear end of the frame and lower dovetailed attaching area will require some restoration work to correct this area and also to fabricate a correct push-button attaching iron. It still retains its original hollowed out stock that has also been slightly modified on the very top of the end piece."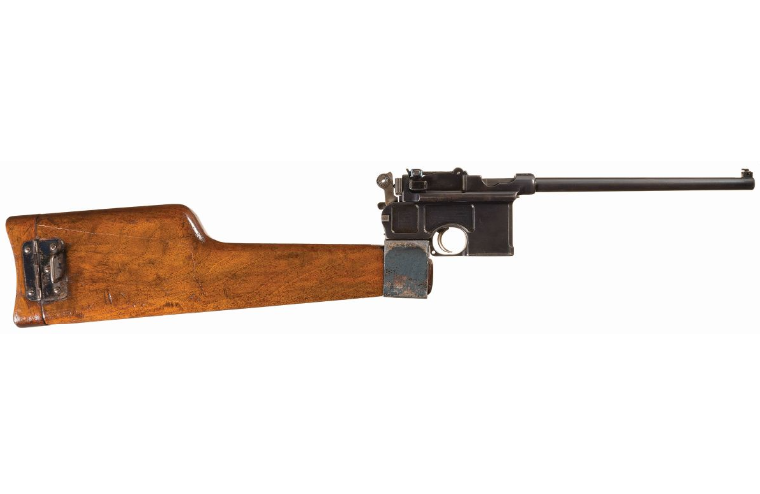 Lot 3557: Early System Mauser Model 1896 Stocked Carbine Serial Number "5" – Extremely Rare Documented Early Production Antique System Mauser Model 1896 Stocked Semi-Automatic Carbine Single Digit Serial Number "5". (n.d.). Rock Island Auction Company. photograph. Retrieved January 4, 2023, from https://www.rockislandauction.com/detail/79/3557/early-system-mauser-model-1896-stocked-carbine-serial-number-5.