TFBTV – The Ruger SFAR is so Light It's Ridiculous
Adam Scepaniak 01.10.23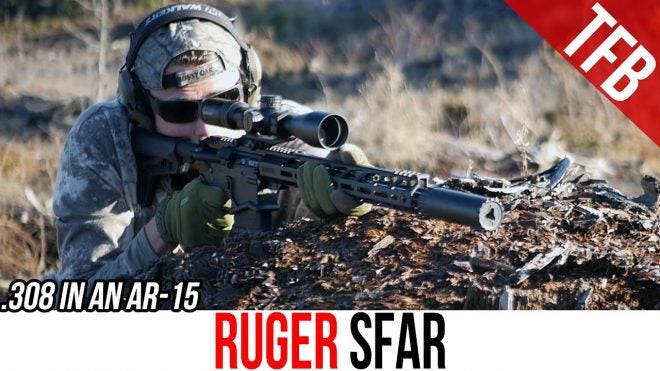 In this episode of TFBTV, Hop takes a look at one of the lightest, most compact .308 ARs on the market: the Ruger SFAR. The SFAR or Small Frame Autoloading Rifle isn't an AR-10 or LR-308 pattern rifle, but rather an AR-15 size rifle chambered in .308 Winchester. The 16″ barrel version of the SFAR reviewed for this video weighs in at under 7 lbs out of the box. Like most Rugers, it's also very affordable, already available for well under the $1229 MSRP.
Unfortunately, this example of the SFAR was s'far from perfect, as you'll see…
««« APPAREL IN THIS VIDEO »»»
• Apparel: All TFBTV apparel is sponsored by 5.11 Tactical and you can get it at www.511tactical.com
««« GUN & GEAR GIVEAWAYS »»»
Consider supporting us at patreon.com/tfbtv
Gun and gear giveaways are not affiliated with, associated with, or in any way endorsed by YouTube and TFBTV is solely responsible for the giveaways mentioned in this video and this description. No purchase required for gear worth over $250. Full rules and terms are found at http://tfbtv.gun.team/
««« FOLLOW US ON SOCIAL MEDIA »»»
https://www.facebook.com/TheFirearmBlogTV/
https://www.instagram.com/TFBTV/
https://www.reddit.com/r/tfbtv/
««« SPONSORS »»»
Please Support Them! They help make our videos possible.
– Ventura Munitions – www.venturamunitions.com
– Blue Alpha Gear – www.bluealphabelts.com
– Top Gun Supply – www.topgunsupply.com
««« TFB CHAT ROOM »»»
Want to join the TFBTV chat room? Use our Discord Invite: discord.gg/tfbtv
#TFBTV