AllOutdoor Review: Sea to Summit Traveller Sleeping Bag & Blanket (50 F)
Patrik Orcutt 01.12.23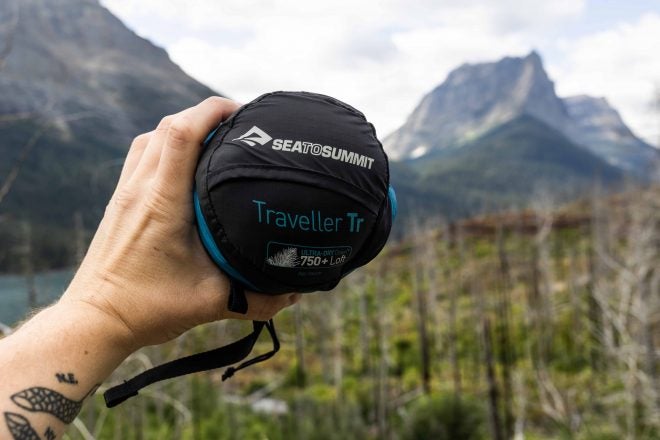 Roland Tyson started making outdoor gear on an old industrial sewing machine in his childhood bedroom in 1983, at 17 years old. As a young outdoor enthusiast, Roland realized that he had a passion and a talent for creating cutting-edge outdoor equipment. Soon he was designing and manufacturing equipment for other Australian adventurers. By 1991, Sea to Summit was born after outfitting an unusual first ascent of Mt. Everest (a 1126+ kilometer, 8848 meters in elevation trek from sea level to a solo summit). Today, Sea to Summit is a multimillion-dollar outdoor brand juggernaut that produces top-quality gear in everything from tents to camping towels. This past summer I was invited on a 10-day camping trip in Glacier National Park Montana and wanted to pack as light as possible to avoid paying for extra checked bags. In my search for a compact sleeping bag I came across some of Sea to Summit's offerings and settled on their Sea to Summit Traveller Sleeping Bag & Blanket (50F) for my trip.
The Traveller Sleeping Bag & Blanket was independently purchased by myself, and Sea to Summit has had no input on this review.
The Traveller Sleeping Bag & Blanket was tested over the course of 5 months on several camping trips in the summer months of Montana to the autumn months of Maine.
Specs – Sea to Summit Traveller Sleeping Bag & Blanket
Temp Rating:

50° F

Seasonal Usage: Summer
Bag Style: Semi-Rectangular
Insulation: Ultra-Dry Down 750+ Loft; RDS-certified
Fill Weight: Regular: 7.1 oz / 200 g Long: 8.5 oz / 240 g
Weight: Regular:

14.8 oz / 420 g Long: 17.6 oz / 498 g

Bag Length: Regular: fits users up to 6 ft / 183 cm Long: fits users up to 6 ft 4 in / 192 cm
Bag Shell Material:

15D Nylon

MSRP:

 $220-$240
Comfort – Sea to Summit Traveller Sleeping Bag & Blanket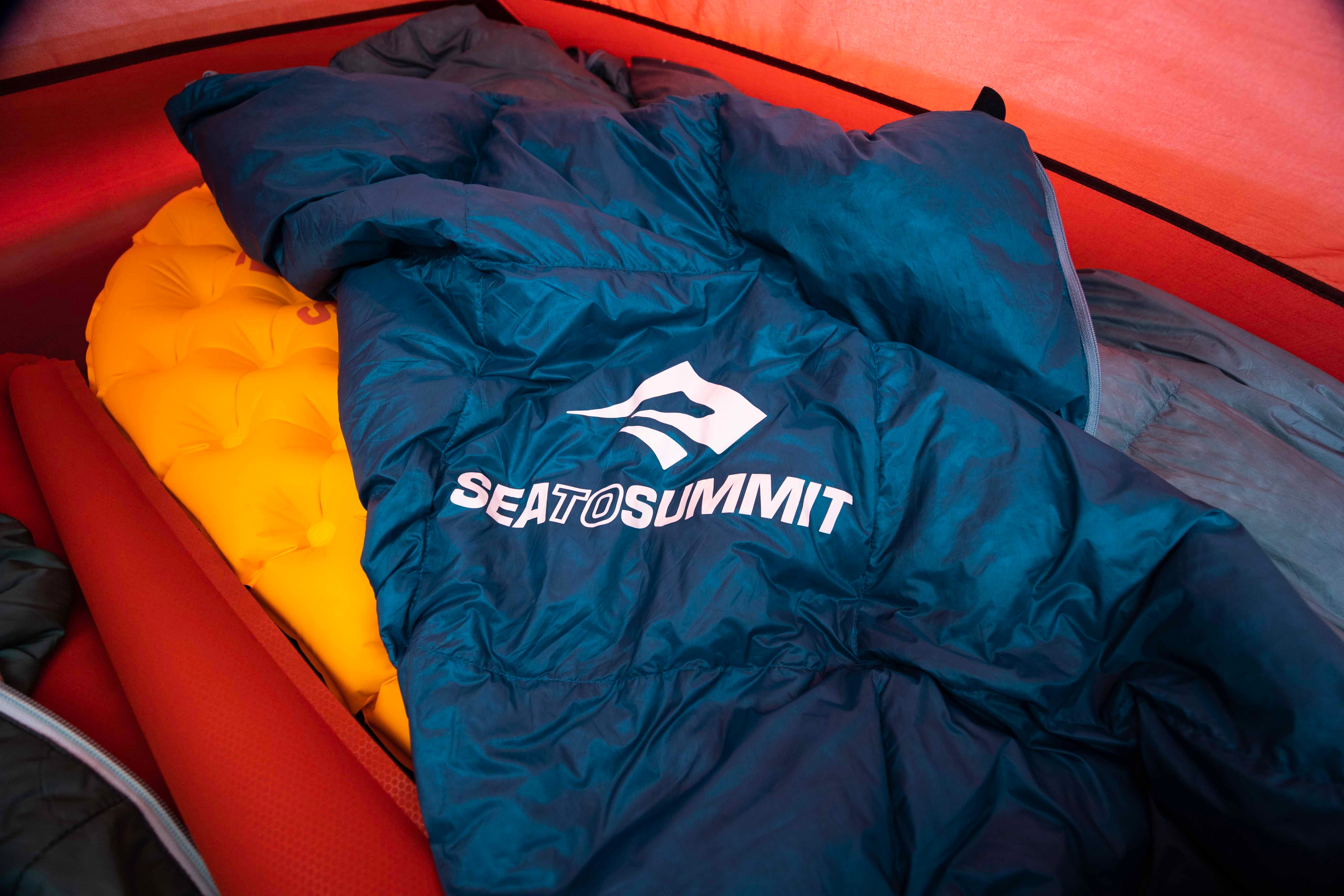 Being an ultralight design, this pack does not come with a lot of padding but it is still comfortable. The bag is filled with 7.1 oz of ultra-dry down 750+ Loft. The loft value is very high on the bag and once you roll it out and get inside you will forget your in an ultralight setup. One big feature I appreciate on this bag is that there is an opening at the bottom with a drawstring so you can have as much ventilation as you need to stay comfortable.
Often times I find myself getting overheated in sleeping bags and this is a nice feature. Obviously, you will always lose heat through the bottom of this bag since it's not sewn together but it is a summer-type bag anyways. Another standout feature of this bag is that is has a full length zipper, meaning you can also just un-zip this bag and have a traditional blanket. Options are always nice to have and the Traveler has several. Overall I was very pleased with the comfort of this bag in my testing.
Weight and Packability – Sea to Summit Traveller Sleeping Bag & Blanket
The main reason I and many other people bought this bag was for its incredibly lightweight design. Weighing only 14.8 oz and being able to be packed into the dimensions of a large coffee mug has its benefits when you don't have a lot of space in your bag. It's also really fun to be able to carry everything you need for multiple days of camping in one bag and Traveller lets you do that. The bag sack can be a pain to get into the compression sack at times but it comes with its own compression straps so you can get this bag as small as possible. 
Since this is filled with down, you will need to make sure you take the bag out of its compression sack when it's being stored after your adventures. Failure to do so will degrade the down insulation much quicker and reduce its loft value. Thankfully Sea to summer was smart enough to include another bag that you can store the Traveller in when it's in storage. The bag can also act as a pillowcase of sorts for the sleeping bag if you needed that for some reason.
Warmth – Sea to Summit Traveller Sleeping Bag & Blanket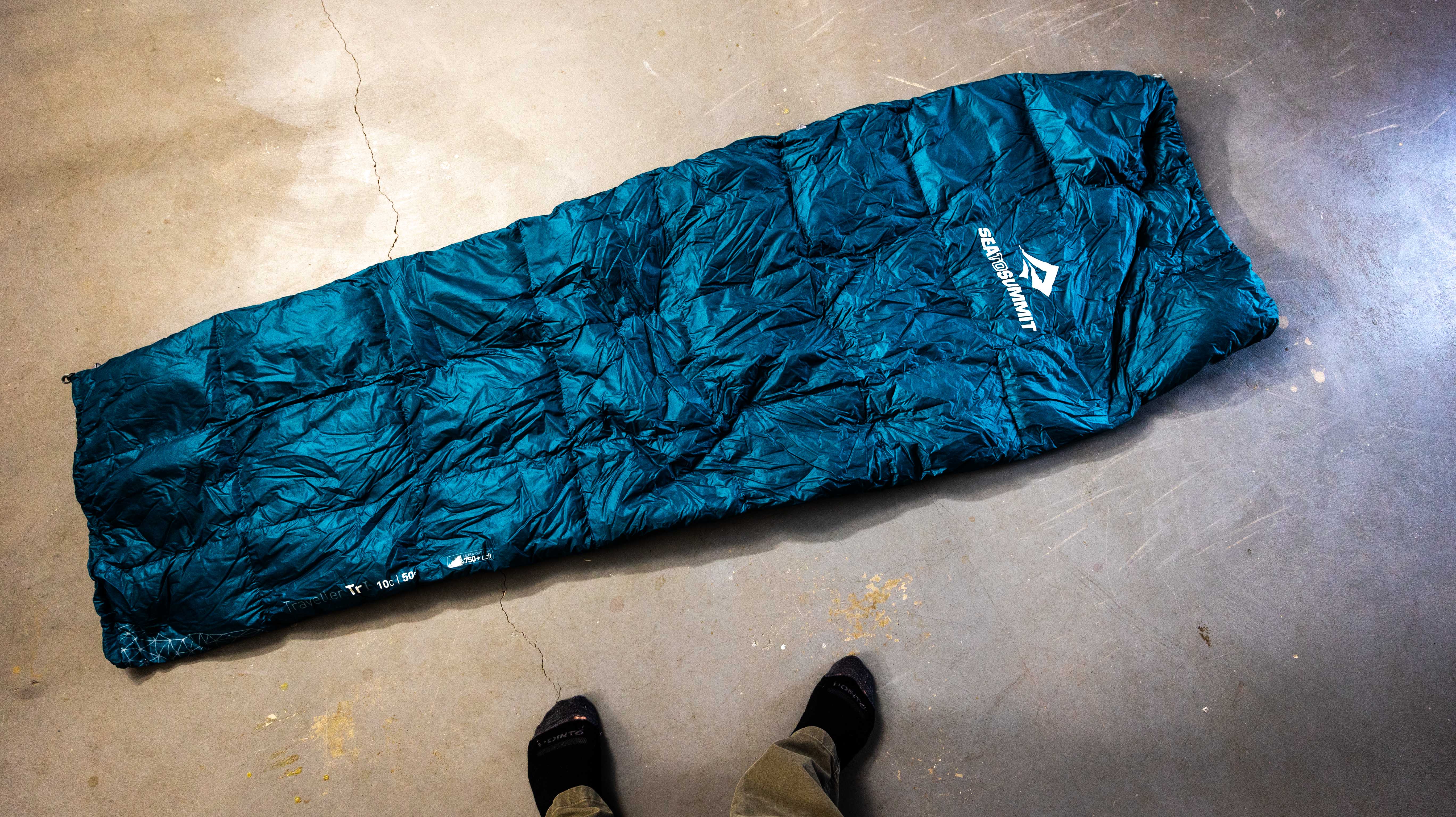 Since this is designed to be a summer sleeping bag and this is the 50-degree version, I do not recommend using it in the fall or winter. In the summers of Montana, the temps would normally get down to around 50 degrees at night. In this setting, I never woke up cold or too warm in this bag. Later on, in the year, I thought I would use this for some autumn car camping in Maine when the low was 35 degrees. This turned out to be not a very good idea as I had to wear most of my clothes that evening to stay warm. The worst part though was I could never get my feet very warm because of the way this bag is designed. Honestly, just don't be dumb and try and use this bag bag for something it's not designed for and you will be fine.
Durability – Sea to Summit Traveller Sleeping Bag & Blanket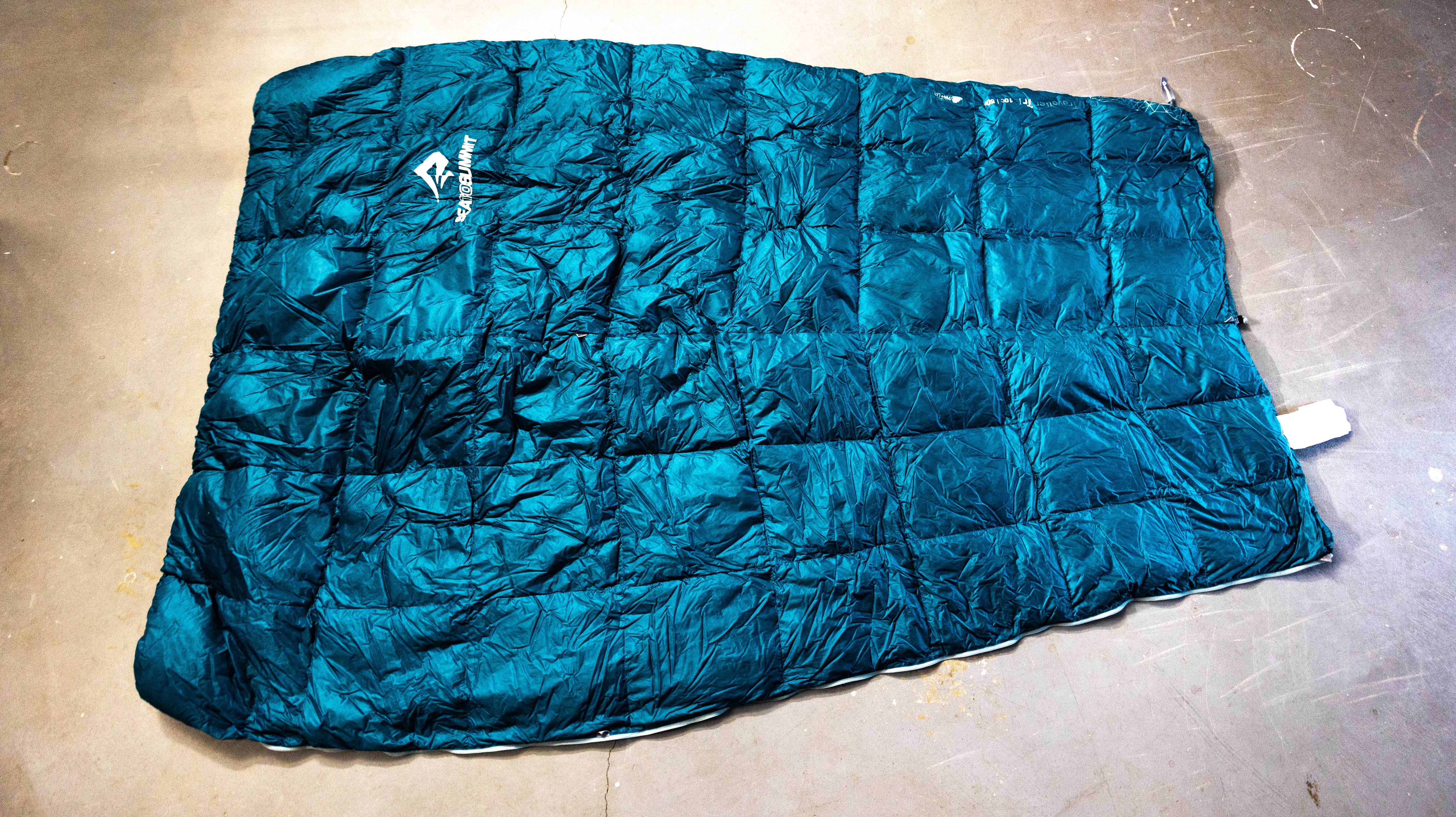 In my 5 months of testing, I did not have any major durability issues with this sleeping bag and I think it will hold up for a long time if not abused.
Likes 
Lightweight

Versatile (can be used in many forms)

Good quality
Dislikes 
Expensive 

Summer use only (Depending on Climate)
Competitive Options – Sea to Summit Traveller Sleeping Bag & Blanket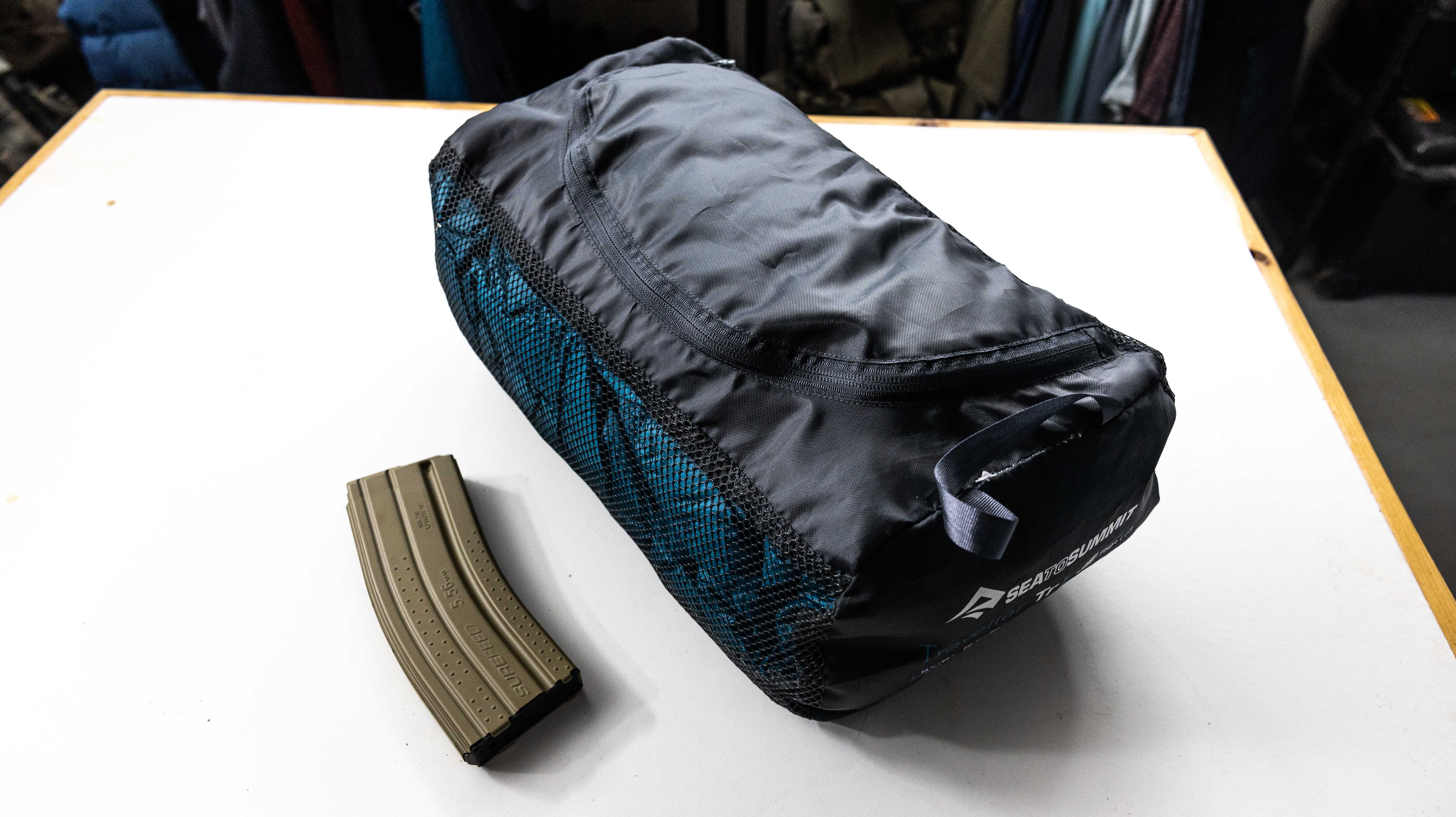 Feathered Friends Flicker 40 UL 
Sea to Summit Spark SpI 40
Hammock Gear Economy Burrow 20
Wrap up – Sea to Summit Traveller Sleeping Bag & Blanket
If size and weight are all you care about in your next summertime sleeping bag purchase, then look no further. The Traveller is perfect for multiday backpacking or camping trips when every ounce matters. I recommend using the Traveller only in the summer months unless you live in a warmer climate or else your feet may get very cold at night. Coming in at $220 it's certainly not the cheapest sleeping bag but it is a steal when compared to its competition.