POTD: Ahead of its Time – The Chinese General Liu Rifle
Sam.S 01.16.23

Welcome to today's Photo of the Day! Here we have a very early self-loading rifle or rather a prototype of one. This is the Chinese General Liu Rifle. These Prototype rifles showed up around 1912 (which is ridiculously early by the way!) and were invented and put together by, you guessed it, General Liu. A long story shortened up is that this was to be a very promising endeavor and China would potentially end up at the forefront of military small arms technology. The General Liu Rifle had some kinks and was trialed by the United States at one point where it was found to have lesser quality parts in most cases. Nonetheless, progress would be made and it was intended to be brought back to china and overhauled and improved before being a potential military rifle. During this time General Liu suffered a stroke and all efforts linked to his rifle eventually died out with his failing health.
"This is an extremely rare example of an early Chinese experimental semi-automatic rifle that was developed circa 1918/20. It is believed that there were probably only a handful of experimental/prototypes of these ultra rare rifles produced by the Chinese Arsenal in the early to mid 1920s when the U.S. Ordnance Department was beginning to search for suitable candidates to replace all their 1903 bolt action rifles. Only two were originally identified previously with this example being the third rifle known to us. The only two markings on the rifle are a series of Chinese characters that are marked from left to right across the top of the receiver ring and the serial number stamped below the Chinese characters. A loose translation of the Chinese characters is: "Chinese Peoples Army Rifle, Hanyang Arsenal". The same exact type of rifle is actually pictured (lower rifle) on page 20 of "The Book of the Garand" by Julian Hatcher. The top rifle as noted is specifically marked as being designed by General T.E. Liu of the Nationalist Chinese Government, while the lower rifle has the same/similar outward configuration (to this example) with the raised/reinforced section on top rear area of the action cover with the front sight base having the same small lightning hole through the center. Obviously based on that reference book some of these rifles were actually submitted to and evaluated by Springfield Armory in the mid to late 1920s; however, no known test results have been discovered. From a historical perspective, this was a time when every world power was attempting to convert their armies from standard bolt action rifles into using the newly developed semi-automatic rifles that were being developed in the post WWI time frame. This rifle uses the Bang gas-trap type design with a two-position, adjustable gas system that was obviously modified by the Chinese along with a newly designed bolt locking mechanism. "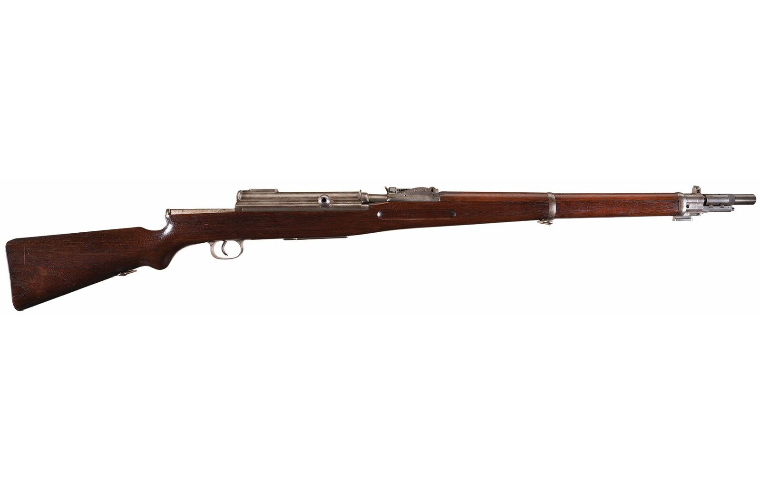 Lot 3592: Chinese General Liu Protoype Rifle – Extremely Rare Chinese General Liu Test Trials Designed Prototype Semi-Automatic Rifle. (n.d.). Rock Island Auction Company. photograph. Retrieved January 11, 2023, from https://www.rockislandauction.com/detail/75/3592/chinese-general-liu-protoype-rifle.