[SHOT 2023] Burris Veracity PH 4-20x50mm – A Scope with a HUD Display
Adam Scepaniak 01.21.23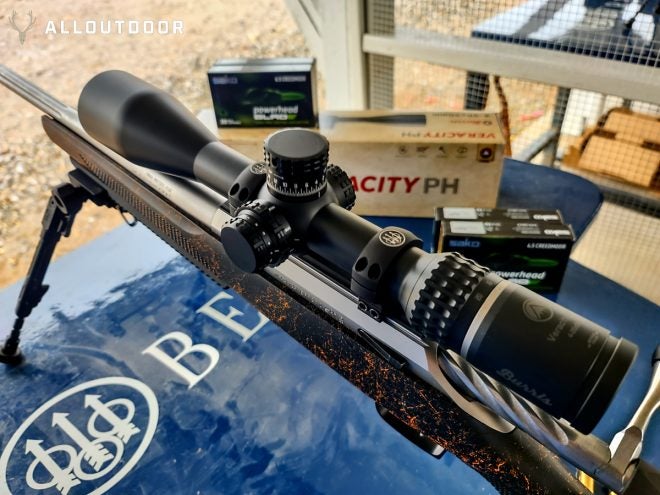 While out at SHOT Show 2023 we received an invite to attend a private Range Day with Beretta to see all of their new firearms coming this upcoming year. We accomplished a lot of coverage which can be found on AllOutdoor, but we also came across a diamond in the the rough in the form of an optic from Burris. They have a new riflescope coming out called the Veracity PH (Precision Hunter) 4-20x50mm that has a heads-up display (HUD) inside the scope!
Burris Coverage on AllOutdoor
The Burris Veracity PH seems like something out of a video game with its internal HUD display that is synced to your Windage and Elevation turrets to automatically tell you the distance you are prepared to engage based on the input you place into the turrets. This new feature is dubbed the Burris PĒK (Programable Elevation Knob) System. This riflescope also can work in conjunction with the Burris Connect app so you can create and save different ballistic profiles for various optic and firearm combinations you might have:
The 50 mm objective allows for maximum light collection
Index-matched, Hi-Lume® multicoating provides low-light performance and glare elimination.
Versatile 5-times zoom system provides a larger field of view at close ranges and better target acquisition at long ranges
Front focal plane reticle design allows the reticle size to increase or decrease as magnification is increased or decreased; trajectory compensation is always correct and proportional for the selected power setting; also called first focal plane or FFP
Progressively Thick Crosshairs (PTC) are very fine in the center and progressively thicker away from the center, for ultra-fast target engagement in low light at close ranges; effective at any magnification

Zero turn Stop adjustment knobs allow a quick, easy return to the original yardage.
Advanced windage and elevation adjustment matches the reticle's MOA measurement system; adjustment is accurate, repeatable, fast, and easy
Ergonomic side focus allows for easy-to-reach parallax adjustment from 50 yds. to infinity.
Double internal spring-tension system allows the scope to hold zero through shock, recoil, and vibrations
Waterproof
Nitrogen-filled body tubes prevent internal fogging in the cold and rain
Precision-gauged and hand-fitted internal assemblies maintain a consistent point of impact through the magnification range, regardless of shock and vibration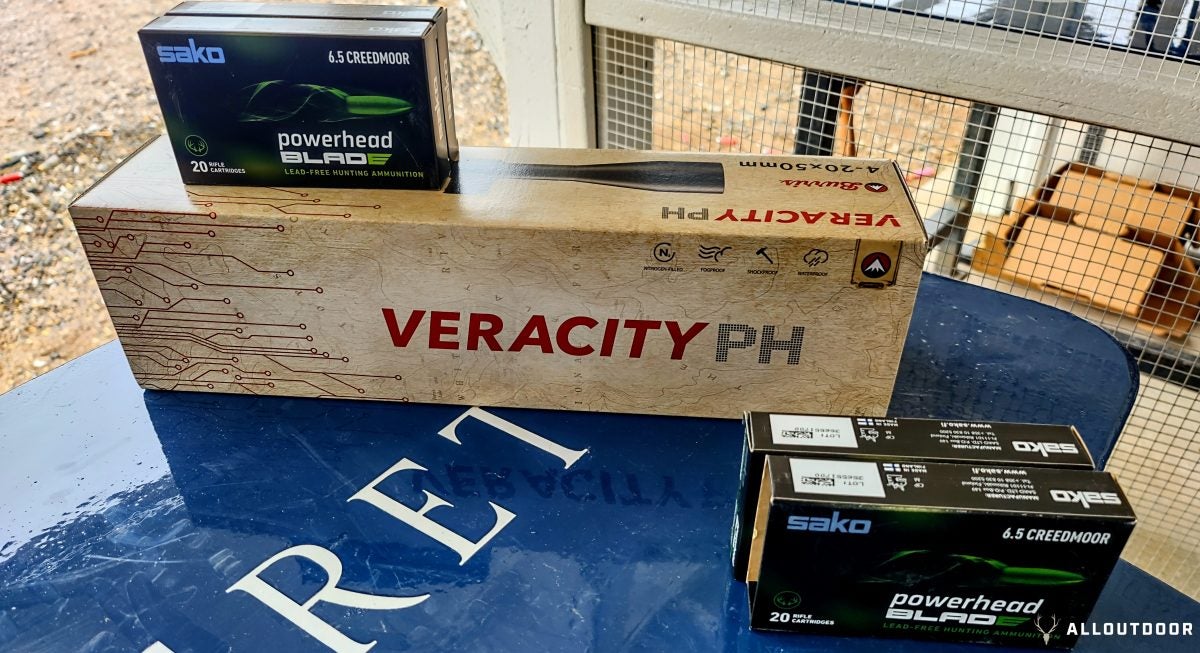 Solid, 1-piece outer tube is stress-free and durable—withstands shock and vibration from even the heaviest-recoiling calibers
30 mm body tube
Covered by the Burris Forever Warranty™
Years of development and pushing the limits of what is possible in a rifle optic has led up to this moment. Introducing the VeracityPH from Burris, the perfect combination of reliability, quality, and technology delivering the fastest and most precise aiming solution in a hunting optic, ever. Dial to distance with confidence and let Burris do the math.

Featuring the new Burris PĒK (Programable Elevation Knob) System the Veracity PH takes speed and precision to the highest level.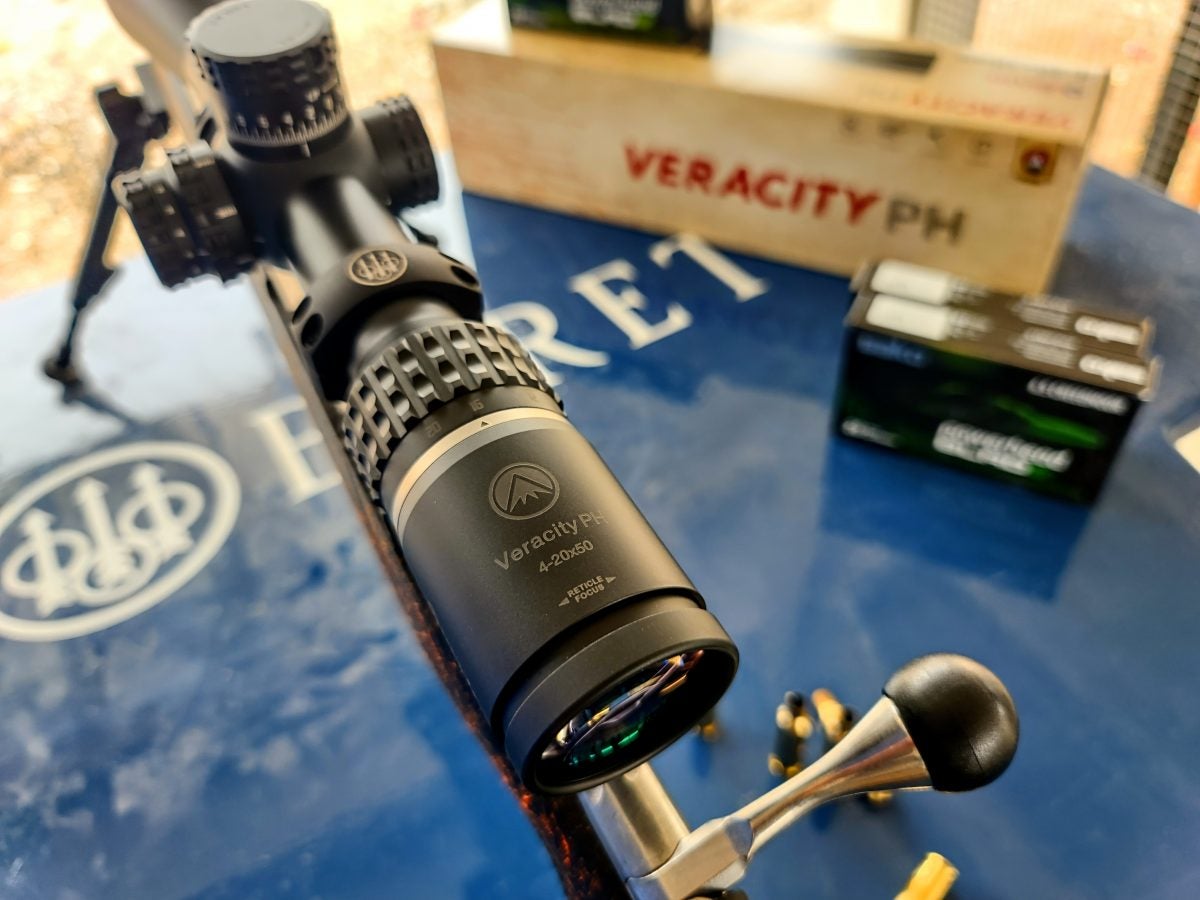 The NEW Burris Veracity PH 4-20x50mm riflescope is one of the most exciting debuts to come out at SHOT Show 2023 as far as optics are concerned. Burris has taken 21st century technology and coupled it all together by bringing a smartphone app, pristine glass, and a heads-up display (HUD) internally for the shooter all into a beautiful union of tech. This could be valuable to someone who is hunting prairie dogs and engaging them at constantly varying distances, or even big-game hunters who are always glassing across far valleys deciding what mature animal to harvest. Regardless what you deem your use case to be, this is exciting news! As always, let us know all of your thoughts in the Comments below! We always appreciate your feedback.
AllOutdoor's coverage of SHOT Show 2023 is proudly sponsored by 5.11 Tactical. Click HERE to check out their new products.