[SHOT 2023] TFBTV – 1911 that takes SIG P320 Mags: Oracle Arms 2311
Adam Scepaniak 01.21.23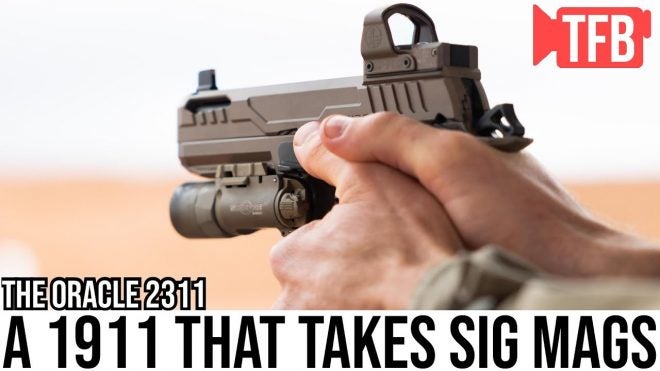 There have been more than a few attempts made to modernize the venerable 1911 over the years. While the inimitable John Moses Browning's 111-year-old original design has a veritable host of fanatical adherents who display no compunction in declaring that the 1911 needs no updating as it is the perfect creation of God himself, not all shooters concur. Some want different calibers or other features offered by the swath of 2011 variants that have cropped up in recent years. Some manufacturers have taken things a step further and fully hybridized the 1911, like Dan Wesson with CZ in their DWX. Now a new player is emerging in the 1911-of-the-future game. Meet Oracle Arms and their new Oracle Arms 2311 handgun, launching soon at SHOT Show 2023.
««« GEAR USED IN THIS VIDEO »»»
• Apparel: All TFBTV apparel is sponsored by 5.11 Tactical. Click below to check out their new products:
http://bit.ly/3w8Z8Pe
««« GUN AND GEAR GIVEAWAYS »»»
Check out our Utreon and SubscribeStar pages if you enjoy our program, and consider helping us at TFBTV out. We do not take money for positive reviews, we don't push video games or sketchy products, and we give away guns and gear EVERY month to our supporters. Consider supporting us on Utreon or SubscribeStar:
https://utreon.com/c/TFBTV
https://www.subscribestar.com/tfbtv
Gun and gear giveaways are not affiliated with, associated with, or in any way endorsed by YouTube and TFBTV is solely responsible for the giveaways mentioned in this video and this description. No purchase required for gear worth over $250. Full rules and terms are found at http://tfbtv.gun.team/
««« FOLLOW US ON SOCIAL MEDIA »»»
https://www.instagram.com/TFBTV
https://www.facebook.com/TheFirearmBlog
https://www.facebook.com/TheFirearmBlogTV
https://reddit.com/r/tfbtv
««« TFB CHAT ROOM »»»
Want to join the TFBTV chat room? Use our Discord Invite: discord.gg/tfbtv
#TFBTV
Be sure to subscribe to TFBTV Showtime at https://www.youtube.com/c/TFBTVShowTime
Thank you to 5.11 for sponsoring TFBTV at SHOT Show 2023, and check out the SHOT 2023 playlist.
AllOutdoor's coverage of SHOT Show 2023 is proudly sponsored by 5.11 Tactical. Click HERE to check out their new products.