[SHOT 2023] TFBTV – Black Rain Ordnance Sci-Fi Bullpup Battle Rifle?
Adam Scepaniak 01.25.23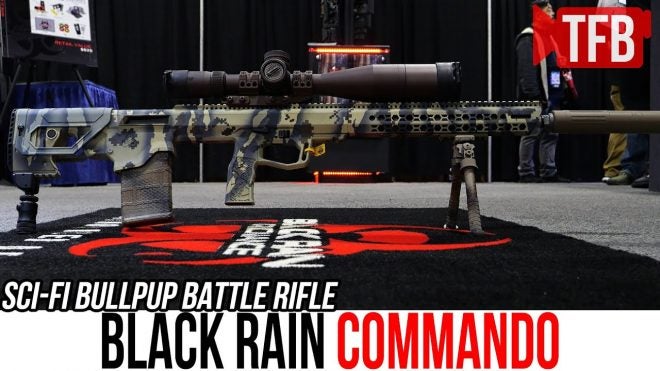 Black Rain Ordnance is typically known for their custom ARs and eye-catching Cerakote jobs, but they also had one of the most innovative new products of SHOT Show this year. The Commando rifle is a new bullpup battle rifle chambered in full power battle rifle cartridges like .308 Winchester and 6.5 Creedmoor. Attention was paid to ergonomics and controls, and keeping the overall system weight down. It's still early in production, but this is definitely one to watch.
««« GEAR USED IN THIS VIDEO »»»
• Apparel: All TFBTV apparel is sponsored by 5.11 Tactical. Click here to check out their new products.
#TFBTV #SHOTShow2023
««« GUN AND GEAR GIVEAWAYS »»»
Check out our Utreon and SubscribeStar pages if you enjoy our program, and consider helping us at TFBTV out. We do not take money for positive reviews, we don't push video games or sketchy products, and we give away guns and gear EVERY month to our supporters. Consider supporting us on Utreon or SubscribeStar:
https://utreon.com/c/TFBTV
https://www.subscribestar.com/tfbtv
Gun and gear giveaways are not affiliated with, associated with, or in any way endorsed by YouTube and TFBTV is solely responsible for the giveaways mentioned in this video and this description. No purchase required for gear worth over $250. Full rules and terms are found at http://tfbtv.gun.team/
««« FOLLOW US ON SOCIAL MEDIA »»»
https://www.instagram.com/TFBTV
https://www.facebook.com/TheFirearmBlog
https://www.facebook.com/TheFirearmBlogTV
https://reddit.com/r/tfbtv
««« TFB CHAT ROOM »»»
Want to join the TFBTV chat room? Use our Discord Invite: discord.gg/tfbtv
#TFBTV #SHOTShow2023
Be sure to subscribe to TFBTV Showtime at https://www.youtube.com/c/TFBTVShowTime
Thank you to 5.11 for sponsoring TFBTV at SHOT Show 2023, and check out the SHOT 2023 playlist.
AllOutdoor's coverage of SHOT Show 2023 is proudly sponsored by 5.11 Tactical. Click HERE to check out their new products.