[SHOT 2023] TFBTV – The IWI Carmel Rifle is Coming to the USA
Adam Scepaniak 01.25.23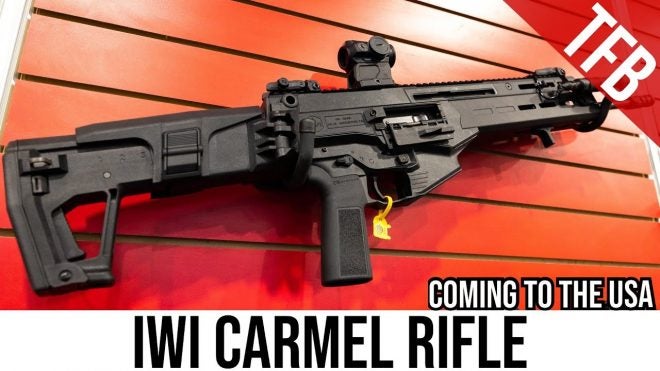 In this episode of TFBTV's SHOT Show Coverage, James Reeves is at IWI to discuss the IWI Carmel rifle, which is coming to the USA in 2023, according to IWI (note that specs will vary form the Israeli and US models of the IWI Carmel):
"The IWI CARMEL is a combat proven innovative weapon system, built to be durable and robust. Made of superior steel, aviation grade aluminum and high strength impact modified polymer for outstanding performance in all environmental conditions.

The rifle has a rotating bolt system ensuring maximum safety for the user. IWI CARMEL can be easily customized, depending on the operational needs, military or law enforcement tasks – vehicle patrol, CQB, under cover missions, short and medium combat engagement, diverse police operations, VIP protection, and more.

IWI CARMEL is a fully ambidextrous platform, equipped with mil standard 1913 Picatinny rails on all sides to allow 100% compatibility with any available sights, devices or accessories.

FEATURES
Short-stroke gas piston
2 position gas regulator
Hammer-forged, chrome-lined, free-floating barrel, for enhanced accuracy & prolonged life cycle
Hard-anodized monolithic aluminum MIL-STD 1913 Rail
The rifle is equipped with a significantly efficient jump compensator for better shooter stability
MIL-STD 1913 accessory rails at the 3, 6 and 9 o'clock positions

ADVANTAGES AND BENEFITS
Designed for minimum operator and armorer level maintenance, thus reducing costs
100% interchangeability, reducing the overall costs of the system
All the metal parts of the weapon are corrosion resistant
Body built of high strength impact modified polymer
Quick detachable barrel can be swiftly replaced
Uses any NATO MIL STD 5.56 Steel, aluminum or polymer magazines

OPTIMIZED ERGONOMIC DESIGN
Foldable & Retractable folding polymer stock – the weapon can be fired with folded stock
Adjustable cheek-rest
Highly ergonomic pistol grip
Fully Ambidextrous weapon: Safety Lever, Magazine Release, Bolt Catch, Non reciprocating Charging handle
that can be easily changed from side to side within seconds by the user
Enlarged trigger guard for easier access for glove use
3 points of sling attachments QD or Cord
4 different barrel lengths: 10.5" ,12" ,14.5" ,16"

TECHNICAL DATA
Caliber: 5.56X45mm
Rifling: 6 RH Grooves, 1:7″ twist
Barrel length (mm) : 292 (11.5″)
Total length, butt folded (mm): 721
Total length(mm): 806
Weight (approx. Kg.) (w/o magazine): 3.3
Rate of fire (approx. Rd./min): 700~1000"
TFBTV apparel is sponsored by 5.11 Tactical. Click below to check out their new products: http://bit.ly/3w8Z8Pe
««« APPAREL IN THIS VIDEO »»»
• Apparel: All TFBTV apparel is sponsored by 5.11 Tactical and you can get it at www.511tactical.com
««« GUN & GEAR GIVEAWAYS »»»
Consider supporting us at patreon.com/tfbtv
Gun and gear giveaways are not affiliated with, associated with, or in any way endorsed by YouTube and TFBTV is solely responsible for the giveaways mentioned in this video and this description. No purchase required for gear worth over $250. Full rules and terms are found at http://tfbtv.gun.team/
««« FOLLOW US ON SOCIAL MEDIA »»»
https://www.instagram.com/TFBTV
https://www.facebook.com/TheFirearmBlog
https://www.facebook.com/TheFirearmBlogTV
https://reddit.com/r/tfbtv
««« TFB CHAT ROOM »»»
Want to join the TFBTV chat room? Use our Discord Invite: discord.gg/tfbtv
#TFBTV
Be sure to subscribe to TFBTV Showtime at https://www.youtube.com/c/TFBTVShowTime
Thank you to 5.11 for sponsoring TFBTV at SHOT Show 2023, and check out the SHOT 2023 playlist.
AllOutdoor's coverage of SHOT Show 2023 is proudly sponsored by 5.11 Tactical. Click HERE to check out their new products.