Midwest Deer Camp 2021: Moultrie Mobile Delta Cellular Trail Camera
Ben Ryder 08.30.21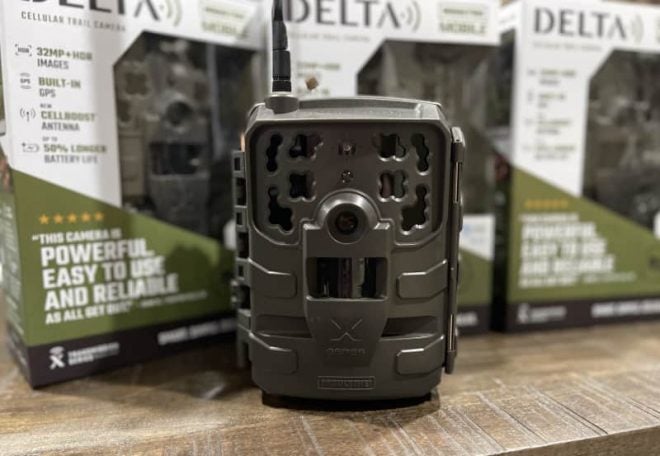 In this review, we are going to take a look at the Moultrie Mobile Delta Cellular Trail Camera and why it may be time for you to upgrade your cellular trail cameras.
It's hard to believe we are entering the home stretch of the off season and getting closer and closer to the Michigan Whitetail opener. Like many who hunt private land, we have spent the last few months making plans for how we will upgrade our hunting grounds and doing what we can to ensure a successful deer season. We've spent our off season researching and we are excited to announce a few new partnerships this year to help us take our 320 acre piece of property to the next level.
Having secured our 320 acres just before deer season last year, we had very little time to effectively set ourselves up before the season got underway. We were also surprised to learn that with two natural gas wells on site, we were included in seismic testing using below ground blasting caps that occurred just two weeks before the rifle opener. Needless to say, our rifle season was somewhat of a crap shoot. While we were able to harvest two does, we wanted more from our land.
With a season under our belt, we decided that strategic food plots were going to be one of the biggest priorities this year. To take our plots to the next level we partnered with Whitetail Institute to not only test our soil but, also get recommendations on the proper seed to plant as well as how to prep the soil. We are going to be posting more on the food plots and the Whitetail institute in the coming weeks. We are also going to be upgrading our tree stands with products from Summit that we will be detailing on this site.
As far as the cameras go, we were extremely fortunate to have Moultrie on board to provide us with a handful of the all new Delta Cellular Cameras. Our property is slightly off the beaten path and as you would expect in a rural area, one cell provider has better service than all others. for the last year we had been using a hodgepodge of other brands and the service and picture quality was far from stellar. The new Moultrie Mobile Delta Cellular Camera is packed with features but, features are meaningless without a solid user interface. Luckily, Moultire has one of, if not the best, mobile applications on the market.
Technology can be your best friend or your worst nightmare, especially when it's being used in a remote location. Our land is nearly 4 hours from home, which means dropping by every day to troubleshoot trail cameras isn't on the agenda. We were more than a little excited to upgrade our trail cams to the Deltas.
Before we dive in to the Delta, here are the top reasons why you should consider a cellular trail camera over a trail camera with local storage.
Freedom – When comparing cell cams to the less advanced local storage trail cameras, you have so much more freedom to view and track movement on your property from anywhere you have internet access. To me, this is one of the biggest advantages of a cell cam from a company like Moultrie Mobile. I just don't have the time to commit a day or more just to drive 4 hours and dump photos from SD cards on to my computer and then review each image to get an idea of what has been passing through the property. If I had been gone for a month or more, I could be looking at hundreds of photos or a full SD card that just stopped recording traffic.
Flexibility – Let's say you got your cell cam dialed in and then a day later it was going crazy snapping 100 photos of tall grass moving in front of your camera you hadn't noticed. If you didn't have that cell cam, you wouldn't know until the next time you checked. With a cell cam, you can adjust some settings and also remotely delete images, ensuring you can store the photos you actually want.
Increased Insight – I simply don't have time to comb through hundreds of photos and catalog each time an animal showed up on camera and go back to check atmospherics to paint a picture of what is happening while I'm away. With a call cam, especially something like the Delta, I have powerful insights at my fingertips from the moment my cell cam starts firing. For example, with the Moultrie Mobile App, I have sightings by species, location, time of day, moon phase and more at my disposal.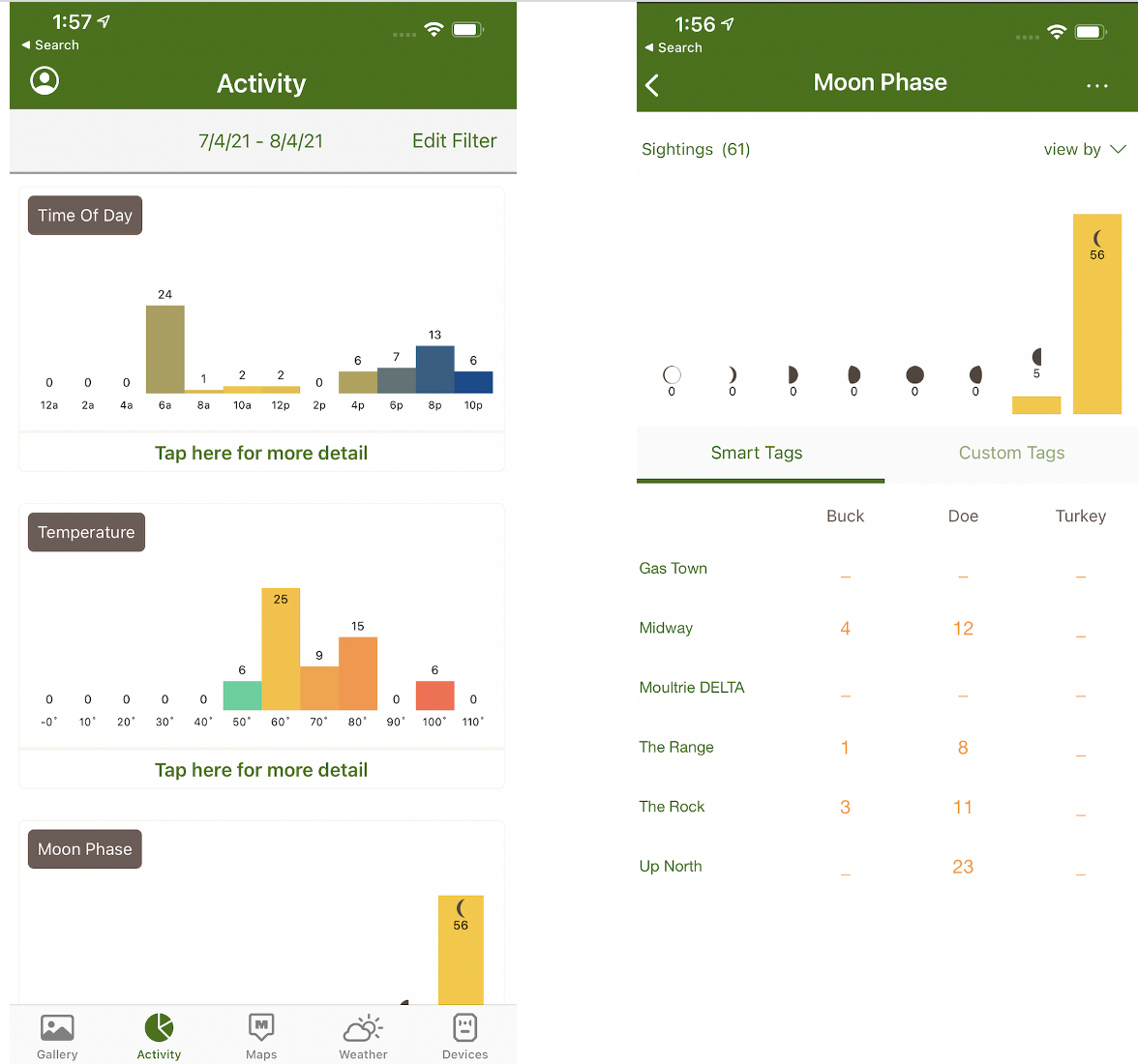 Better Planning – With better insights comes better planning. If you can watch a piece of property for months in advance and know that you have little to no traffic there, you can adjust your stands or just exclude that hunting location all together.
Reliability – When I say reliability I mean I know if my camera is not recording images while I am away from my property. If a trail cam without cell service goes down, I have absolutely no way to know until I show up to check my photos. With a cell cam, I can remotely keep track of the device health, battery life, and more.
1. Moultrie Mobile Delta Cellular Trail Camera
Moultrie is not a newcomer to the world of hunting. As part of the Pradco family of brands, Moultrie has decades of experience producing high quality feeders and almost two decades of experience in the trail camera arena. As the industry and customer needs changed, Moultrie was there every step of the way, innovating and improving their products at every turn.
The Moultrie Mobile Delta Cellular Trail Camera is a new and high quality offering in the cell cam space. First off, Moultrie has done something with this line that should make shoppers incredibly happy. They have found a way to make a great product at one of the most affordable price points in the industry. For just $99 you can get a well equipped and reliable cellular trail camera for your hunting property.  Many competitors budget friendly cell cams start at $150, so the Moultrie Mobile Delta Cellular Trail Camera's price alone is a huge selling point.
Beyond the price sits an incredibly feature rich product that pairs the latest hardware with a proprietary mobile app for a very user friendly and reliable experience. One of my favorite features in this camera is the ability to receive photo and video from the camera within the app.
Pros
/
Afforable, feature rich, photo and video capability
Cons
/
Remote setting adjustments are limited
Bottom Line
/
This is absolutely one of the best cell cams on the market for budget conscious shoppers
Network Connection
What I love about the Delta Cellular Camera is that you can choose between Verizon or AT&T for your service provider. While you won't be bundling your service, you will be increasing your chances of a strong cell signal which will in turn provide you with a more stable stream of images and videos from your property.
If you are unsure of what carrier has the best coverage in your area, you can use an app like the Cell Network Signal Finder to help you pick between the two carriers.
Image Quality
The Moultrie Mobile Delta Cellular Camera offers a 32MP camera that features ILLUMI-NIGHT 3 camera sensor which provides ultra sharp images day or night.
You can also select to have Hi Resolution images sent to your phone on an as needed basis. So, if you have a huge buck wander in, you can get a hi-res version to take full advantage of the camera.
You'll also benefit from a 0.35 trigger speed, ensuring that even an animal crossing at full sprint will be recorded.
Here is one of the hi-res images from our property using the Delta cam: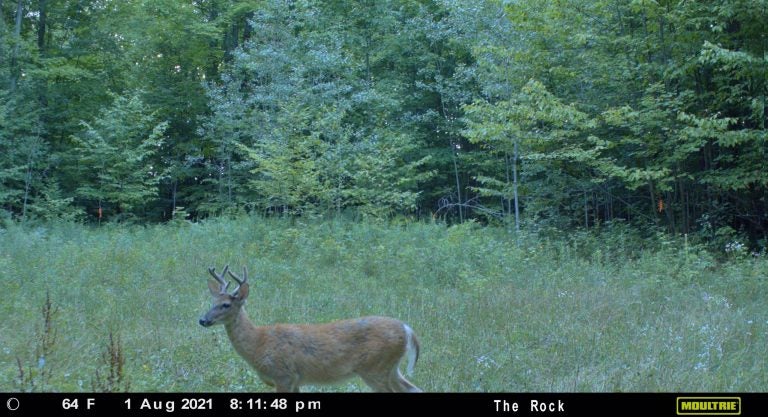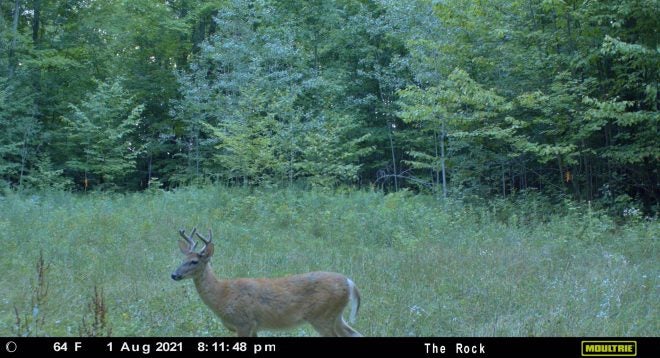 Battery Life
The battery life of your camera will be dependent on a few factors. One will be the quality of batteries you use in your cam. This model takes 12 AA batteries and Moultrie does have their own branded batteries that you can use. Any higher end battery would be a good option or you can go the rechargeable route, but I would recommend buying twice as many batteries as needed. This will allow you to easily swap them without waiting for them to recharge.
One huge contributing factor to your battery life will be the frequency of photo transmission. If you can be patient, the Delta cams allow for variable transmission times 1, 2, 4, or 8 times per day.
Image and Video
Being apple to receive both video and still photos with this trail camera is a huge selling point. Yes, you can get great insight from still photos only, but video takes it to the next level.
Do your bucks linger in an area or do they just pass through? With Video, you can know for sure just how deer are behaving when they hit your stand.
Mobile App
There are so many great features in the Moultrie Mobile app which you can get for both iOS and Android. You can also view media and access even more features by logging on to the Moultrie Mobile desktop site.
Some of the key feature of the mobile version are:
Multiple camera management
Over a dozen filter options for your photos and videos
Still and video media access
Activity tracking by temperature, time of day, and moon phase.
Buck, doe, and turkey tracking
Weather which is coming soon!
Cost
Again, this is really one of the greatest things about this camera. To be able to get an extremely capable cell cam for under $100 is huge, especially if you plan to set more than one camera up on your property
We are committed to finding, researching, and recommending the best products. We earn commissions from purchases you make using the retail links in our product reviews. Learn more about how this works.