We need to evangelize the benefits of everyday carry (EDC), and the holiday season is a good time to get people on board. There are ton of good, cheap gifts for folks that won't make you cry if they say thanks and chuck them into the pile of gifts that include the dreaded Gold Toe socks. Hopefully, if I've picked my recommendations correctly, that won't happen. Instead, your lucky friend will come back to you and ask for more suggestions.
(For even more recommendations, see Part 1 of this list.)
Ka-Bar BK11, "The Becker Necker": Let's jump into the deep end. This is probably the most hardcore of my suggestions as very few people (realize they) have use for a fixed blade, even if it is as utilitarian as the BK11. The sheath is nice, the size is perfect, and the shape is astoundingly useful. Becker's designs have a cult following, and their amazing performance is why.
Of the Beckers out there, this is definitely my favorite. Note that it doesn't come with handle scales, but you can wrap cord around it or make scales for it yourself. (How nice. When was the last time your Christmas gifts included an arts and crafts project?) Scales are sold separately, and there are a healthy number of aftermarket products for the BK11.
The steel, a good, heat treated 1095, will take and hold an edge for a while, even if it is a bit rust prone (this is not a stainless steel). This would be an ideal knife for someone that goes camping a lot or as a great little garden/beater knife in a workshop. Who knows, you could give it to your dad for his garden or woodworking shop, and later he'll ask you for another knife suggestion.
Big Skinny Wallet: Okay, yes, I know wallets are pretty boring Christmas presents, but before you think I am telling you to go to your local department store and buy their holiday specials, let me tell you about the Big Skinny. This is one of the best wallets I have found, and I've tested quite a few. I have owned two Big Skinny wallets, and the simple construction and ultrahigh tech materials make them durable and slim. The inner note sleeve has a rubberized coating to keep things put. The simplest model is the best, and my wallet cost me $19.00. Beware though, they do not take kindly to people stuffing them full of junk. They will hold all that stuff but look awful doing so.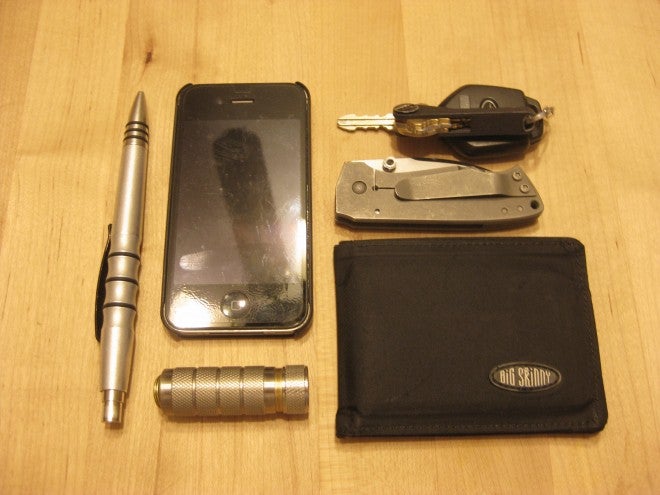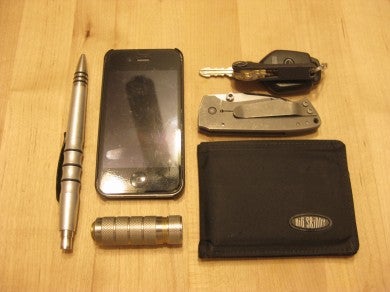 Here is my EDC about 6 months ago with my Big Skinny wallet. I would like to upgrade to a Bellroy eventually, but for the money the Big Skinny is a winner. Even your most edgeaphobic gift recipient will like the Big Skinny.
Olight i2 EOS: How difficult is it to find a good, cheap, 1xAA light that has a decent clip? Very hard. So many lights in this market segment have terrible, awful friction fit clips that slip and slide like a soap bar. But the i2 has a bolt on clip, a simple interface, good runtimes, and decent highs. For a non-flashlight person, this is a revelation. They will be stunned that this simple, small gadget out performs their chunky Mag Light. It's so good that they may even ask for more ideas.
The i2 is the perfect gateway flashlight – enough high performance to catch even non-enthusiasts' attention but familiar and simple enough to not put them off. This would be a great gift for a mom or sister or wife – someone with a purse to stow this light in, though it is small enough to fit on a keychain. The bolt-on clip means that it will stay put even if carried in a pocket.

SHOP NOW
Leatherman Wingman
: The Leatherman Wave is an amazing tool, but it's expensive. The 154CM blade and the more premium fit and finish place it well outside the limits of a tool you could give to a buddy. But the Wingman is 90% of the Wave at 1/3 the price. That's a pretty good ratio.
The major difference comes in the overall size and shape of the tool and the blade steel used: 420HC v. 154CM. There's no question that the Wingman has a worse steel, but it's still adequate for the role. The pliers are spring loaded, which is handy, and unlike the similarly priced Sidekick, the Wingman gives you scissors. (The Sidekick has a saw which is good, but less useful, especially in an EDC role.)
Most of the tools are accessible from the outside (you don't need to open the handles up like on older Leatherman tools), which is a huge boon. The knife blade shape is excellent and the knife can be open and closed with one hand. If your buddy doesn't have a Leatherman, it's a shame. Rectify that with this tool, and chances are, when the crazy good Leatherman warranty (25 years) runs out, he'll still have it and thank you for it. I still have my PST and it's more than 25 years old and works quite well.
Oh, and the Wingman also has a clam shell cutter, but more on that below.
Gerber Dime: Few things are both good and cheap, but the Gerber Dime is one of them.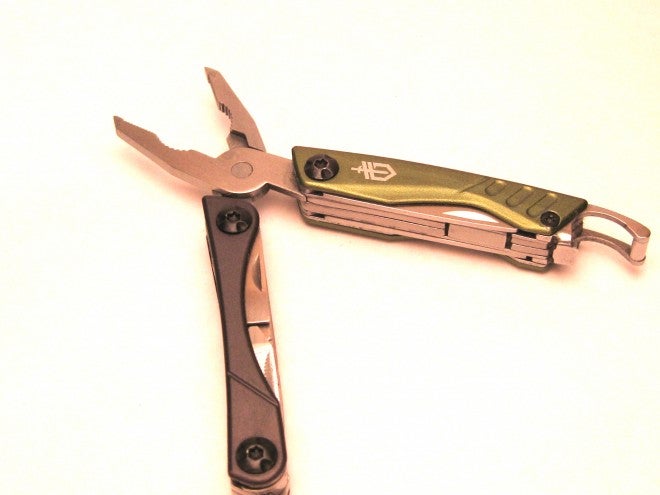 The Dime unseated my favorite keychain multi-tool, the Leatherman PS4, because of one thing: the addition of the new best tool in multi-tools, the clam shell cutter.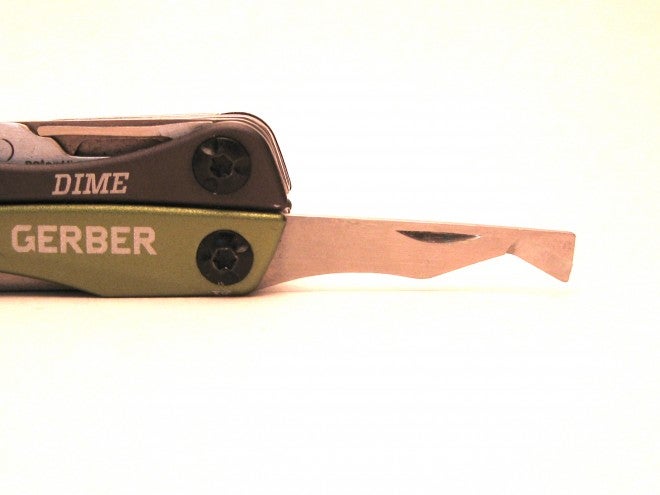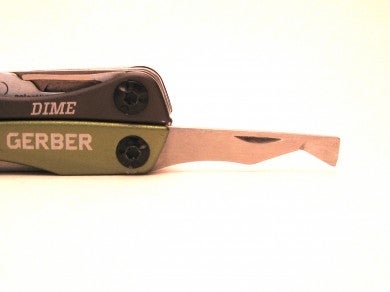 The Dime's fit and finish can give you trouble, but if you luck into a good one, they are superlative tools. The trick is that the entire array of tools works well with little duplication or useless stuff. The clam shell cutter is joined by a really good pair of pliers and scissors. The knife is a useful reverse tanto shape with a good amount of belly. The drivers are appropriate, with a flat head driver and a nice 2D Phillips driver. There is nothing useless at all (i.e. no can opener). The bottle opener is quite good and acts as another attachment point for the tool for hooking on to keychains of all sorts. The tool comes in a number of colors, including all black. I don't like coatings as they look junky quickly, so for a gift go for the non-murdered out versions.
SHOP NOW
Conclusion
If you are stuck on what to give a buddy or relative or your significant other, there is something on this list for everyone. In the process, you'll be spreading the word about a new generation of tools that are both high performing and inexpensive. Don't do the Gold Toe thing or the gift card thing. Your buddy deserves better. He deserves something from this list.